With a score of 20.1 in the 2015 Global Hunger Index, the Philippines is above the regional average, meaning, the level of the hunger problem is higher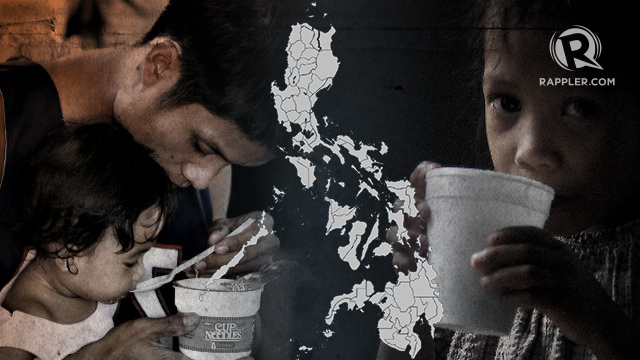 MANILA, Philippines – The Philippines faces a "serious" level of hunger in 2015, according to the latest Global Hunger Index (GHI).
The measuring tool of the International Food Policy Research Institute (FPRI) gave the country a score of 20.1 based on available data collated by government agencies and non-governmental organizations.
Although it is two points lower than in 2005, the Philippines' score is still 6.8 points higher than the East and Southeast Asia average of 13.2 points.
The Philippines also ranks 51st among 117 countries measured.
The GHI is a tool made to "comprehensively measure and track hunger." As a country scores higher in the index, the level of the hunger problem also increases.
| | |
| --- | --- |
| GLOBAL HUNGER INDEX SCORE | EQUIVALENT |
| < 9.9 | Low level of hunger |
| 10 – 19.9 | Moderate level of hunger |
| 20 – 34.9 | Serious level of hunger |
| 35 – 49.9 | Alarming level of hunger |
Multidimensional formula includes stunting
Acknowledging that hunger is a "multidimensional" problem, the index measured the situation in each country by combining 4 components: undernourishment, child wasting, child stunting, and child mortality.
The Philippines' detailed components show that stunting is still the most prevalent problem among children.
| | |
| --- | --- |
| COMPONENT | LATEST PHILIPPINE DATA |
| Proportion of undernourished in population | 13.5% |
| Prevalence of wasting in children under 5 years old | 7.9% |
| Prevalence of stunting in children under 5 years old | 30.3% |
| Under 5 mortality rate | 3% |
The high incidence of stunting – when a child is too short for his age – is alarming as it is a sign of chronic malnutrition. (READ: Why you should care about stunting)
In fact, according to a report by Save the Children, the shortness of Filipino adults is attributed to generations of stunted growth. (READ: Filipino 'shortness' more than just a racial trait – report) 
Results from the National Nutrition Survey spanning two decades show no significant change in the incidence of stunting in the country – from 1993's 39% to 2013's 30%. The Philippines is also part of the 14 countries which is home to 80% of the world's stunted children.
Persistent problems
Despite "tremendous efforts" and improvements seen by the GHI since 2000, the problem of hunger and malnutrition still exist – especially in developing countries.
At least 795 million people still suffer from chronic undernourishment, according to the GHI. In addition, one in every 4 children is stunted while 9% of children worldwide are wasted.
The index also found that there are huge disparities among regions.
The GHI hopes to contribute to correcting these figures. It hopes to eventually trigger action by increasing awareness and understanding the differences of each country's struggle against hunger. – Rappler.com