The LTFRB summons the taxi driver whose violations went viral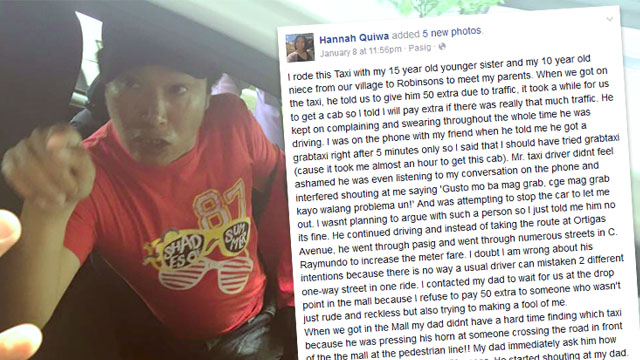 MANILA, Philippines – The Land Transportation Franchising and Regulatory Board (LTFRB) summoned a taxi driver whose violations went viral.
The driver, Rolando Camara, was caught in a series of photos yelling at his passengers. He was supposedly asking for an additional P50, aside from the fare.
LTFRB issues Show Cause Order to Premium Taxi & its driver Rolando Camara regarding Hannah Quiwa's FB complaint. pic.twitter.com/KnaDuLDUZY

— LTFRB_CHAIRMAN (@LTFRB_Chairman) January 11, 2016
Camara and the operator of Premium Taxi Premium Trans Corp were ordered to appear on January 20 at 9 am for the following violations:
Contracting passenger

Overcharging of fare

Employing rude/arrogant driver

Employing reckless driver
The incident 
Hannah Quiwa, the complainant, posted the incident as well as several photos on her Facebook page.
Quiwa said she was asked to pay an additional P50 because of the traffic, and she agreed to pay extra "if there was really that much traffic." When they began the trip, she said the driver was yelling and cursing the entire time.
According to Quiwa's post, Camara took roundabout routes, supposedly to increase the total fare.
Upon arriving at the destination, Robinsons Galleria, Quiwa, her younger sister, and her niece, got off. Her father was waiting for the 3 at in the mall and asked about the fare and the additional P50.
This was when the driver began shouting and cursing at the group. Mall guards tried to interfere and told Camara to drive away.
Viral video
On January 12, the LTFRB en banc also held a hearing for the case of Roger Catipay, another taxi driver. A video of him yelling at his passengers who refused to pay the additional fare he charged went viral on Facebook.
SHOW CAUSE ORDER issued to taxi driver ROGER B. CATIPAY & his operator Ariel Gamboa re viral video of Joanne Garcia. pic.twitter.com/azl5sx5KTB

— LTFRB_CHAIRMAN (@LTFRB_Chairman) January 6, 2016
The order told Catipay and operator Ariel Gamboa to explain why they should not lose their franchise because of the following complaints:
Contracting passenger

Overcharging of fare

Harassment/arrogant driver

The driver is making threat to the life of the passenger
Gamboa, the operator of Catipay's taxi, and Joanne Garcia, the complainant in the case, were also at the hearing. 
People with similar cases are encouraged to file complaints with the LTFRB. Complainants can send an email to complaint.ltfrb.gov.ph@gmail.com, fill up the form on the LTFRB's website, or call 0921-4487777 or 426-2515. – Bea Orante/Rappler.com
Screengrab taken from Hannah Quiwa's Facebook post