'Mary Jane's case is an example of the miserable conditions of women and female migrants,' says leader of a women's group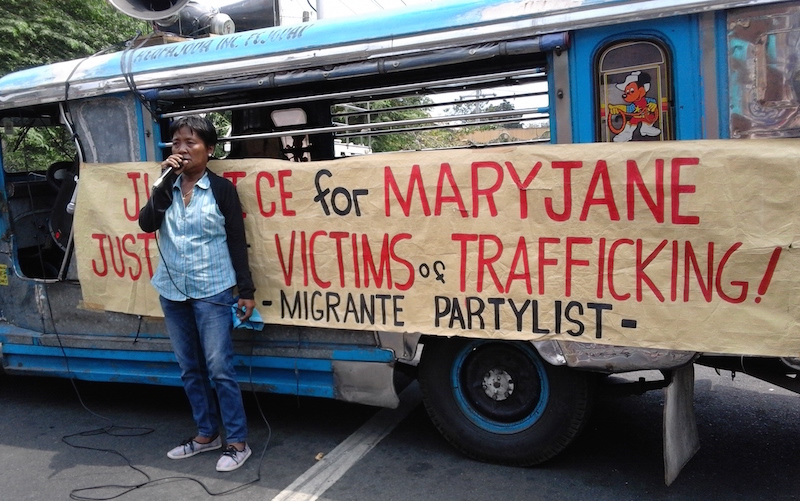 MANILA, Philippines – Mother, daughter, worker, Filipino, woman.
Mary Jane Veloso could have been any other Filipino woman celebrating Women's Month, but instead, she is on Indonesia's death row, her fate still uncertain. 
Veloso's path to prison did not begin with her as a drug mule or as a victim of an alleged human trafficking scheme. It began when she was born into a poor family with limited opportunities, argued Gabriela Alliance of Filipino Women (GABRIELA).
Veloso, whose story of growing up in poverty with the hope of uplifting her family's situation, is a classic case of women lured into dangerous work with promises of better lives, said GABRIELA. (READ: A slow death for family of Filipina on Indonesia's death row)
Unfortunately, there was no light at the end of the tunnel for Veloso
"Like Mary Jane, Filipina migrant workers are victims of our own government," said GABRIELA Secretary General Joms Salvador. "Despite keeping the economy afloat through their remittances, they remain ignored and neglected." 
Veloso and many women have had to go abroad to look for work or risk sinking further into poverty. 
The 2014 Survey on Overseas Filipinos by the Philippine Statistics Authority reported a total of 1.170 million women working abroad – but those are only the reported numbers.
Remittances from OFWs, meanwhile, totaled $2.7 billion in 2015, according to the Bangko Sentral ng Pilipinas.
These were the women who could not celebrate the strides made on International Women's Day on March 8, because they could not feel it.
Face of poor women
During a protest held on March 8, Salvador described Veloso as the face of women living in poverty.
Women, and especially the poorest of them, could become victims of human trafficking schemes, explained Salvador. (READ: Human trafficking 101: What trafficking is all about)
Female overseas Filipino workers (OFW) are then vulnerable to abuse and deprivation. Common stories were employers withholding OFWs' passports to prevent them from leaving, food deprivation, and physical, mental, and sexual abuse. (READ: Life as an OFW: The grass is not always greener)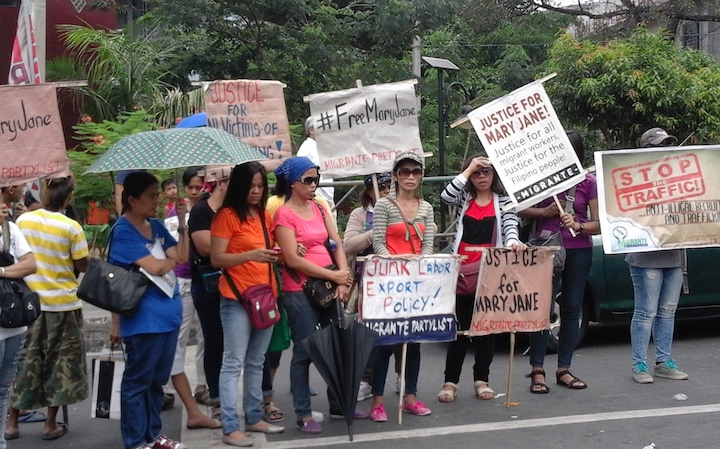 Salvador accused the Aquino government of failing Veloso and women like her.
"Kasing tanda nung pagkakakulong kay Mary Jane yung administrasyon ni Pangulong Aquino. Noong 2010 pa nakakulong si Mary Jane, ilang taong hindi pinansin ng pamahalaan despite yung efforts ng family."
(Mary Jane's incarceration has been as long as President Aquino's administration. She was imprisoned in 2010 and the government did not pay attention to it despite the family's efforts.)
Veloso's case, Salvador said, only began moving after the public organized movements to help. An online movement calling for a reprieve resulted in a last-minute stay in Veloso's execution.
The Aquino government was able to secure Veloso's traffickers Tintin Sergio and Julius Lacanilao, which they used to negotiate with Indonesian President Joko Widodo. (READ: TIMELINE: The day Mary Jane Veloso was spared)
"Talagang example yung case ni Mary Jane ng napakalungkot na kalagayan ng mga kababaihan at kababaihang migrante," she added.
(Mary Jane's case is an example of the miserable conditions of women and female migrants.)
Women and systemic poverty 
For members of GABRIELA and Migrante, policies that do not give people like Mary Jane proper jobs have created a system which forces them to make dangerous decisions.
According to the PSA, there were 2.6 billion unemployed Filipinos in 2015, which translated to 6.5%. Broken by sex, there were 940,000 unemployed women, or 36% of total unemployment.
Veloso, argued Salvador, is not simply a victim of human trafficking. "Biktima siya ng labor export policy, si Mary Jane, biktima siya ng trafficking, biktima siya ng kawalan ng malasakit ng pamahalaan sa kababayan natin." (READ: Time to rethink our OFW policy in Middle East)
(Mary Jane is a victim of the labor export policy, she is a victim of trafficking, she is a victim of the government's lack of compassion for our countrymen.)
Had there been jobs in the country, women would not have had to take such risks, Salvador said. 
Although for women like Veloso, it may be too late to reverse the effects of poverty, but job creation and agricultural development, for Salvador and GABRIELA, may prevent cases like hers from happening again. – Rappler.com