Is the tough-talking mayor's plan enough to really deal with crime?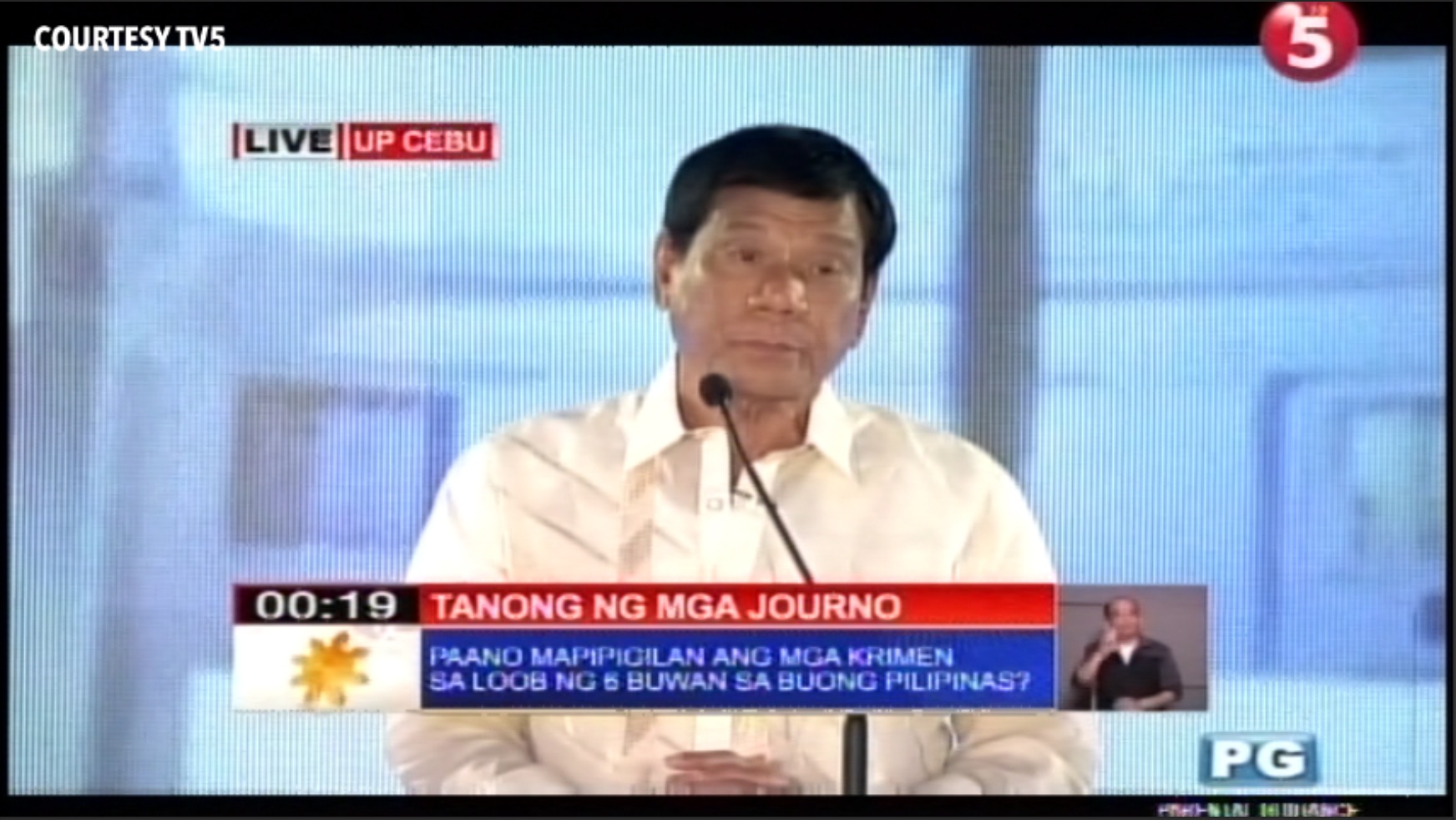 MANILA, Philippines – Prisons are full, but crime is still rampant. So what do we do about it?
Rappler's set of experts and advocates agreed that simply killing criminals is not a solution, and slammed Davao Mayor Rodrigo Duterte's plan to resort to eliminating criminals to reach his goal of eliminating criminality in 3 to 6 months.
Climate campaigner Renee Karunungan and LGBT advocate Evan Tan questioned Duterte's ability to reduce crime without a clear plan.
How will #PHVoteDuterte end crime in six months? He says he'll just do it. The question still stands. Paano nga kasi? #PiliPinasDebate2016

— Evan Tan (@evanaguilartan) March 20, 2016
Wow kaya mo talaga solusyonan problema ng Pilipinas in 3-6 months?? Ikaw na. #PiliPinasDebates2016 #PHVoteDuterte

— Renee Karunungan (@rjkarunungan) March 20, 2016
During the debate, Duterte's go-to answer to the crime problem was his approach as Davao mayor – perpetrators should stop committing crime, or die.
If elected, he would extend this to the national policy on crime, saying, "Kung hindi ka marunong pumatay ng tao at takot kang pumatay, 'yon ang problema. You cannot be a president." (If you are not able to kill people and are afraid of killing, that is the problem.)
Rappler contributor and political science professor Leloy Claudio noted how Duterte was saying the "un sayable" by admitting to being a killer.
Digong says the un sayable, admitting that he is a killer. This lack of breaks reminds me of Trump. #PHVote

— Leloy Claudio (@leloyclaudio) March 20, 2016
Others like climate campaigner Renee Karunungan accused Duterte of violating human rights while Professor Michael Labayandoy of Lyceum of the Philippines-Laguna described this policy as "scary".
Duterte clearly does not know anything about human rights. What kind of a leader would just kill? #PiliPinasDebates2016

— Renee Karunungan (@rjkarunungan) March 20, 2016
Why would anyone want a president who just wants to go on a killing spree? Doesn't that make him a criminal too? #PiliPinasDebates2016

— Renee Karunungan (@rjkarunungan) March 20, 2016
Q to Duterte: Paano mo tutuldukan ang krimen sa anim na buwan? "Leave Davao or you're dead." Model? Scary. #PiliPinasDebates2016 #PHVote

— mikelabayandoy (@mikelabayandoy) March 20, 2016
Duterte also expressed his support for the return of the death penalty during the debate, along with Senator Grace Poe. He has been a proponent of the death penalty as a solution to rampant crime.
Killing, however, should not be the answer, argued Karunungan. Instead, by addressing the root problems like poverty, the country would be in a better position to shave off crime numbers.
Crimes can't just be solved by killing people. There's a root cause to crimes like poverty. #PiliPinasDebates2016

— Renee Karunungan (@rjkarunungan) March 20, 2016
Poverty alleviation was one of the main topics during the first leg of the debates in Cagayan de Oro. (READ: The Cagayan de Oro Presidential Debate: Summary and highlights)
Vice President Jejomar Binay and Senator Grace Poe agreed on aid for farmers. Senator Miriam Santiago – who did not attend the Cebu debate – wanted to ease funding for health, education, and social welfare. Roxas wanted to continue the government's current welfare program.
Duterte did not answer the question, but promised to eliminate corruption in funding. – Rappler.com