In a forum organized by the Ateneo School of Government, experts say political dynasties are one of the reasons why economic growth remains slow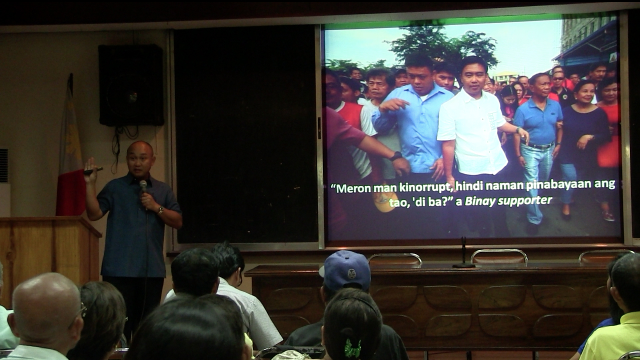 NAGA CITY, Philippines – Political dynasties affect the country's economic growth and development.
This was the key message of Dr Ronald Mendoza, incoming dean of the Ateneo School of Government (ASOG), during a forum on electoral reforms and political dynasties in the Ateneo de Naga University on Wednesday, April 13. 
"Political dynasties play a big role in governance because they have the say on the economic policies that we as a country craft and implement," Mendoza said. 
Mendoza cited the experience of Malaysia and Indonesia to show how the Philippines fared in the past decades. From 1960 to present, Malaysia's gross domestic product (GDP) per capita – or the measure of average income per person in a country – grew 7 times while Indonesia increased 5 times in the same period. 
The Philippines, however, slowed down. Based on data, the country's economy collapsed in 1982 due to then President Ferdinand Marcos' failed economic policies. It took 20 years before the country reached its GDP per capita in 1982. 
"While the economy collapsed during the Marcos period, (it was also the time when) the monopolization of political dynasties started. There is no problem with debt-driven growth if you invest it in business, infrastructure and education. It becomes problematic when the money is not spent on things that will develop the country," Mendoza noted. 
He added: "If you add monopoly of political power and the discretion to distribute power minus accountability, the result is a lot of corruption. The reforms we are doing now are still addressing this problem."
Mendoza cited the Bataan Nuclear Powerplant as a concrete proof of the mistake of a political dynasty. The country spent $1.88 billion on the project but it never produced even a kilowatt of electricity. 
The rise of fat dynasties
According to Mendoza, the post Marcos years resulted in the rise of many mini-dictatorships or fat dynasties, enabling political families to field many of their relatives to run for different positions at the same time.
"Many Filipinos, especially the youth, lost faith in the country because of this phenomenon. They ask why the Philippines still has so many problems despite the 1986 EDSA revolution. But the rise of fat dynasties are the real problem," Mendoza said.
He added: "The reason why we're a democracy is because we have a lot of checks and balances between positions. But if one family has monopoly of the political power, it's so easy to abuse."
According to data Mendoza presented, 85% of governors in the Philippines are members of political clans. Around 75% of vice governors, 66% of mayors, and 74% of provincial district representatives are also part of political dynasties. 
Political dynasties also control most of public finance. Mendoza used the Garcia clan of Cebu as an example. If all their members who are in power are taken into consideration, data show that the clan has control of around P1.95 billion of public funds.
"They are using it now as a business model. This is the power of families at the local level with a lot of discretion and no accountability," Mendoza said.
The Bicol experience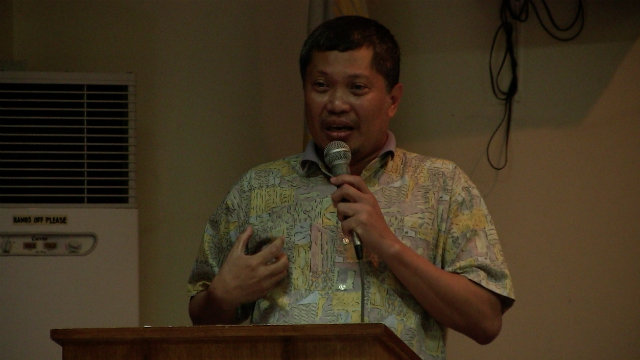 Rene Gumba, executive director of the Jesse Robredo Center for Good Governance, gave local perspective to the Bicol region's experience.  
Gumba said there is a disconnect between the region's rich natural resources and the poverty incidence in the provinces.  
"Bicol has a high literacy rate, almost close to Metro Manila, compared to other regions. But why is poverty incidence still high? In 2012, there was 32.3% poverty incidence in Bicol," he said.
Bicol is the 4th poorest region according to the National Economic and Development Authority (NEDA). One reason why the region is poor is because it is also a region of political dynasties, Gumba noted.  
"Political dynasties are supposed to be illegal based on the 1987 Constitution, specifically on Article 2, Section 26. But the way out for many political dynasties is the provision "as may be defined by law." Congress, given that task, hasn't really created that law to define political dynasties," Gumba said.
He zoomed into Camarines Sur, which has many clashing political dynasties. Among provinces with many political families, Camarines Sur ranks 12. The province, Gumba added, has been ruled by a governor with the same family name for the past 3 decades – the Villafuerte clan.
"Political families see it as a way of continuing their legacy. They think their family will decline if they don't field people to run for office. But that's the problem with that perspective – it's their family," Gumba said.
He added: "Regional development is adversely affected by political dynasties. Political dynasties are complex political, economic, cultural phenomena." (READ: Political realignments start in Robredo's Camarines Sur)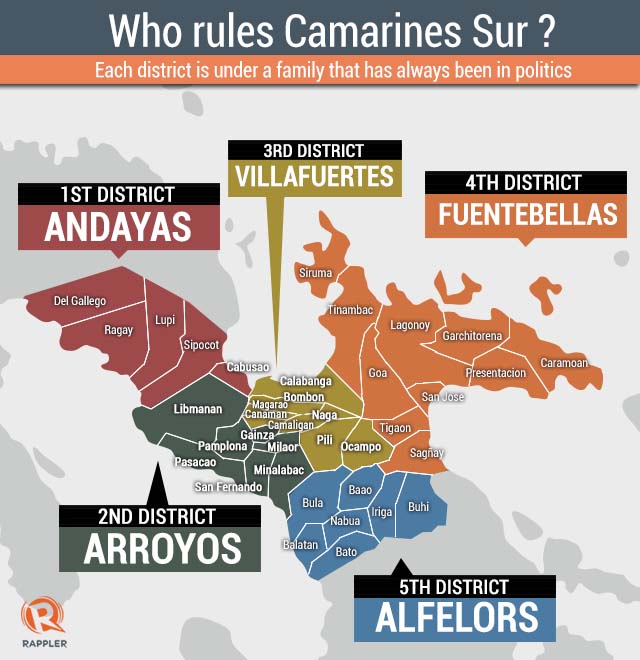 While it is important to challenge political dynasties, Gumba said it must be in a reformative way.
"Confronting political dynasties must be anchored on structural and policy reforms. The argument on Charter Change is included here. Then, electoral reforms and party politics – what are we doing to change this?" he said. 
Public opinion, electoral reform
Pulse Asia President Ronald Holmes said public opinion of the elections is important in pushing for electoral reforms.
In June 2013, around 65% of Filipinos believe that the elections are more credible since it became computerized. "We hope it would be this high this elections. With a tight presidential race, if there are many Filipinos who don't believe in the credibility of our elections, we have a big problem," Holmes said.
As of March 2016, 47% of Filipinos believe the 2016 elections will be clean and credible. Some 24%, however, said they don't believe the elections will be clean. 
On political dynasties, 32% of voters agree that one should not vote for candidates who are part of political dynasties. Around 32% were undecided while 36% said it's okay to vote for political dynasties. 
Holmes encouraged the audience to participate in elections because of its power to change the status quo, "When you vote, it's more important than protesting because you stop the person who will represent you from being elected."
Key election agenda
The forum was part of ASOG's Political Democracy and Reform (PODER) program for the elections. 
ASOG Program Director Joy Aceron enumerated 5 issues that the institution believes is key to pushing for good governance – agriculture and fisheries development, bottom-up budgeting, social protection programs (Pantawid Pamilyang Pilipino Program), electoral reforms, and youth empowerment.
"The 2016 elections are critical to strengthening accountability. We should transform these elections into an accountability mechanism if we have spaces for discussion, if we are informed of candidates' platforms and stances on key issues," Aceron said. 
On Tuesday, April 12, candidates running for the province's 3rd congressional district participated in a debate organized by local church and civil society groups. They had heated discussions on political dynasties, poverty in Camarines Sur, and the pork barrel. – Rappler.com