Around 88% of voters in Davao City choose their mayor, Rodrigo Duterte as the next president. His running mate, Senator Alan Peter Cayetano, gets 51% voter preference.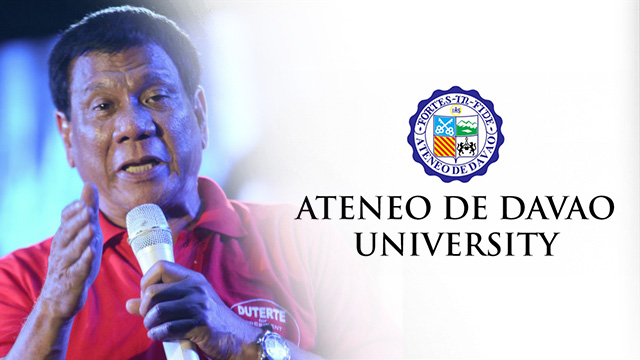 DAVAO CITY, Philippines – Ateneo de Davao's University Research Council (AdDU-URC) released the results of its city-wide electoral poll on Monday, April 25. showing Davao City Mayor Rodrigo Duterte as the most favored presidential candidate in the city.
Duterte is favored by 88% of voters in Davao City, where he served as mayor for nearly two decades. The percentages of other candidates were irrelevant, ranging from less than 1% to a little over 1% – lower than 6% of voters who remained undecided on their candidate.
Duterte's running mate, Senator Alan Peter Cayetano, was the top choice for vice president with 51% voter preference in Davao City. Senator Ferdinand "Bongbong" Marcos Jr was second at 18.6%, while other candidates scored single digits.
Indecision on the choice for vice presidential candidate was at 15.7%.
The top 9 senatorial candidates of Davao City voters former senators Miguel Zubiri and Panfilo Lacson,  Senator Sergio Osmena III, Senate President Franklin Drilon, former Akbayan party list representative Risa Hontiveros, Senator Vicente "Tito" Sotto III, former senator Richard Gordon, and Sarangani Representative Manny Pacquaio.
AdDU-URC added, however, that  29.8% of the total number of respondents didn't indicate any preferred senatorial candidate.
Local politics
The poll showed the top choices for the 3 congressional districts in Davao City:
1st District: Incumbent Representative Karlo Nograles with 89.8% preference, 10% either abstained or still undecided
2nd District: Incumbent Representative Mylene Garcia-Albano with 82.5%, opponent Christopher Abiera ranks at only 3.5%. The remaining percentage either abstained or are still undecided.
3rd District: Alberto Ungab with 61.4%, followed by lawyer Kaloy Bello with 25.1%, and the rest either abstained or are undecided.
With a percentage of 95.2%, former city mayor Sarah Duterte is the most favored mayoral candidate in Davao City. 
Re-electionist Vice Mayor Paolo Duterte, who is unopposed, got 83.47%. 
For the district councilors, these were the results (in order):
1st District: Mabel Acosta, Leah Librado, Joanne Bonguyan-Quilos, Melchor Quintain, Edga Ibuyan, Bonifacio Militar, Nilo Abellera Jr, and Pilar Brage

2nd District: Danny Dayanghirang, Al Ryan Alejandre, Maris Salvador-Abella, April DAyap, Diosdado Mahipus, Jimmy Dureza, Cherry Bonguyan, and Arnold Apostol

3rd District: Bernie Al-ag, Bong Advincula, Rene Elias Lopez, Petite Principe, Joselle Villafuerte, Cocoy Zozobrado, Didoy Dalodo Ortiz, and Boy Villafuerte
"Despite the chaos and controversies that this elections have, the respondents and voters are all interested equally to both local and national elections," Lourdesita Chan, one of the researchers, said of the results.
The electoral poll, called the AdDU Blue Vote 2016 off-Campus Survey, is the second part of AdDU's electoral poll. The first was AdDU Blue Vote In-Campus Survey, a university-wide survey held a month ago.
In the most recent SWS survey released on Monday, Duterte pulled ahead of his rivals for the presidency with a voter preference rating of 33%. The survey was conducted from April 18 to 20 among 1,800 registered voters nationwide, or during the time Duterte's controversial rape remark went viral. – Rappler.com
A recent graduate of the University of Immaculate Conception in Davao, Lira Valderama is one of Rappler's lead Mover in the Davao region.