Meet the organization who has been conquering places with the spirit of volunteerism and the children who have big dreams for themselves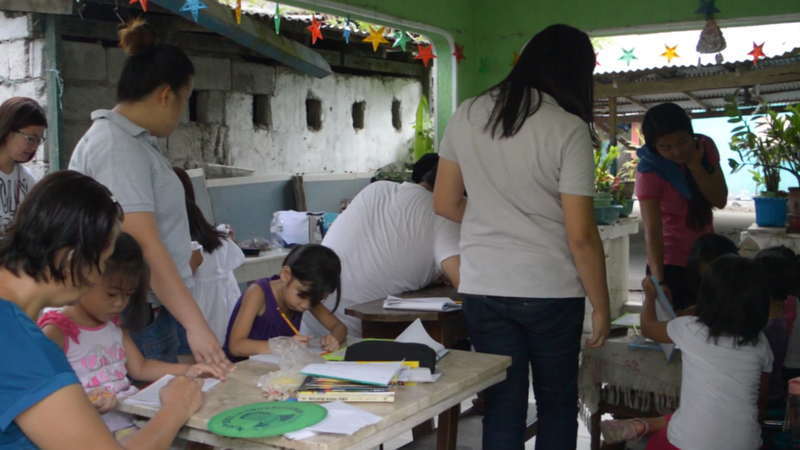 BATANGAS, Philippines – It is summer in the province of Batangas, where a small house is situated in Brgy. Libjo, providing shelter to young kids for them to learn and play. It is in this place where the passion of volunteerism thrives, and the love for learning flourishes.
The kids sketch lines and squiggles on lined papers and chalkboards, willingly mentored by volunteers. They meet friends by playing pretend roadtrips and singing songs together. The place is serene, and everyone is happy.
Here we meet the organization who has been conquering places with the spirit of volunteerism, the program which has shaped kids to be better, and the volunteer who spends her mornings with these children.
Heart of a volunteer
Kanlungan Pilipinas Movement (KPM) is a non-government organization founded in Tondo in 2001 by Herald 'Kyut' Villarca.
Villarca was only 17-years-old then when he decided to organize KPM and its first community in Mt. Romelo, Sinolan, Laguna. 
Their priority then was to help rugby boys and out of school youth by teaching them how to read and write. These boys, after being shaped and molded, soon became volunteers of the said organization.
KPM stands for its slogan: "There is nothing stronger than a heart of a volunteer." They believe that the willingness to be of help to others is important in bringing about change in the country.
The organization advocates for the protection of the environment, importance of education, development of the youth and the preservation of culture.
Their programs include tutorial programs for children, Balik Eskwela, Oplan Linis Daan at Eskwelahan sa Halalan, National Mountain Clean-up, relief operations, among others.
In 2005, it was awarded as one of the Ten Accomplished Youth Organizations of the Philippines for their project Oplan Sagip Batang Pier.
Last February 2015, it was again recognized for the same accomplishment plus the Smart Innovation Award for the project, Balay Kanlungan ng Karunungan.
Today, KPM has roughly 15 chapters around the country, with the number of volunteers growing in number, and their spirit getting stronger.
ABaKaDa at ang mga bata
ABaKaDa at ang mga Bata is an annual summer program by KPM. It aims to educate youngsters so they have some educational background before they start school proper.
Christina Zarah Lacorte, one of the volunteers of the program, has been part of KPM for one year already. She was first invited August of last year and soon joined after attending the leadership training where she first met Villarca.
Lacorte shares of how ABaKaDa has started in their province of Batangas early May and her experience of working with the kids.
"Ang ABaKaDa nag-start kami May 3, so just a few days ago.Nagsimula kami ng4 students lang tapos hanggang na-invite nila yung mga kapitbahay nila, nagsasama na sila to the point na yung ibang bata ngayon lang talaga sila nakarating."
(We started ABaKaDa last May 3, just a few days ago. We only had 4 students then, until the kids decided to invite their neighbors up to the point that most of the kids just arrived today.)
"Kaya medyo magulo pa sila kasi ito yung first time nilang makapasok, kasi hindi pa sila pumapasok sa school. So eto ang first time nilang maka-meet ngpeers, mag le-lessons ng writing, etc."
(That's why things are still messy because this is the first time that they are being taught, because they don't go to school yet. So this is the first time that they get to meet peers and have lessons in writing, etc.)
With no funding from the government or from any institution, Lacorte shares that the school materials they use are either bought from their personal money or from what they have left at home.
Although the program was launched in Libjo recently, it successfully ended in San Luis, Batangas and has been continuously progressing in areas such as Samar and Mindoro.
Kids of ABaKaDa 
The children who eagerly wake up early in the morning to learn how to read and write are mostly still not enrolled in school.
It is through this program that they get to develop firsthand their educational skills and get to socialize with others as well.
ABaKaDa volunteers help these kids not only through holding a pencil, drawing lines, but also the value of friendship, of camaraderie, and the importance of chasing one's dreams.
Carla, a four-year-old girl, says that she wants to be a doctor when she grows up. She wants to be of help to people who are sick.
Brich, 11, says that being a scientist is her dream. Discovering things and helping others as well are the reasons why she wants to be one.
"Masaya po ako dito dahil dito ko naututunan mag-multiplication, mag-addition, at yung iba pang hindi ko pa alam. Dito rin akong natutong magsulat at magbasa," she adds.
(I am happy here because I get to learn how to do multiplication, addition, and other things that I do not know how to do yet. It is also here where I learned how to read and write.)
For 15 years and counting, KPM continues to strive for social transformation. ABaKaDa at ang mga Bata is just one of the many programs that they conduct in an effort to make the world a better place.
They are on the journey of gathering more volunteers and changing lives one by one. They invite everyone to be part of that journey as well. From the words of Villarca, "Be with us on this less-traveled road of Kanlungan Pilipinas." – with reports from Welhemina Quinday Seda and Arleth Cledera/Rappler.com