On the last trip from UP Ayala Techno Hub, one of the pickup stations, on Tuesday, June 21, only one student was on-board a 50-seater bus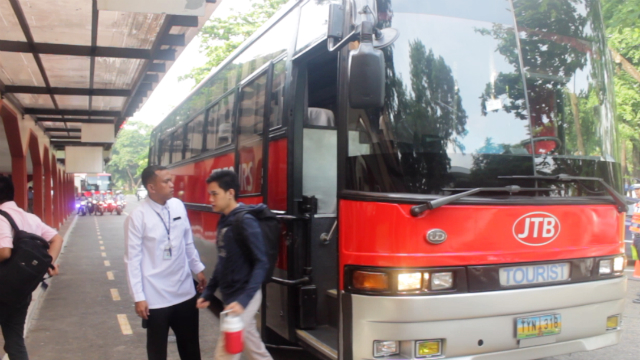 MANILA, Philippines – Metropolitan Manila Development Authority's (MMDA) Ateneo Shuttle Service Program (ASSP) was met with a low turnout of students on its first day of implementation on Tuesday, June 21.
MMDA and the Ateneo De Manila University (ADMU) signed a memorandum of agreement on Monday, June 20, launching the ASSP. The shuttle service system is designed to reduce the number of vehicles plying along traffic gridlock Katipunan in Quezon City during school days.
The agreement designates three drop-off and pickup points – Temple Drive, SM Marikina, and UP Ayala Techno Hub – for Ateneo's students, teachers and personnel.
The first trip from Temple Drive had 12 student passengers, the largest turnout among all the trips on the first day. Meanwhile, the first trips from SM Marikina and UP Ayala Techno Hub had nine and eight students respectively. On the succeeding trips, only one to three student passengers boarded the shuttle buses.
Lone passenger
On the last trip from UP Ayala Techno Hub, only one student was on-board a 50-seater bus. Ateneo Senior High School student Ken Tabagan said he is glad to participate in the efforts of the MMDA and the Ateneo to ease the traffic along Katipunan.
"I think it's good that the MMDA and Ateneo are working together so that we can ease the traffic problem here in Katipunan and I am seeing that it's actually improving compared to other days. (The traffic) is a lot scarce," he said in a mix of English and Filipino.
Tabagan, who is from Tandang Sora, said he spends an hour to get to school when he rides his family car. Today's trip from UP Ayala Techno Hub to Ateneo took only around 20 minutes.
Ateneo Senior High School faculty member Kervin Rey Torrente, who was on-board the same trip, said the low turnout was understandable since it is the first day of implementation. However, he said that there are aspects of the setup that need to be reviewed such as getting the number of expected participants and evaluating the number of needed trips.
"As far as information dissemination, perhaps details should be fleshed out more. For example, here in Techno Hub, where exactly do the parents drop off their children and what are the trip schedules," he added in a mix of English and Filipino.
From Ayala Techno Hub, there are four trips with 15-minute intervals from 6:15 to 7 AM. There are only two trips from the other two pickup points, one leaves at 6:30 AM and the other at 7 AM.
Although the program was originally designed for high school students and employees, college students may also avail the service as long as they present their Ateneo IDs.
MMDA officers escorted the shuttle buses on the program's test-run which will happen until Friday this week. – Rappler.com 
Rendell Sanchez is studying at the Ateneo de Manila University. He is a Rappler intern