The Bureau of Customs has consistently been seen as the least sincere in fighting corruption, based on SWS surveys among business owners and managers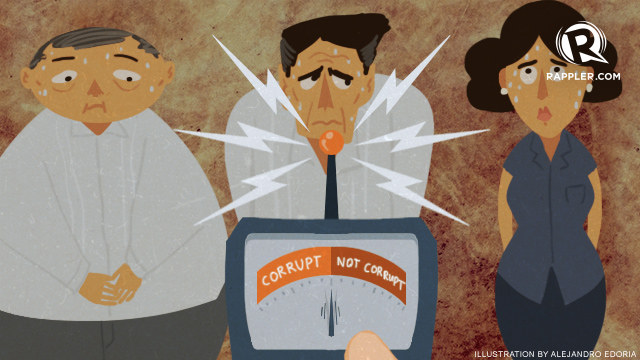 MANILA, Philippines – The effects of corruption can be felt not only by individual Filipinos but by businesses and corporations as well.
Various transactions – from getting permits to paying taxes – could be tedious, but these are vital for both businesses and government. When corruption enters the picture, it has serious repercussions on the country's economy. (IN NUMBERS: Impact of corruption on the Philippines)
It is therefore important for government agencies to eliminate corruption within their own ranks and stop its practice when dealing with businesses.
Since 2000, the Social Weather Stations (SWS) has conducted surveys about corruption in government, with executives of hundreds of enterprises nationwide as respondents.
These business owners and managers were asked, among others, about the sincerity of select government agencies in fighting corruption.
At least 37 agencies were named in the surveys. Their net sincerity ratings were computed as the percentage of sincerity minus the rate of insincerity as viewed by survey respondents.
And the consistent "least sincere" government agency over the years? The Bureau of Customs (BOC). 
Starting from a -83 rating in 2000, the BOC's rating has never gone above a Very Bad rating, except in 2012 when it received a -46 rating (or a Bad rating grade). The following year, it dropped again to -63. In the latest 2014/2015 survey, its rating increased by only 8 points, to -55. 
As you can seen in the graph below, the BOC is far from the others on the latest 2014/2015 SWS survey.
---
SWS ratings grade
Since 2009, the SWS used the following terms to classify the net sincerity ratings:
| | |
| --- | --- |
| Excellent | 70 and up |
| Very Good | 50 to 69 |
| Good | 30 to 49 |
| Moderate | 10 to 29 |
| Neutral | -9 to 9 |
| Poor | -10 to -29 |
| Bad | -30 to -49 |
| Very Bad  | -50 to -69 |
| Execrable | -70 and below |
Two other agencies scored poorly over the years, but their ratings have improved from 2012. 
The Department of Public Works and Highways (DPWH) was rated -68 from 2000 and had similar ratings until 2009 (at -65). In the next survey in 2012, its score jumped to -21 (Poor), and managed to maintain its score since.
The Bureau of Internal Revenue (BIR) also had Bad to Very Bad ratings up to 2009. But it got a 37-point leap in 2012, with a -20 rating (Poor). In the 2014/2015 survey, it received a Neutral -4 rating.
Improvements
In fact, the net sincerity rating of almost all agencies improved starting in 2012. The biggest gainer was the Office of the President, which scored -37 (Bad) in 2009 but jumped to 80 (Excellent) in 2012.
Only 3 offices got a lower rating in 2012 compared to 2009: the Commission on Elections (from -8 [Neutral] to -13 [Poor]), the Supreme Court (from 40 [Good] to 24 [Moderate]), and the respondents' city governments (from 35 [Good] to 21 [Moderate]).
In the latest 2014/2015 survey, 5 agencies were graded Very Good, 8 were Good, 8 were Moderate, 9 were Neutral, 5 were Poor, and 1 was Very Bad.
As for the movement in their rating grades, 8 got upgraded, 7 were downgraded, while 19 agencies got the same grade.
Two offices were rated for the first time: the Civil Service Commission (with a 41 or Good rating) and the Governance Commission for corporations owned and controlled by government (with a 12 or Moderate rating).
The SWS surveys were based on face-to-face interviews with business executives in Metro Manila (since 2000), Metro Cebu and Metro Davao (since 2004), the Cavite-Laguna-Batangas and Cagayan de Oro-Iligan areas (from 2005-2007 and since 2009), and Metro Angeles and Metro Iloilo (since 2012). – Rappler.com
Have you ever been asked to give a bribe? Email details to notonmywatch@rappler.com. It will help if you send supporting documents and contact information so we can reach you in case we need more details.
You may also report via the form below
Encourage your friends to join and become integrity champions by sharing this link on Facebook and Twitter using hashtag #notonmywatch
Would you like to volunteer? Sign-up via fightcorruption.ph