Rene Del Valle, Zaldy de Jesus, and Luis Tupig drift out to sea during Typhoon Karen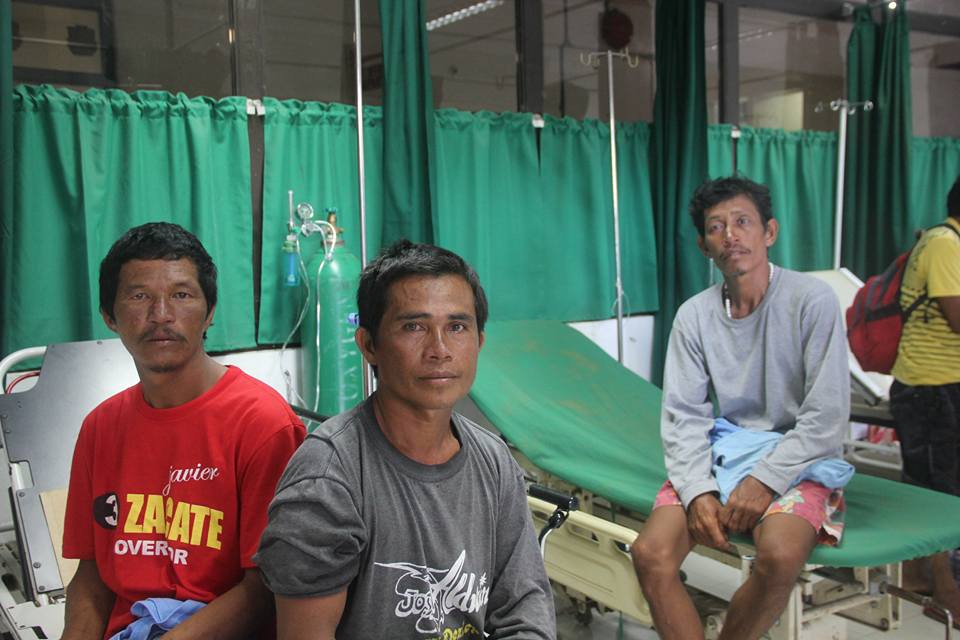 MANILA, Philippines – On a sunny Sunday on October 23, Lito Rosales, a fisherman from Barangay Sabang North in Borongan City, sailed off the coast of Eastern Samar to catch fish. He returned the following day not only with his catch, but also with 3 other fishermen from Catanduanes whom he rescued – Rene del Valle, Zaldy de Jesus, and Luis Tupig.
The 3 fishermen drifted out to sea about 14 days earlier as Tropical Depression Karen was moving towards the Catanduanes province.
Karen (international name Sarika) strengthened into a typhoon on October 15, placing Catanduanes under signal number 3.
The fishermen struggled to save their boat during the typhoon as waves rocked it, filling it with seawater, according to Cora Basada who posted about the ordeal of the rescued fishermen on Facebook. Basada works at the Borongan City Hall.
"On the 9th day at sea, they were afloat again, sailing aimlessly using the tarpaulin they had onboard for mast," Basada said.
They survived by eating raw fish and floating seaweed as they drifted on water. 
When Rosales saw them, he offered the fishermen biscuits and water and took them and their boat to shore. It was only then that they realized that they reached Borongan.
Barangay Sabang North officials then brought them to the Eastern Samar Provincial Hospital for medical check-up.
Reconnected through social media
The inspiring rescue story reached authorities in Catanduanes through social media. 
"Nag-post ako kaagad sa Facebook. Alam mo naman sa social media, nag-strart sa pa-share-share. Una, mga 20 shares muna, naging 30, at umabot ng 40 hanggang umabot sa Region V 'yong post around 6 pm," Basada shared. (I immediately posted their story on Facebook. The post started with a few shares. First it only got 20 shares, until it reached 30, and then 40. By 6 pm, the post reached Region V.)
Upon reading the post, the Office of Civil Defense in the Bicol region and other local authories contacted Basada to check the condition of the fishermen.
The OCD is scheduled to fetch the fishermen and bring them home on Tuesday, October 25. – Rappler.com