How can the public use technology and social media to fight corruption? Find out as the #NotOnMyWatch caravan runs in Iloilo City from November 18 to 19!
MANILA, Philippines – Corruption remains a big problem in the Philippines, even though the government has been vocal about fighting it. Corrupt practices are still taking place down to the grassroots level, and in some cases, are so rampant that they are more the norm than the exception.
The aim of the #NotOnMyWatch campaign is to encourage local communities to join the fight against corruption. After a successful run in Cebu City, the anti-corruption caravan is set to run in Iloilo City from November 18 to 19 at the University of Iloilo.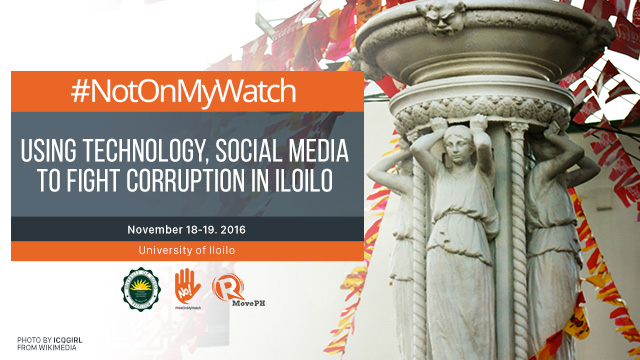 #CorruptionPH : A closer look at Iloilo
Based on a 2016 Social Weather Stations (SWS) survey, 67% of surveyed businessmen in Iloilo said there is "a lot of corruption in the public sector." It was the highest rating given among the areas surveyed this year, equal only to the rating of the National Capital Region (NCR).
From 2012 to 2016, the percentage of surveyed businessmen in Iloilo who believe that there is a lot of corruption in the public sector has been on a steady rise. From 47% in 2012, it rose to 55% in 2013, and then to 67% in 2016 (no data was available for 2014 and 2015).
Other areas surveyed aside from Iloilo and NCR were Metro Angeles, Cavite-Laguna-Batangas, Metro Cebu, Cagayan de Oro / Iligan City, and Metro Davao.
#NotOnMyWatch: Using technology, social media
Rappler launched the #NotOnMyWatch campaign on September 24 during the annual Innovation+Social Good Summit. The aim of the campaign is to promote integrity, competence, and accountability in government by encouraging people to report bribery and other grievances against government officials while showcasing honest and commendable service.  
On the first day in Iloilo – Friday, November 18 – select participants will go through a whole day workshop to be integrity champions. They will be expected to help spread the word on how to report corruption accurately and how to find and validate sources of information.
On the second day – Saturday, November 19 – there will be a public forum with representatives from the government, civil society groups, and students. The forum aims to tackle local corruption issues in Iloilo and what ordinary citizens can do to help solve these – particularly with the use of technology and social media. 
DATE

TIME

VENUE

DAY 1: Workshop for select participants
November 18

10 am – 4 pm

University of Iloilo-College of Law Conference Room

DAY 2: Public Forum
November 19

1 pm – 4 pm

University of Iloilo Auditorium

 
Public Forum Program 
TIME

ACTIVITY

12:00 – 1:00 pm

Registration

1:00 – 1:15

Opening ceremony

1:15 – 1:25

Welcome remarks

1:25 – 1:55

Keynote Address

Maria A. Ressa
CEO, Rappler

1:55 – 2:10

Presentation of #NotOnMyWatch

Gemma B. Mendoza
Project Lead, #NotOnMyWatch 
Research and Content Strategy, Rappler

2:10 – 2:50

PANEL DISCUSSION

Issues per sector: What types of corruption affect us?

Ted Aldwin Ong
Freedom from Debt Coalition
(NGO)

Voltaire Jacinto
Professor, Political Science and Public Administration
Western Visayas State University
(Academe)

JJ Cordova
Chairman 
Jaro Archidiocesan Social Action Center
(Religious)

2:50 – 3:30

 

PANEL DISCUSSION

Strategies and Approaches to fight corruption

Gileo Alojado
Assistant Regional Director
Commission on Audit – Region 6

Atty. Pio R. Dargantes  
Acting Director
Office of the Ombudsman – Region 6

Leo F. Jamorin
Officer-in-Charge, Public ASsistance and Liason Division
Civil Service Commission – Region 6



3:30 – 3:50

Q&A

3:50 – 4:00

Closing Remarks

Rupert Ambil
Executive Director
MovePH
How to join the anti-corruption caravan in Iloilo
Interested participants can join the forum by registering below:
For the validation workshop, limited slots are available for groups or individuals interested in pursuing the anti-corruption advocacy in their own communities or government offices. You can email notonmywatch@rappler.com to reserve a slot.
#NotOnMyWatch works with civil society groups, government agencies, the academe, and ordinary citizens to help build integrity champions around the country. – Rappler.com