With many prospective applicants lacking in education – and failing the driver's exams – many resort to bribery to get the license that can let them drive for a living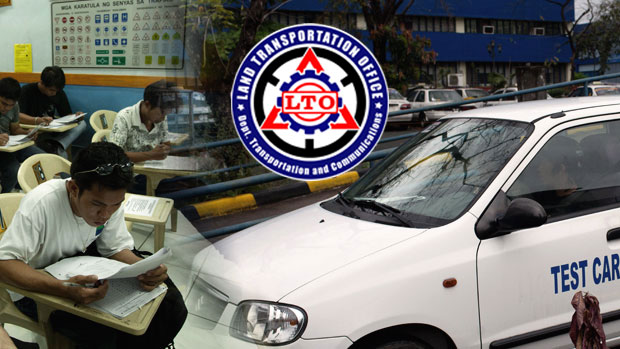 CEBU CITY, Philippines – For some of the youth in Cebu City, a driver's license is more than just a government ID, or official permission to operate a motor vehicle. It's a ticket to a means of livelihood that can earn them an honest wage for their day-to-day expenses.
But getting a license isn't always easy – and it's not cheap either, if one takes the road more often taken by those who fear failing the driver's exams. Getting a license through the proper, official channels will cost only a little less than P1,000, but that figure can triple if one decides to take a shortcut.
It's an open secret, according to National Confederation of Transport Workers' Union (NCTU)-Cebu president Allan Tapia. He said he's had many young men – some even close to graduating college – approach him to ask if he knows how to speed up the process and ensure a favorable outcome for the driver's exams.
"Diretso" – direct – is how they call it: paying anywhere from P3,000 to P5,000 as a bribe, on top of the usual government fees, to ensure that an applicant will pass the driver's exams.
Tapia said many applicants resort to this practice because they cannot afford to fail the exam and miss out on their chance to earn a living plying the city's roads.
"Kaysa mahirapan ka, tapos kailanganin mo na 'yung trabaho, diretso na lang. Magbabayad ka na para makakuha ka ng lisensya," he said. (So you won't have a hard time, and since you need the job, you'll just pay to get that license.)
While most people resort to bribes to skip lines, cut processing time, or speed up transactions, the young people paying bribes to pass the driver's exams have a different reason: to avert the possibility of not being able to drive and earn a living for an entire year.
Cheaper to bribe
To be able to drive a jeep or other public vehicles, applicants must possess a professional driver's license. To get that license, they have to pass a written examination and a driving exam. 
If they fail the tests twice, they will only be allowed to try again and re-apply after one year. But that one year of waiting is too long for prospective drivers, Tapia said.
"Sa tagal ng panahon na 'yun, parang 'di na tayo makahintay kasi nagugutom na tayo….Isang taon na walang trabaho, ang rami pa ng kakainin mo. Kung walang lisensya, mahirap sa buhay," Tapia said.
(Because it takes that long, we can't wait anymore because we'll go hungry…In a year without work, you'll still need to feed yourself. If you don't have a license, life is hard.)
Compounding this problem is the fact that many applicants struggle to read well, making it hard for them to pass the written exams, too.
Tapia said many applicants above 18 years old have not completed school, and don't have access to study guides and materials on driving etiquette and the basic rules of the road.
With little chance of passing the exams, and a pressing need to get the license, they end up vulnerable to corruption and bribery just to ensure a positive outcome.
For them, that P3,000 to P5,000 they spend for bribery easily outweighs the cost of a year without work.
"When you drive, you already earn in just one round of plying the roads. You can already buy food, your basic needs…If you already get a license that you spent P5,000 to get, you can earn that back already within a month," Tapia said in Filipino.
Stopping the practice
For NCTU-Cebu secretary Anje del Cielo, it can be hard for aspiring drivers to follow processes by the book, when they see other applicants paying their way for a more secure outcome.
"If I line up properly, and then see someone paying bribes, I think, 'Why can they do it, why not me?' You'll feel compelled to follow suit even if it will cost some amount of money. You rationalize it by thinking that you're in a hurry and you can earn that back soon anyway," she said in Filipino.
But it's not just applicants willing to pay who are contributing to the problem of corruption. Del Cielo pointed out that those who resort to bribery are taking advantage of the weakness of the government agency itself.
To stop this practice, both sides – the government agency and the citizens – should do their part. (READ: #NotOnMyWatch: Reporting corruption made easier)
Del Cielo said applicants should be willing to wait out the entire process and go through the proper channels. But this practice can only be kept up if transactions at the government agency go through smoothly, without employees who are looking to make a quick buck intentionally prolonging the process.
"It really takes two to tango. People would be willing to wait if they see that others are not getting ahead of them by paying up. But on the flip side, government agencies should also fix their systems to stop accepting bribes," she said in Filipino.
For prospective jeepney drivers, Tapia said he is now telling young people to read up and study instead of taking the shortcut. He pointed out that some of those seeking his help are even college-level students, who only need a bit of push and motivation to work hard to pass the driver's exams.
"Kulang din sa tiyaga 'yung kukuha ng lisensya. Parang na-exercise na ng mga Pilipino na halos lahat instant," he said. (Those trying to get a license also lack perseverance. It's like Filipinos have been used to getting everything in an instant.)
"We Filipinos have our own kind of genius, we can learn things quickly…I encourage those who come to me for help to study defensive driving and rules of the road so that when they take the exam, they have a higher chance of passing," he added.
But he also hopes that the private sector and even the government can help educate these drivers, so that they can pass the exams the right way and stop resorting to bribery and corruption.
"If it's possible, maybe the LTO can make study guides for drivers available online. It's more accessible to a lot of young Filipinos," he said. – Rappler.com
Reporting corruption gets you better government service. Tell us about your experience on www.fightcorruption.ph or chat with us through Facebook messenger. 
You may also report via the form below: 
 Help fight corruption. Share this story with your friends on Facebook, Twitter, and Instagram and help spread the word about how we can fight corruption together.
To help us track the ripples of this campaign, use #NotOnMyWatch.
Interested to partner with us? Email notonmywatch@rappler.com.