The #NotOnMyWatch anti-corruption caravan heads to Iloilo City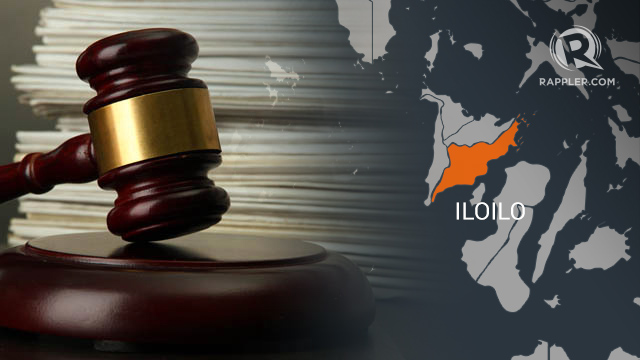 MANILA, Philippines – Public officials, both elected and appointed, are expected to follow the law and serve the people with utmost honesty and integrity.
When they fail to do so and serve themselves instead, they must pay the price.
As the #NotOnMyWatch anti-corruption caravan heads to Iloilo City on November 18 and 19, we list down some government officials and employees in Iloilo province who have been found guilty of corruption. Their acts should not happen again on our watch.
We also list down cases filed against key politicians in the province.
2 mayors guilty of graft
In April 2011, the Sandiganbayan convicted former Anilao town mayor Ramon Antiojo of malversation of public funds amounting to P2.2 million in 1998. 
His co-accused, municipal treasurer Judith Arabit, argued that these funds were cash advances by Mayor Antiojo. The mayor then submitted questionable liquidation vouchers, according to state auditors.
Antiojo was sentenced to 18 years in jail, while Arabit remained at large as of 2011.
Janiuay Mayor Frankie Locsin, 4 town officials and a businessman were found guilty of graft in June 2015 for the unlawful award of contracts in 2001, in violation of Section 3(e) of Republic Act 3019 or the Anti-Graft and Corrupt Practices Act.
The Sandiganbayan noted many irregularities in the purchase of medicines worth P14.9 million from AM Europharma Corporation and Mallix Drug Center, both owned by Rodrigo Villanueva.
An audit showed, among others, that there was no legitimate public bidding for the project. The winning suppliers were not eligible because their accreditations were suspended by the Department of Health. As a result, the Commission on Audit suspended the project.
Locsin, Villanueva, and the 4 officials were sentenced to 6 to 10 years of imprisonment and perpetual disqualification from public office.
Conflict of interest
In November 2016, Dingle town vice mayor and ex-mayor Rufino Palabrica III were ordered dismissed by the Office of the Ombudsman for awarding construction contracts to a "dummy" company.
Palabrica, during his time as mayor, awarded projects between 2007 and 2009 to Tri-B Marketing, a company owned by a certain Eden Castañeda. But investigators found that Castañeda was a helper of Palabrica and his wife Theresa.
The Ombudsman in July 2016 had also charged Palabrica with 2 counts of graft for issuing a business permit and lease contract in 2013 in favor of his own drug store and medical clinic.
Earning from traffic
At least 19 regular and contractual employees from the Land Transportation Office (LTO) in Region VI were relieved in September 2016 after a complainant reported that they tampered with traffic violation tickets.
Assigned in Bacolod City and at the regional office in Iloilo, they supposedly issued Temporary Operator's Permits or traffic citation tickets using pens with "erasable" ink. They collected the fines from apprehended motorists, then would later change the amount on the tickets to reflect a lower fine. 
Thus, the traffic enforcers were remitting lower amounts of fines than what they have collected. They then pocketed what remained from the fine, according to the complaint. 
The 19 employees are being investigated by LTO Region VI.
Other corrupt acts
In August 2010, Dr Elpidio Locsin Jr, former president of the Iloilo State College of Fisheries, was meted out a punishment of up to 40 years in prison for having his sons avail of a student labor program meant for students from poor families.
Meanwhile, in September 2016, the Supreme Court dismissed process server Eric Caldito for grave misconduct, falsification, and dishonesty. Caldito of the Iloilo Regional Trial Court Branch 35 was found guilty of falsifying a court order and soliciting money from a law firm with a pending case.
Cases vs politicians
Some key Iloilo politicians have also been charged before the anti-graft court Sandiganbayan for alleged corruption. As of this posting, the court has not decided on these cases.
In September 2015, former Iloilo Governor Niel Tupas Sr and 3 co-accused were ordered arrested by the Sandiganbayan for approving the payment of unconsumed electricity worth P4 million. Tupas posted bail a day after the arrest warrant was issued.
This involved the 4-year deal entered into by Tupas in 2007 with power supplier Green Core Geothermal Incorporated, in anticipation of the completion of the Iloilo Multi-Purpose Convention Center.
However, the center's construction was stopped in 2009. Green Core was paid P5.88 million, despite the province only consuming electricity worth P1.88 million covering the December 2009-April 2010 billing period.
Former Technical Education and Skills Development Authority (TESDA) director general Augusto Syjuco Jr and wife Judy Syjuco also face graft charges related to some of their actions when they represented Iloilo's 2nd district in Congress.
In June 2016, the Ombudsman indicted Syjuco and 3 others for getting a P4.3-million financial grant in 2000 for a supposed district-wide poultry breeding and production project, using his non-governmental organization Tagipusuon Foundation Inc as a conduit. 
Tagipusuon then entered into a deal with Ilonggo Chickboy Corporation, which Syjuco also supposedly controls, for the supply of Kabir chicks.
The Ombudsman also filed graft charges with the Sandiganbayan against the Syjucos over the alleged misuse of then-congresswoman Judy's pork barrel funds in 2006. – with Russel Patina/Rappler.com
Reporting corruption gets you better government service. Tell us about your experience on www.fightcorruption.ph or chat with us through Facebook messenger. 
You can also report via the form below:
Help fight corruption. Share this story with your friends on Facebook, Twitter, and Instagram and help spread the word about how we can fight corruption together. 
To help us track the ripples of this campaign, use #NotOnMyWatch.
Interested to partner with us? Email notonmywatch@rappler.com.