Among the oldest cases are the graft cases against Imelda Marcos and civil forfeiture cases against former president Ferdinand Marcos and his cronies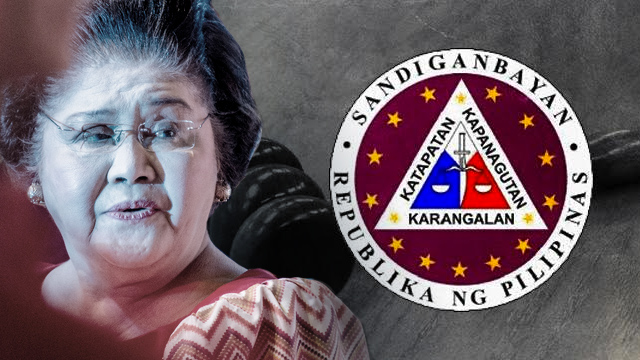 Editor's Note: On November 9, 2018, the Sandiganbayan 5th Division announced it had convicted Imelda Marcos of 7 counts of graft related to private organizations created in Switzerland, the details of which are in the story below.
MANILA, Philippines – If some of the oldest pending cases at the Sandiganbayan were persons, they would likely be already working or with family by now.
Data from the Sandiganbayan show that some criminal cases filed in the 1990s have yet to be decided by the anti-graft court. These cases have remained unresolved for over two decades now.
One case archived in the 1980s was revived by the court nearly 35 years later.
Among the pending cases are those involving former first lady and current Ilocos Norte 2nd district representative Imelda Marcos.
Nearly 26 years after they were filed, the Sandiganbayan 5th Division is still hearing all these cases.
No conviction, no ban from public office
Who or what caused the delays?
Both prosecution and defense teams share the blame. Lawyers familiar with corruption cases point out, however, that if the accused believes in his innocence and is confident of a favorable decision, he should be motivated to move for the early resolution of his case. 
In Imelda Marcos' case, a lawyer said the pending cases have not affected her, especially in elections.
"There is an incentive to delay on her part. She is not barred to run for public office, because there is no conviction," said Marlon Manuel, lawyer and national coordinator of the Alternative Law Groups (ALG), a coalition of legal resource non-governmental organizations.
Mrs Marcos, in fact, ran for public office 6 times since she returned to the country in 1991. (She and her family went into exile in the United States, following the ouster of former president Ferdinand Marcos in 1986 through the EDSA People Power Revolution.)
She ran for president twice but lost – in 1992 and in 1998 (but she withdrew days before that year's election). She was elected Leyte first district representative in 1995 and later became Ilocos Norte representative in 2010, and was reelected in 2013 and 2016.
Mrs Marcos' case has taken a lot of twists and turns over the last two decades. 
Ten counts of graft were filed against her in connection with her reported private foundations in Switzerland, as well as her financial interests in many private enterprises while she was a member of the Interim Batasang Pambansa from 1978 to 1984.
In all counts, she was sued for violating Section 3(h) of Republic Act (RA) 3019, which prohibits a public official from directly or indirectly having financial interest in any business or transaction related to his or her office, or where he or she is prohibited by the Constitution or by any law from having any interest.
Based on Sandiganbayan data, 5 of the 10 cases against the former first lady were filed in December 1991 – 5 years after the People Power Revolution. Another one was filed in June 1993, and 4 more in September 1995.
Both the defense and the prosecution had asked the Supreme Court to intervene at various points in the proceedings.
For instance, in 2001, the SC First Division dismissed Marcos' petition that assailed the Sandiganbayan's decision junking her motions to dismiss the cases. Then in 2006, the SC 2nd Division ordered a Sandiganbayan justice to recuse himself after the prosecution said he showed "hostility" toward one of their witnesses.
Reports say the prosecution was able to rest its case only in 2015, after a lengthy 24 years.
On January 17, 2017, the Sandiganbayan was set to resume trial, but defense lawyer Robert Sison and the former first lady snubbed the hearing. The defense was supposed to present its last evidence.
The trial was then reset to February. Sison was again a no-show, prompting the court to cite Sison in contempt. The court said that by Sison's absence, the defense had effectively waived the right to present additional evidence.
Also pending at the Sandiganbayan are around 20 civil cases against Ferdinand Marcos, Mrs Marcos, and the former president's close associates in relation to alleged ill-gotten wealth.
These pending cases were all filed in 1987. However, Civil Case No. 33, also originally filed in 1987, was split into 8 separate cases in 1995 due to the transactions involved. One of these 8 cases was dismissed in 2008.
Oldest pending cases
The Marcos cases are not the only ones waiting for the light of day at the anti-graft court.
These are the 10 oldest pending criminal cases in the Sandiganbayan as of February 28, 2017:
Case Number

Respondent(s) and Offense

1547
Filed on


Jun 2, 1980

Ricardo L. Azarcon
Grains classifier
National Food Authority
Roxas, Isabela


Offense:


Estafa

Status:

 


Archived on Oct 28, 1981




Revived on Apr 20, 2016

17287 – 17291
(5 cases)
Filed on 


Dec 18, 1991

Imelda R. Marcos
Member
Interim Batasang Pambansa


Offense:


Violation of RA 3019, 3(h)

Status:

Pending
18370
Filed on 


Dec 8, 1992

Ramon A. Diaz
Commissioner
Presidential Commission on
Good Government


Offense:


Falsification

Status:

 
Withdrawn on Jan 21, 1993


Revived on Aug 6, 1993

19225
Filed on 


Jun 2, 1993

Imelda R. Marcos


Minister and Member
Interim Batasang Pambansa


Offense:


Violation of RA 3019, 3(h)


Status:

Pending
22022*
Filed on 


Feb 17, 1995

Jose E. Kam
Governor (OIC)
Northern Samar


Offense:


Malversation 

Status:


Archived on May 29, 2008


Revived on Jun 13, 2014


* (Disposed on Mar 7, 2017)
22867 – 22870
(4 cases)
Filed on 


Sept 5, 1995

Imelda R. Marcos


Minister of Human Settlements


Offense:


Violation of RA 3019, 3(h)

Status:

Pending
23576
Filed on 


Feb 10, 1997

Eugenio B. Bernardo, et al.
Regional Director (OIC)
Dept. of Agrarian Reform
Pampanga


Offense:


Violation of RA 3019, 3(e)

Status:

Pending
23718
Filed on 


Jun 4, 1997

Rodito Ramirez, Jose M. Lee,
and Anileto G. Lirios
Mayor, Treasurer (acting),
and private individual


Caibiran, Biliran




Offense:


Malversation

Status:

Pending
23750 – 23751
(2 cases)
Filed on 


Jun 13, 1997

Norberto Aparicio
Bids & awards comm. member


DENR – Cagayan de Oro City




Cagayan de Oro City




Offense:


Violation of RA 3019, 3(g)
Status: 
Archived on Jul 27, 2016
Revived on Feb 20, 2017
23765 – 23766,
23768,
23771 – 23772,
23774, 23776
(7 cases)
Filed on 


Jun 13, 1997

Carmelita I. Marban


Bids & awards comm. member


DENR – Cagayan de Oro City


Offense:


Violation of RA 3019, 3(g)
Status: 
Archived on Jul 27, 2016
Revived on Dec 9, 2016
Five of these pending cases were archived by the court or withdrawn by the Office of the Special Prosecutor (OSP), until they were revived by the Sandiganbayan.
A case is archived when the accused is at-large (not yet arrested) at the time the decision is promulgated, or has not been arraigned because his whereabouts are unknown. The case then gets revived when the accused is arrested or surrenders, and can appear for arraignment.
The oldest one is an estafa case filed against National Food Authority (NFA) grains classifier Ricardo Azarcon. Filed in June 1980, it was archived in October 1981. Nearly 35 years later, in April 2016, the Sandiganbayan revived Azarcon's case.
On March 7, 2017, the Sandiganbayan resolved the malversation case against former acting Northern Samar governor Jose Kam. He was accused of failing to return two government-issued guns and a motorcycle, despite repeated demands, after he ceased to hold office.
Thirteen years after the case was filed in 1995, it was archived in 2008, when Kam failed to appear for his arraignment. The Sandiganbayan revived his case in 2014.
In 2017, Kam was found guilty of malversation, and would serve 10 to 14 years in prison. His case took a total of 22 years.
Over 4,000 pending cases
As of December 31, 2016, the Sandiganbayan reported a total of 4,214 pending cases, the highest number on yearend since the court was established in 1979, as shown on the graph below.
Also notice that from 1999, the number of pending cases started to decrease, going as low as 1,784 in 2004.
It was around the time when the Supreme Court in 2001 relieved then-Sandiganbayan presiding justice Francis Garchitorena from his post, so he could focus on clearing his backlog in undecided cases.
The Sandiganbayan was also made to comply with an SC administrative order to submit a bi-annual report of pending cases. This used to apply to lower courts only.
This stemmed from a recommendation by the Integrated Bar of the Philippines to conduct an inquiry into the causes of delay in handing down verdicts at the Sandiganbayan.
But after 2009, the upward trend started again. This may partly be attributed to a spike in the number of cases filed before the Sandiganbayan in 2013 and 2016.
Presidential Decree 1606 mandates that the trial of cases in the Sandiganbayan "once commenced shall be continuous until terminated." It also directs the anti-graft court to render a decision within 3 months from the date of submission. (READ: Get to know the anti-graft court Sandiganbayan)
Under Article III or the Bill of Rights in the 1987 Constitution, Filipinos have the right to a speedy disposition of cases before the courts and other related bodies.
Blame game
Manuel said a distinction should be made between cases where trial is still ongoing and those already submitted for decision.
"If the delay is on cases submitted for decision, it's a big problem. That means the justices are taking too long to decide," said Manuel. "If it's still on the trial proper, there are many factors to be considered, like the number of witnesses."
The Sandiganbayan data obtained by Rappler does not reflect if or when a case has been submitted for decision. It only shows the disposal of each case, like whether the accused is convicted or acquitted, or if the case has been dismissed, archived, or is pending.
The Sandiganbayan in 2014 hit the Office of the Ombudsman for "inordinate delays" in prosecuting accused officials and individuals. This forced the Sandiganbayan to dismiss some cases.
Presiding Justice Amparo Cabotaje-Tang asked the Ombudsman to look into the cause of these delays, which she described as "deplorable" and which "grossly offends the right of public justice."
On the other hand, former Ombudsman Simeon Marcelo pointed to the bottleneck at the Sandiganbayan.
Citing a study, Marcelo said in 2002, it took an average of 6.6 years from filing of charges to release of verdict at the Sandiganbayan. In 2014, the average worsened to an average of 10.2 years.
In September 2016, the Office of the Ombudsman asked the Supreme Court to strike down the Sandiganbayan's doctrine of inordinate delay because it emboldens wrongdoers in government to use it as a legal strategy to get off the hook.
Essentially grounded on the belief that justice delayed is justice denied, the said doctrine emphasizes the right of the accused to a quick disposition of his case.
But the Ombudsman pointed out that the Sandiganbayan's interpretation of "inordinate delay" in the trial and prosecution of corruption cases varies widely, ranging "from a high of 14 years to as short as 4 years." 
The Ombudsman also argued that the "people's equally important right to public justice" should not be set aside even as the Sandiganbayan protects the rights of an accused to a speedy trial.
Causes of delay
The SC's Office of the Court Administrator, in its judicial audit of pending Sandiganbayan cases in late 2000, listed the causes of delay in the anti-graft court at the time:
Failure of the Office of the Special Prosecutor to submit reinvestigation reports despite the lapse of several years
Filing by the accused of numerous pleadings like Motion to Dismiss, Motion to Quash, and Demurrer to Evidence that remain unresolved for years
Suspension of proceedings because of a pending petition for certiorari and prohibition with the Supreme Court
Cases that remain unacted upon or have no further settings despite the lapse of a considerable length of time
Unloading (or the transfer to other divisions) of cases that are already submitted for decision, even if the ponente is still in service
Reiterating what it said in a previous ruling, the SC said unreasonable delay of a judge in resolving a case "amounts to a denial of justice, bringing the Sandiganbayan into disrepute, eroding the public faith and confidence in the judiciary." – with Pia Faustino of Thinking Machines, Lian Buan, and Gemma B. Mendoza/Rappler.com