While the Land Transportation and Traffic Code has mandated uniform speed limits throughout the country, some LGUs have enacted their own speed limits based on road and traffic conditions in their areas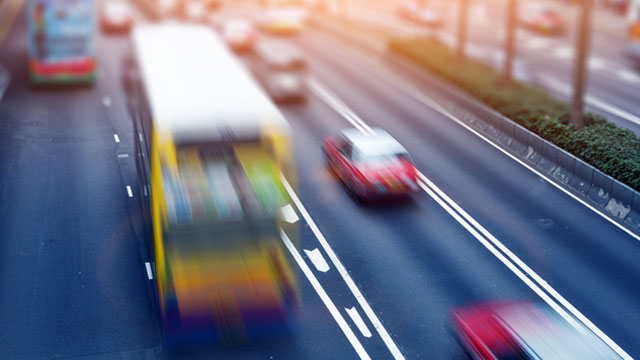 MANILA, Philippines – Road crashes are among the leading causes of deaths around the world. The World Health Organization (WHO) identifies speeding as one of the main problems that contribute to the risk of crash-related injuries in road traffic.
Professor Regin Regidor of the University of the Philippines National Center for Transportation Studies said speeding reduces one's control of the vehicle, among other risks.
"It also reduces one's field of vision, therefore, impairing observation and ultimately limiting your reaction time in case something happens in front of you like a child suddenly crossing the street," Regidor said.
He added that collisions at higher speeds involving pedestrians, cyclists, or other motorists also have a higher likelihood of fatalities and serious injuries. (READ: Road deaths in PH: Most are motorcycle riders, pedestrians)
The Philippines recognizes the danger of speeding. Speed limits are set under Republic Act No 4136 or the Land Transportation and Traffic Code which mandates the allowable speed limits on open country roads, city and municipal streets, and thoroughfares.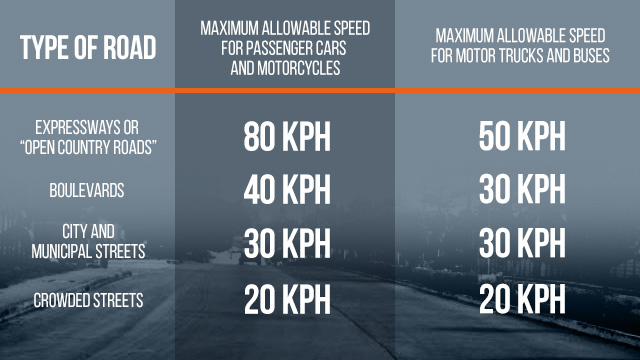 Under  RA 4136, these speed limits are uniform nationwide. This means that no provincial, city, or municipal authority can enforce any ordinance or resolution specifying speed limits other than those prescribed in the law.
The problem with the law is since it was enacted more than 5 decades ago, the speed limits set on some roads may be outdated already. (READ: What's lacking in our road safety laws?)
Another is that some local government units (LGUs) may be better off setting their own speed limits that would be more appropriate for current road conditions in their respective areas, and help reduce the risk of road crashes.
Local speed limits
Even though RA 4136 says otherwise, some LGUs have set their own speed limits. A road safety advocacy group cites another law that empowers LGUs to do this.
A study conducted by Imagine Law, a civil society organization advocating road safety, explained how one of the provisions of Republic Act 7160 or the Local Government Code  mandates LGUs to "exercise all powers granted to it in order to promote health and safety, among others."
The Local Government Code also empowers cities and municipalities to enact ordinances to regulate the use of its streets and avenues, and to regulate traffic. 
"The mandate of LGUs under the Local Government Code to promote the welfare of its constituents also gives the LGUs the power to set local speed limits… In practice, LGUs enact ordinances on speed limit setting, without the need for approval from the LTO, though they may consult the LTO should they wish to do so," the study said.
Imagine Law is currently working with several LGUs to craft their own local speed limit ordinances. It cited the importance of empowering LGUs to manage speed limits within their localities.
Managing speed based on the specific classification of local roads is important because national speed limits do not always correspond to the appropriate speed when the road environment changes.
The municipality of Tupi in South Cotabato, for instance, passed an ordinance in 2014 prescribing a speed limit of not more than 80 kilometers per hour for 4-wheeled vehicles and motorcycles traveling along the national highway, while a 40 km/h speed limit is in effect within the town proper.
The ordinance was passed in an effort to curb the increasing number of vehicular crashes in the area.
A local trial court said the ordinance was "void ab initio," or invalid from the start because it runs contrary to the provision in RA 4136. 
Imagine Law Executive Director Sophia San Luis also said that it's not clear if LGUs can impose their own speed limits on national roads, which are under the jurisdiction of the Department of Public Works and Highways (DPWH). 
Different speed limits
Most LGUs though have not enacted their own local speed limits.
According to the Imagine Law study, of the 229 provinces, cities, and municipalities they contacted, only a few provinces have actually set speed limits for all or some roads within their jurisdiction.
Most of these cities are in Luzon, which lowered the speed limit to below 30 km/h, specifically for streets in a school zone. The Visayas has the least number of cities and municipalities that enacted their own speed limit ordinances, according to the study.
Here are the provinces that enacted speed limits in their own localities:
Imagine Law also suggested guidelines to harmonize the different speed limits to ensure that they falls within the maximum allowable speed limits provided under the Traffic Code.
Some of their recommendations include:
Investing in speed measurement devices
Appropriation of resources
Installation of speed signs
Publicizing enforcement activities
Collecting road crash data and monitoring effects of speed limits
Establishing a centralized database of speed limits in government units
Not just speeding
While speeding poses serious risks to road users, simply enacting speed limits will not deter the rising number of road crashes. Engineering and the classification and condition of the road must also be taken into account. 
For example, slowing down on a national highway – specifically on the left lane – is not necessarily safe. There is a higher risk of a road traffic crash when motorists drive slowly on the left lane because other drivers will be forced to constantly switch lanes to avoid the slow drivers in the left lane.
In Camarines Sur, for example, speeding through its defective highway has caused motorists to figure in a crash. A local DPWH official said that among the factors that contribute to the deterioration of other roads in the area is the heavily-loaded cargo trucks weighing 25 to 35 metric tons. (LOOK: Defective highway in Camarines Sur unsafe for motorists )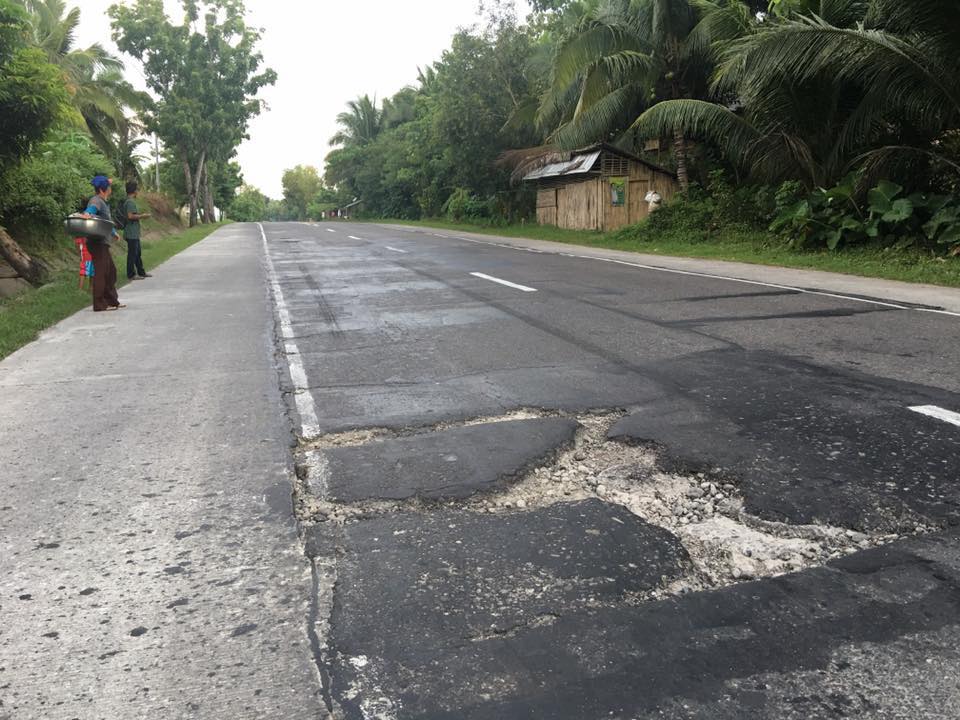 A viral Facebook post from Davao shows the importance of engineering and its effect on the condition of the road. The road has become impassable due to damage after a heavy rainfall.
While speeding is only one aspect of road safety, San Luis believes that speed enforcement is a great place to start in the advocacy for road safety.
"Speed enforcement, which starts with speed limit setting, is a great place to start given that speed often contributes to road crashes. When a country such as ours cannot immediately redesign its roads to manage speed, then speed enforcement is a better alternative," said San Luis.
She added, "Ultimately, what will make our roads safe is having a safe system, where both the road users, traffic enforcers, and those who manage and maintain roads, prioritize safety." – Rappler.com