(UPDATED) For netizens, having the centenarian tattoo artist from Buscalan, Kalinga, work at the trade fair in Metro Manila is a blatant act of exploitation and commodification of her culture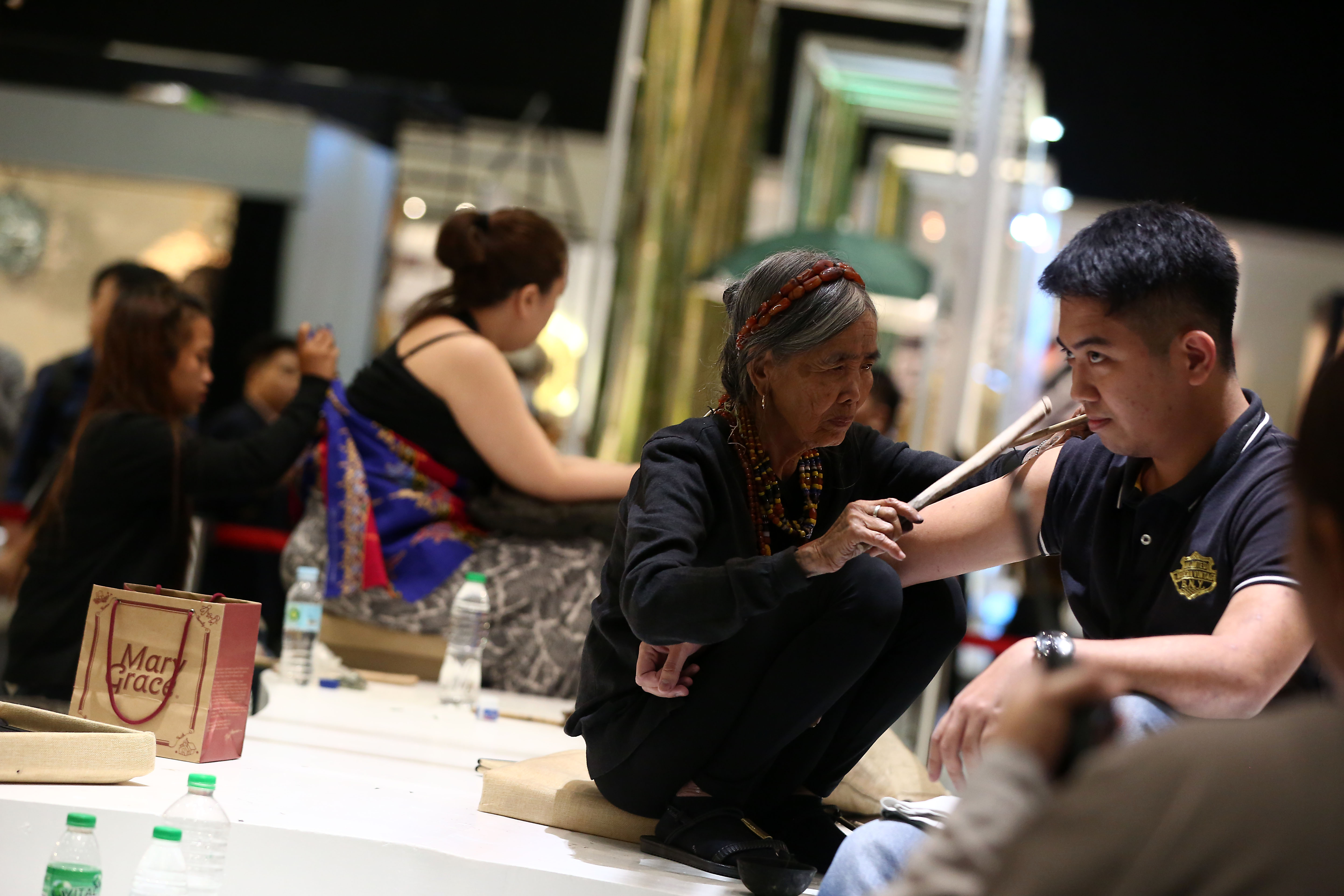 MANILA, Philippines – (UPDATED) People were happy to learn that Apo Whang-od Oggay was in Manila, and that she had a photo with her favorite actor, Coco Martin, which went viral on social media.
Organizers of Manila FAME – the trade show on culture, designs, crafts, and brands that runs from October 20 to 22 – brought the legendary tattoo artist from Buscalan, Kalinga, to the national capital with the help of the Philippine Air Force.
Whang-od is known to be one of the last mamabatok (Kalinga traditional tattoo artist). She is said to be 100 years old, although various groups and government agencies had said that she did not have the documents to prove this.  Ton Vergel de Dios, one of the hosts of sports and travel show "Gameplan," had described her as "looking really strong." She was training her niece, Grace, to one her place someday.
The celebratory mood that accompanied the artist's Manila visit ebbed two days into the trade event, when netizens began criticizing the organizers for supposedly exploiting the tattoo artist by allowing her to tattoo up to 300 attendees at the trade show.  
Viral
In a photo that went viral, Whang-od was seen sleeping at a press conference where she was selected to participate as panelist.
According to Winky Scott, a blogger who posted about the supposed exploitation of Whang-od, the organizers charged attendees P2,500 for a tattoo, P500 for a signature (3 tattoo dots), and P700 to see Whang-od at the press conference.
As of posting, Scott's photo garnered more than 37,000 reactions and had been shared 18,000 times. For netizens, having the centenarian tattoo artist work at the trade fair is a blatant act of exploitation and commodification of her culture.
This was echoed by Philippine Tattoo Artists Guild (Philtag) President Ricky Sta Ana.
"Inabuso talaga siya. Wala silang kaalam-alam na ipag-tatattoo siya pagdating sa Manila (She was really exploited. They had no idea that she would do tattoos when she got to Manila)," Sta Ana shared in a phone interview with Rappler. He had just spent Saturday night talking with Buscalan village leaders. 
He said that the village leaders told him that doing tattoos at the trade fair was not part of their initial agreement with the show organizers. Village leaders, according to Sta Ana, also claimed that Whang-od was looking forward to retiring from doing tattoos. 
The contract signed by Whang-od and her niece, however, told a different story. 
In the contract, Whang-od agreed to a "two-day live tattooing in Manila FAME and speaking engagement for Create Philippines." It was also stipulated in the agreement that "any proceeds from the tattooing or sale of Blacksmith products shall be received in whole by the Talent and her companions."
Two other tattooists who came with her also agreed to conduct live tattoo sessions for Friday and Saturday. 
Many also said that Whang-od's case was reminiscent of the Philippine Exposition at  St Louis World's Fair in 1904. Then Governor General Philippines William Howard Taft convinced the fair organizers to feature a grand Philippine Exposition, complete with Philippine indigenous people brought to the US as living exhibits. The exhibit depicted Filipinos as savages.
HAPPENING NOW: Panel discussion on the Kalinga Heritage Tattoo with Apo Whang-Od #ManilaFAME pic.twitter.com/9jhKb1MORI

— Manila FAME (@TheManilaFAME) October 20, 2017
"I'm no longer surprised by how we commodify culture or use our indigenous peoples as our edge in business, proving that we are capable of "innovation," Nash Tysmans, a Filipino writer and community worker, commented.
Each tattoo done by a mambabatok starts by taking a mix of soot and water and applying it to the skin using a stencil. This would then be pounded onto the skin using a stick with a thorn at the end that is rhythmically pounded. Each tattoo's design is chosen and can range from centipedes, trees, to geometric patterns.
Here are some tweets from netizens about the issue:
Whang Od in Manila – Curated tweets by MovePH
'Not exploited'
Manila FAME is a trade fair organized by the Department of Trade Industry's (DTI) Center for International Trade Expositions and Missions (CITEM).
According to Clayton Tugonon, Executive Director of DTI-CITEM, it was not part of their intention to "exploit" the Kalinga tattoo artist. On the contrary, they brought her to Manila with the intention of proudly showcasing her culture. 
Tugonon added that they brought Whang-od to Manila, along with other Buscalan village leaders, to support her nomination for the "Gawad sa Manlilikha ng Bayan (GAMABA)" or the National Living Treasures Award.
A viral online campaign in 2015 called for a National Artist Award to be given to Igorot tattoo artist Whang-od.  Others argued, however, that she should be given the National Living Treasures Award. 
As an institution into arts, Tugonon said CITEM wanted to support Whang-od whose "art has never been changed" or altered.  
"She is an institution about art, [symbolizing] the pure talent of Filipinos," Tugonon said in mixed Filipino and English, praising the tattoo artist. 
The CITEM executive director also said that before flying Whang-od to Manila, they made sure she was physically able. 
"Before she was brought into the city, we have 6 people looking into her health. We do not want to fly her in sick….She came in an ambulance, assisted by 4 paramedics, one doctor, and two close security. Outside, an ambulance is on standby for transcare," Tugonon added. 
Responding to criticism that they have exploited her for profit, Tugonon said CITEM did not get a cent out of  their almost P800,000 worth of income from the trade fair. It was Whang-od, according to Tugonon, who insisted to do more tattoos.  
Manila FAME flew Whang-od back to Buscalan on Sunday morning, October 22.  – Rappler.com