Meet Miss Ogyny, Miss Information, and other characters at the Halloween party called 'Gabi ng Lagim sa Panahon ni Duterte'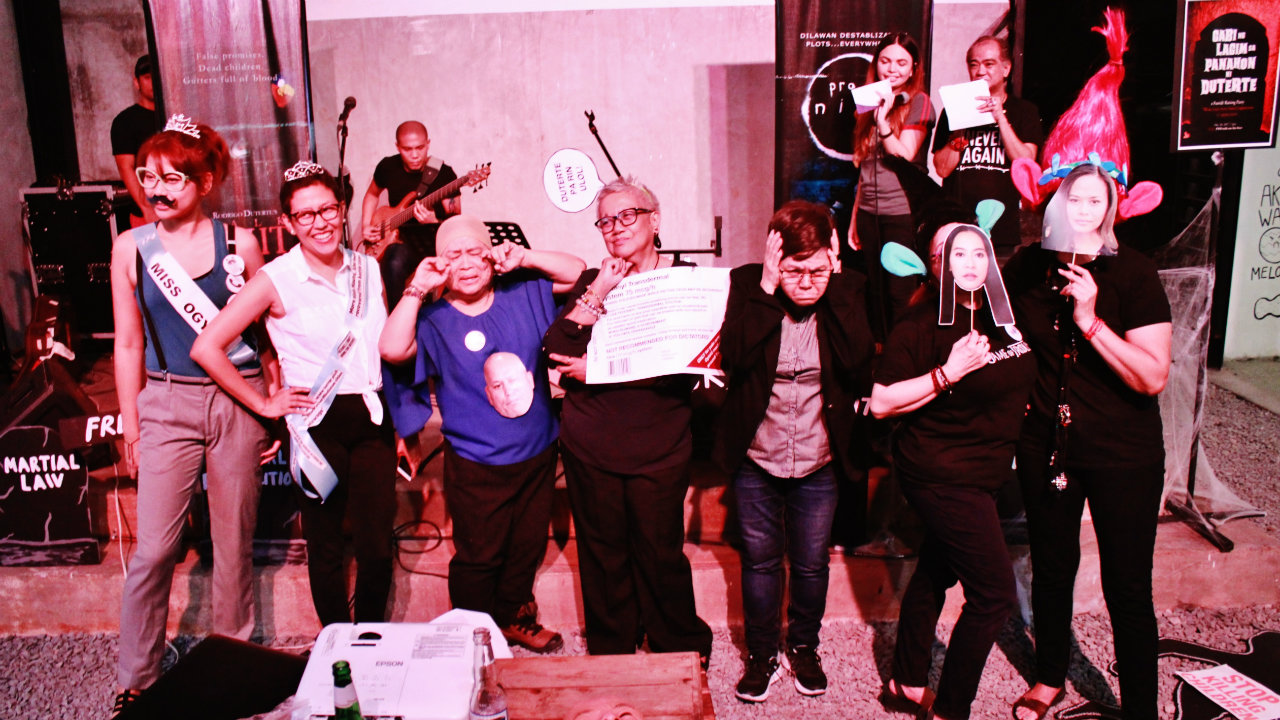 MANILA, Philippines – Costume parties have been happening left and right as October draws to a close, but the organizers of one particular Halloween bash have taken the idea of spooky fun to a political level.
EveryWoman, a coalition of individuals and women's groups allied with the Tindig Pilipinas movement, hosted a Halloween party on Thursday, October 26, meant to poke fun at public officials and online influencers supposedly oppressing ordinary Filipinos, especially women.
Guests at the Gabi ng Lagim sa Panahon ni Duterte (Night of Horror in the Time of Duterte) fundraising event wore costumes representing the kinds of oppression under President Rodrigo Duterte.
Some partygoers opted for a minimalist approach, wearing speech bubbles on their heads containing comments and slurs usually attributed to online supporters of the President and his policies.
At the registration table, organizers sold paper cut-out masks of public officials like Communications Assistant Secretary Mocha Uson, Philippine National Police (PNP) chief Ronald "Bato" dela Rosa, and the President himself.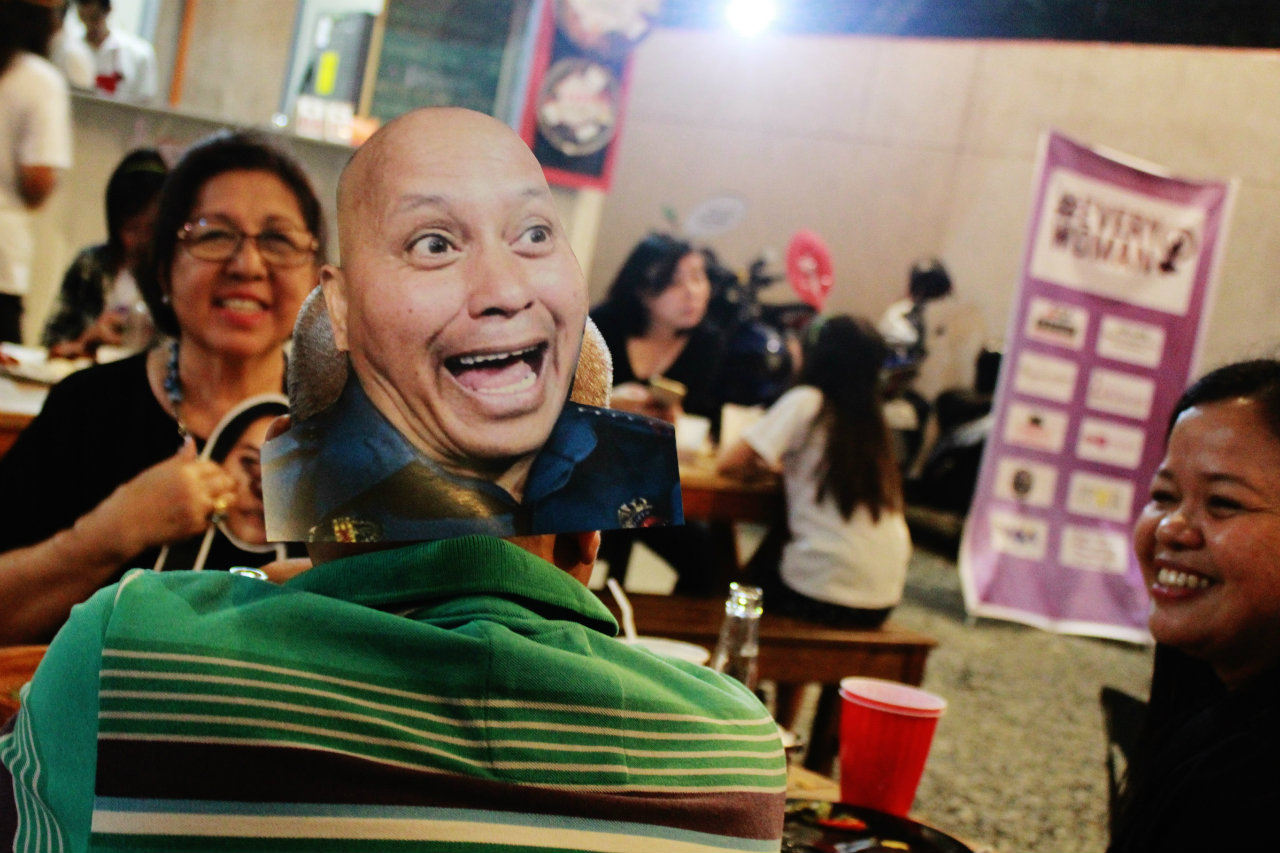 Others wore more elaborate costumes. Two guests went as the pageant queens Miss Ogyny and Miss Information – their names being a play on the terms for an extreme hatred of women and deliberately misleading the public, repectively.
"Even before Duterte came to power, it has become normal for people to put women down, to joke about rape… and for me, that is the number one oppression right now," said Miss Ogyny, who asked to have her name concealed.
"I mean just this week I've heard government officials, two of them, make sex jokes (in front of the media). Misogyny has become a norm, and it's not supposed to be a norm," she added.
For her part, Miss Information, who also declined to use her personal name, identified the spread of fake news as a form of oppression as well.
"There is proper information out there, and yet people twist that information to their advantage, and I think that (misinformation) has divided us Filipinos," she said.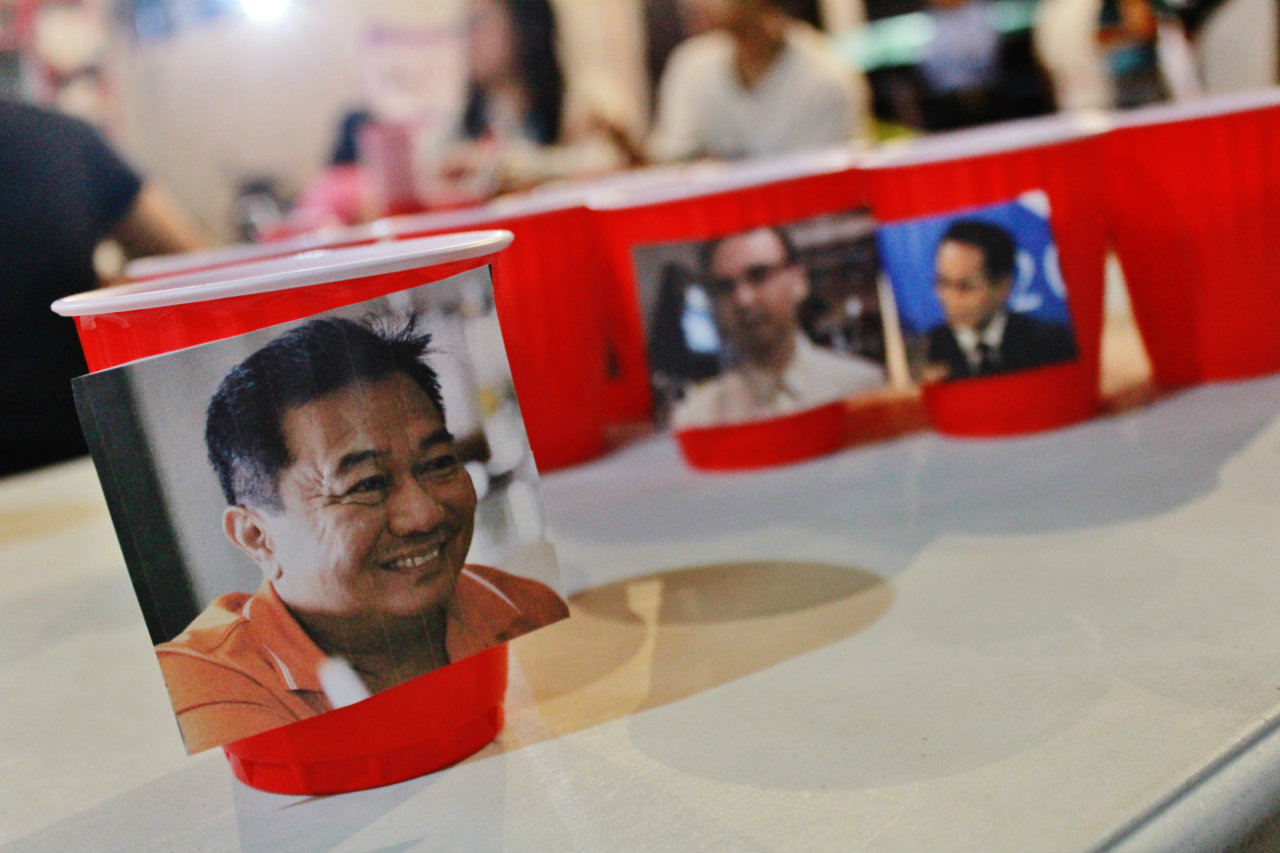 Aside from the guests' costumes, the event also featured a beer pong game with the faces of Duterte supporters on the cups, a booth where players can shoot darts at pictures of key administration officials, and an Oplan Tokhang Dropbox raffle satirizing the Masa Masid drop boxes of the Department of the Interior and Local Government (DILG).
All fun, no fear
Former Department of Social Welfare and Development secretary Dinky Soliman, a member of EveryWoman, said that Gabi ng Lagim sa Panahon ni Duterte is a way of raising public awareness about the way the deadly anti-drug campaign and various pronouncements from government officials have affected Filipino women.
"We are basically a people who can understand issues when we make fun of those who oppress us. This is us saying, 'Stop the killings, stop the misogyny, stop the corruption,' through spoken word and musical performances about people resisting and saying no to injustice, and doing it in a way that is fun," Soliman said.
"The culture of fear is so strong (in this country), and this our way of taking the fear out of people," she continued.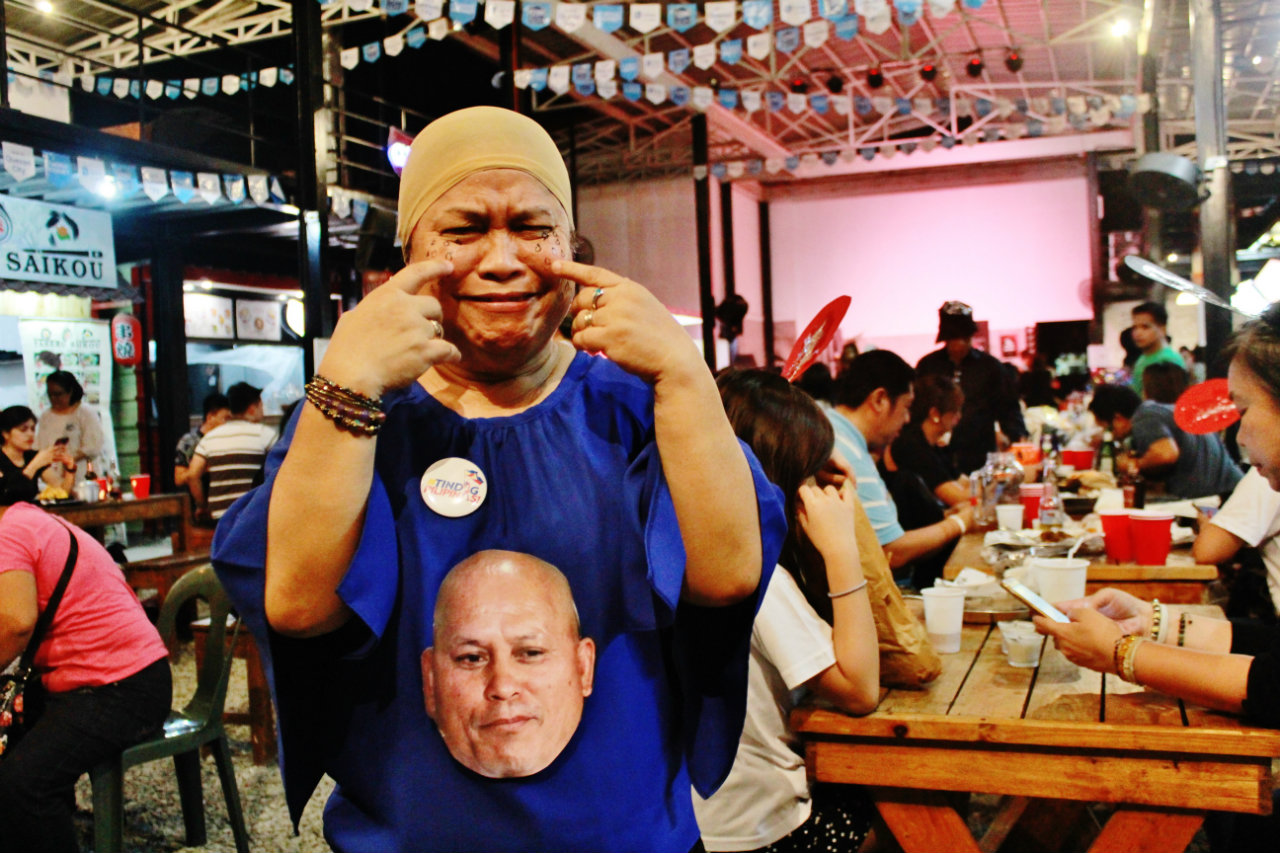 Soliman wore a skin-tonned bonnet over her short cropped hair to mimic the bald Dela Rosa and drew tears on her face, recalling how dela Rosa turned emotional during a Senate inquiry on extrajudicial killings in September.
Guests voted the former social welfare secretary's getup as Best Costume during the event.
EveryWoman lead convenor and former Presidential Adviser on the Peace Process Teresita "Ging" Deles described their Halloween event as an alternative form of protest against the "very real horrors" happening under the current administration.
"So we got people to dress up as their worst oppressors and mimic them… in this way we are also telling ourselves (that) we can face our monsters, we can overcome them, we can defeat them, we can trivialize them," Deles said.
She also noted that the party was a break from the usual protest activity, swapping political speeches for games and performances.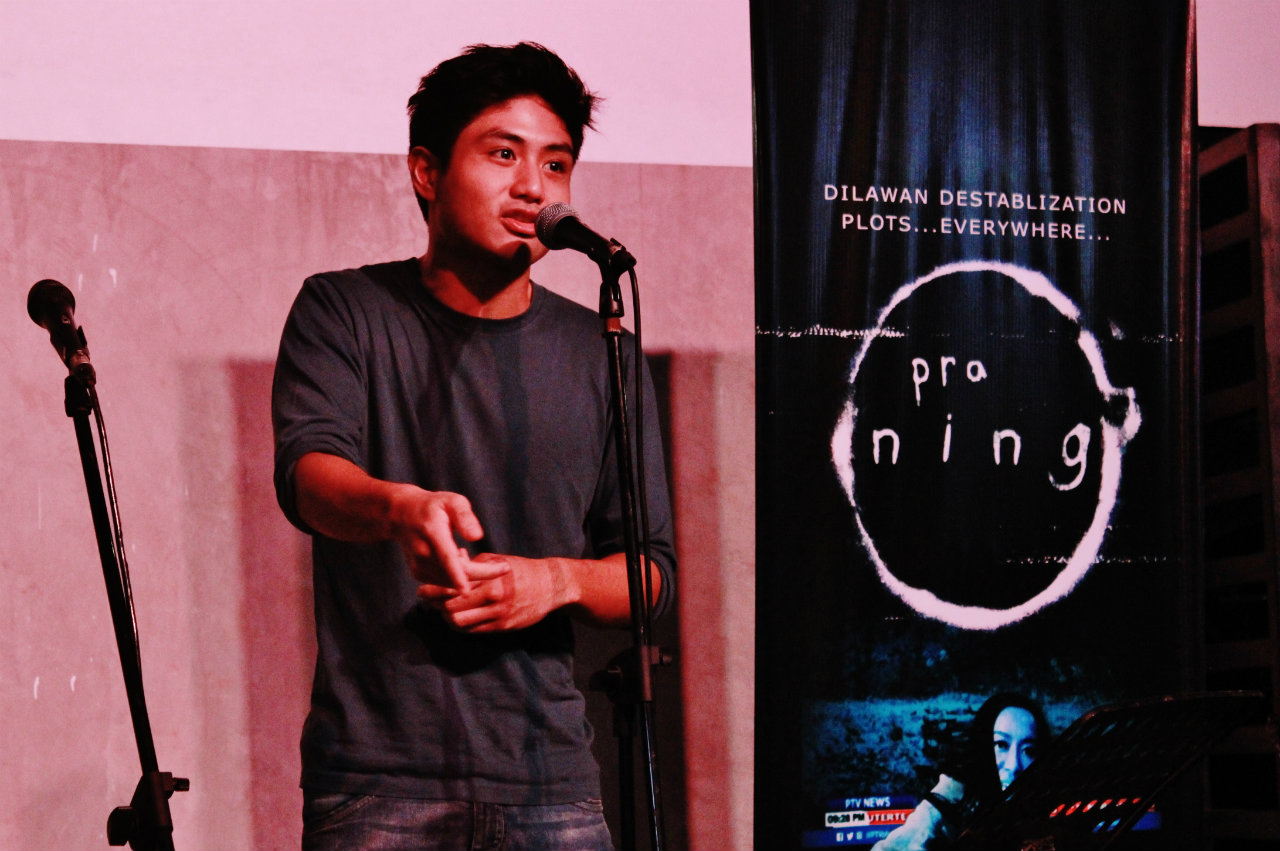 This theme certainly wasn't lost among the musicians and spoken word poets who performed during the event.
Rian Magtaan of the Baon Collective, an artist group of young writers and performers, believes that raising the political awareness of people doesn't always have to be done through speeches or lectures.
"For us, (we believe) art cannot change the world but it can change how people view the world. By creating works of art, we can affect people on an emotional level. That kind of emotional engagement can transform people from being passive spectators to being active participants," he said in Filipino.
Growing movement
Several other activities are lined up for EveryWoman after their Gabi ng Lagim sa Panahon ni Duterte Halloween event, including the culmination of a 9-day prayer vigil for all victims of extrajudicial killings on October 30 together with Tindig Pilipinas.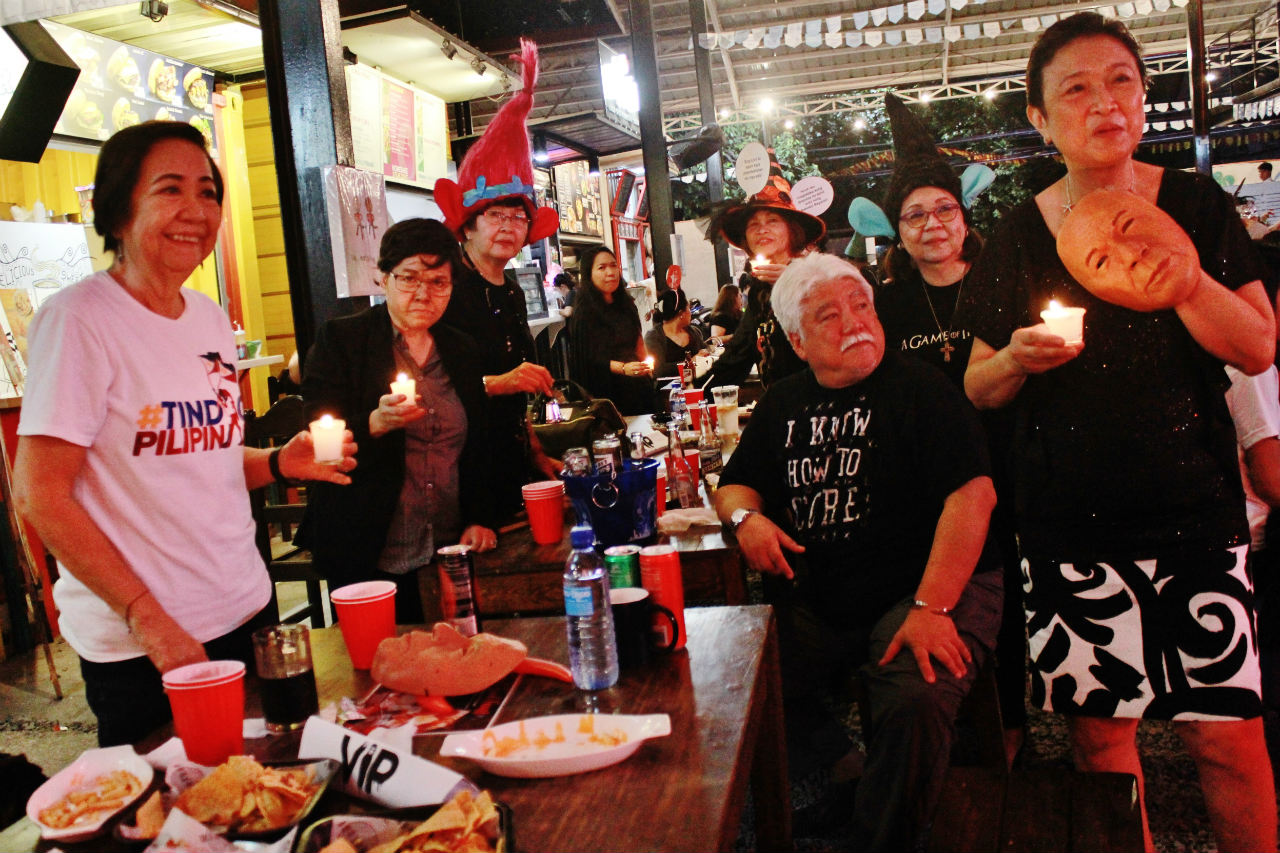 The group will also participate in a Mass at the EDSA Shrine and an ecumenical service at the People Power Monument along EDSA on November 5, in response to an earlier call of the Catholic Bishops' Conference of the Philippines for 40 days of prayer for the victims of the drug war and the conflict in recently liberated Marawi City.
Deles also mentioned the Women Defend Democracy project initiated by EveryWoman's member organizations, which include Akbayan Women, Likhaan, PILIPINA PINASAMA, and PPVR Women among others.
The project aims to launch activities to raise political awareness among women in different parts of the country and help create local campaigns in at least 6 provinces to support the fight against extrajudicial killings, misogyny, and human rights violations.
"What we always say is that EveryWoman emphasizes the relationship between women's rights and democracy," Deles said.
Meanwhile, Soliman expressed hope that the participation of the youth in activities such as Gabi ng Lagim contributes to the growth of the movement against resurgent authoritarianism in the country.
"People will be more courageous, people will be less fearful, and people will start talking more and more," said the former welfare secretary.
Beyond having a public conversation on issues hounding the country, citizens must be willing to act as a collective according to Gabi ng Lagim guest Miss Information.
"I think it starts with public outrage, people have to be out there taking part in collective action, and it's not supposed to be a collective based (only) on class or sex or age or ethnicity. It should be everybody," she said.– Rappler.com