Shibby de Guzman of St Scholastica's College joins an eminent list of global teen influencers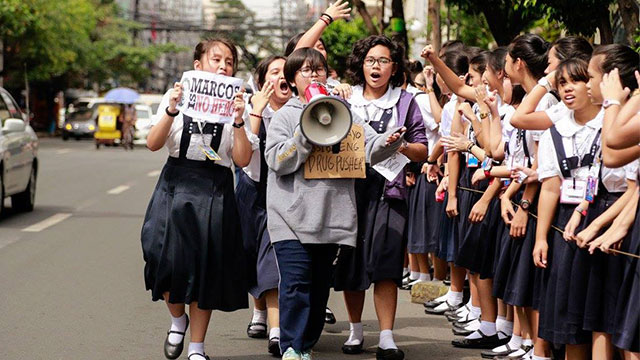 MANILA, Philippines – Fourteen-year-old Shibby de Guzman, who drew both praise and online attacks for joining a protest rally against the hero's burial for dictator Ferdinand Marcos, has been included in TIME's list of "30 Most Influential Teens of 2017."
De Guzman gained a spot in the TIME list for bravely speaking out against President Rodrigo Duterte during a protest with fellow students at St Scholastica's College on the hero's burial for Marcos. 
A picture of De Guzman holding a megaphone and with a message strung around her neck, saying, "Lahat tayo posibleng drug pusher (We are all possible drug pushers) – a criticism of the Duterte administration's bloody war on drugs – went viral. De Guzman and her classmates wore cardboard signs pertaining to the mostly poor victims of drug-related killings.

Administration supporters slammed the participation of students at the protest rally as "so wrong" and even called out their school for "child abuse" and for "forcing" the students to rally, which SSC, the parents, and students denied. 
In its piece on De Guzman, TIME's Joseph Hincks noted that in the Philippines, "it's a risky move to speak out against Philippine President Rodrigo Duterte," considering what happened to his critics, including detained Senator Leila de Lima.
"None of this has deterred de Guzman, who shot to prominence after she was photographed protesting the lionization of late Philippine dictator Ferdinand Marcos," Hincks wrote.
De Guzman did not let the criticism stop her, and stood her ground. "Please do not underestimate the youth. We completely know and understand the injustice we are protesting against," she replied to one of the attacks against the young student-protesters.
Inspiration for PH youth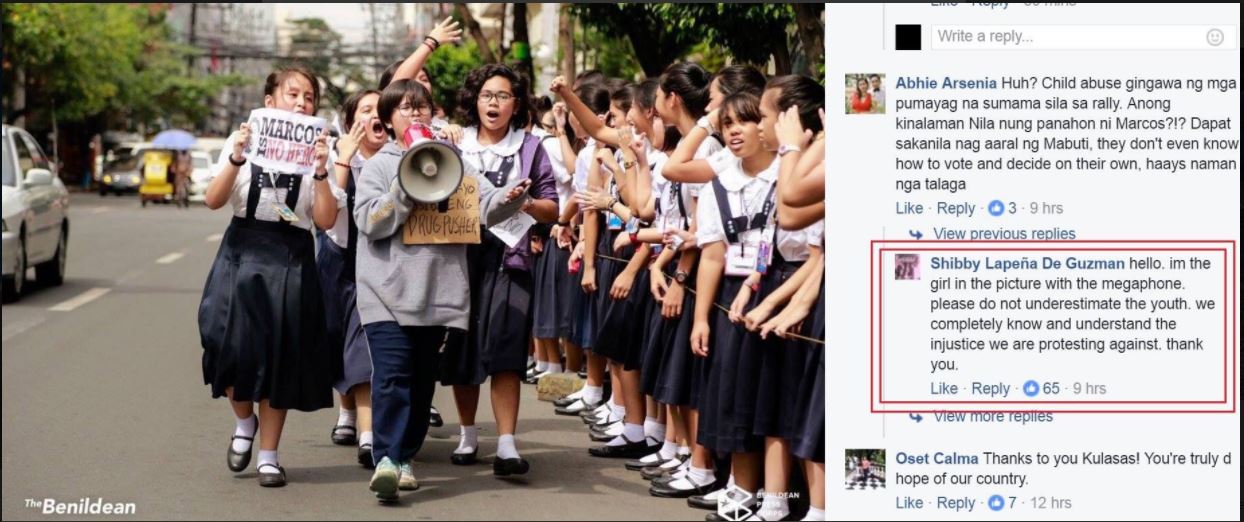 In an interview with Rappler on Friday, November 3, De Guzman said that she only "used the tools and opportunities given to her to speak especially for people who can't."
Moving forward, she encouraged the youth to take action and never give up the good fight until their voices are heard and their words are put into action.
"I can light the match but only they can start the fire. It's easy to be passionate about your country but I believe what's important are the ideas that come from the youth. It's important that we are passionate, creatively innovative and that we strive for something better because we are the future," she said.
She also shared that she's ecstatic to be on the same list as one of her favorite stars, Millie Bobby Brown of hit TV series "Stranger Things."
Another Filipino who made it to the list is Brentman Rock, a Filipino beauty vlogger based in Hawaii.
TIME said that in deciding on the list it considered "accolades across numerous fields, global impact through social media and overall ability to drive news." – Rappler.com