The Mines and Geosciences Bureau identifies 5 areas located near the forecasted track of Tropical Storm Vinta that are prone to landslides and heavy flooding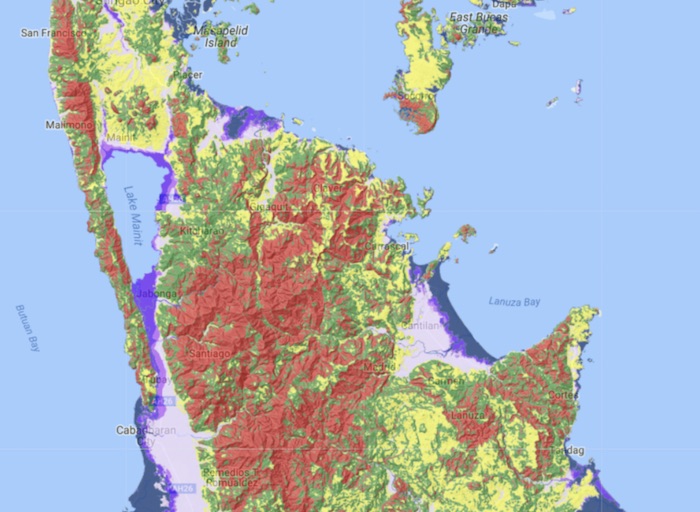 MANILA, Philippines – The Mines and Geosciences Bureau tagged at least 5 areas located near the forecasted track of Tropical Storm Vinta (Tembin) that are prone to landslides and heavy flooding.
Based on the shapefiles of hazard maps produced by the national agency, the hazard-prone areas include:
Dolores, Eastern Samar
Laoang, Northern Samar
Roxas City, Capiz
Caraga
Dinagat and Siargao islands
To prepare for the possible impact of Vinta, MGB advised officials from these areas to activate their local (barangay) disaster risk reduction and management councils for early disaster preparedness measures.
In its latest bulletin, PAGASA already warned that scattered to widespread rain is expected in Central Visayas, Eastern Visayas, Caraga, Davao, and Northern Mindanao within the next 24 hours. Residents of these areas should be on alert for possible flash floods and landslides.  It could make landfall on Thursday evening or Friday morning.
Landslides
Local officials can also consult the map uploaded on MGB's website which indicates the areas prone to rain-induced landslides with 3 colors – red, green, yellow. 
MGB explained that the red areas are highly susceptible to landslides. If a storm passes through a red area, people need to be alert. When water saturates the area, a landslide will likely occur.
In its report, MGB said that people living in red areas should always be ready to evacuate. The longer the rainfall, the more vulnerable the red areas become. Those in red areas are mountains with steep slopes, fractures, and structurally weak rock formations with a history of landslides.
On the other hand, green areas are moderately susceptible to landslides. People living here, however, still need to be careful. These are usually mountains and rock formations with moderate slopes.
Yellow areas are less likely to experience landslides. Landslide debris, however, might still affect the areas as they could become an accumulation zone.
According to the MGB, those susceptible to landslides should look out for the following signs:
tension cracks
fractured rocks and sediments
sliding slopes, active slide progressing
tension cracks, terracettes
seeps
thick soil overburden
The MGB added that local government units and residents in low-lying areas or near riverbanks should be vigilant in monitoring river water levels. – Rappler.com