Majority of the 2,000 evacuees are housed in the Kabasalan Gymnasium in Barangay Poblacion, Zamboanga Sibugay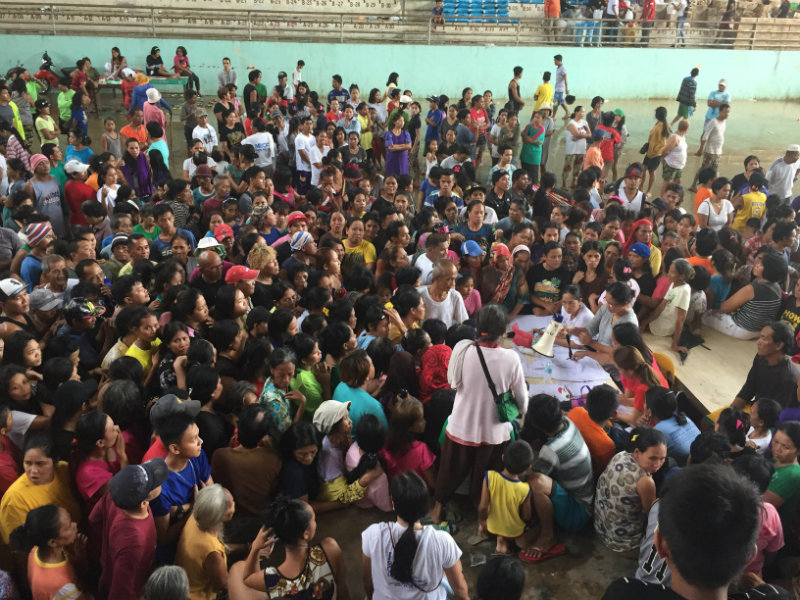 ZAMBOANGA SIBUGAY, Philippines – Waist-level flashfloods forced more than 2,000 residents to leave their homes in 13 barangays of Kabasalan, Zamboanga Sibugay, Friday evening, December 22.
Caused by heavy rain and wind due to Tropical Storm Vinta, an uprooted tree-trunk hit and damaged a flood-mitigating dam in Barangay Goodyear, according to the Local Disaster Reduction Management Office of Kabasalan. (READ: Death toll from Tropical Storm Vinta rises to 30) 
This caused the sudden rise of flood waters in at least 10 barangays, including the Poblacion, Bangkal, Sanghayan, F.L. Peña, Salipyasin, Cainglet, Sta Cruz, Dipala, Conception, Sininan, Canasan, and T. Dand. 
Based on initial reports, Vinta caused heavy flooding, "wiped out" houses, and displaced thousands of residents across different provinces in Mindanao. (READ: Marawi City, Lanao del Sur under state of calamity due to Vinta)
Heavy flooding
Residents were quick to react and called for immediate rescue.
"Wa jud mi nagdahom nga ing-ato ka paspas ang mutaas ang tubig. Taman hawakan na gud, dali-dali jud mig bakwit," Rida Semillo told Rappler. (We really did not expect the flood will rise quickly. The flood is above waist-level that''s why we evacuated immediately.)
The 72-year-old from Barangay Sanghanan also said that they were already advised by local authorities to prepare for possible flooding but she did not expect it to happen too soon.
"Karun ra jud me kasinati ug ing-aning pagbaha, sauna kay kung muulan ug kusog dili raman jud taas ang baha," she added. (This was our first time to experience this flood. Back then, when it rains hard, the flood is not this high.) 
Earlier on Saturday morning, December 23, Cheryl Velasco, a teacher from Kabasalan Special Education (SPED) Center, checked her classroom only to find cabinets containing important school documents destroyed by the flood.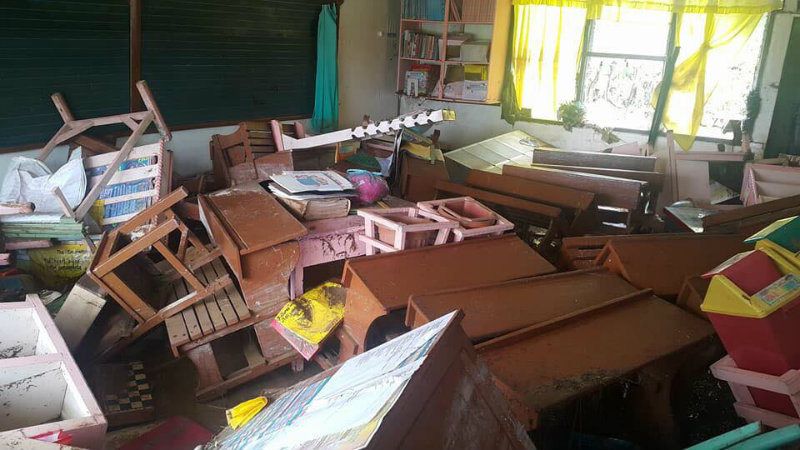 Velasco said that days before the expected onslaught of Vinta, she prepositioned the cabinets above what she thought would be beyond the flood's reach.
"Usually, flood only reached up to knee-level only, that's why we placed the cabinets just above the tables," Velasco related. "This is the 3rd time this year, and it is the worst," she added.
Velasco also found out that the school's projector, computers, photocopier machine, and other electronic devices were also washed out.
Relief operations 
Majority of the 2,000 evacuees were housed at Kabasalan Gymnasium in Barangay Poblacion. The local municipal government also started to distribute relief goods in the evacuation center. 
Municipal council member Elma Bragado said they are prepared and ready to assist affected families.
"We are preparing for about 2,000 relief packs to be distributed to the families," Bragado confirmed.
Each relief pack contains 5 kilograms of rice, cans of sardines, milk, coffee, and noodles. She also said that additional support will be given to families whose houses were totally damaged.
Some evacuees started to return to their homes early Saturday morning.
At around 11 am, two cadavers that could not be identified, both grown up men, were also recovered in Barangay Bangker during the search and rescue conducted by joint operations of LDRRMO-Kabasalan and PDRRMO of Zamboanga Sibugay. A child, estimated be 8 years old, is also still missing. 
As of posting, there is still no electricity in Kabasalan and nearby towns Ipil and Titay. – Rappler.com
If you want to help those affected by Vinta or if you have reports about their humanitarian needs like temporary shelter, relief goods, water, and hygiene kits, post them on the 
Agos map
, text to 
2929
 (Smart and Sun), or tag MovePH on 
Twitter
 or 
Facebook
. You may also link up with other organizations that 
called for donations.