Rappler talks to previous #HackSociety winners Pamela Mejia and Robi del Rosario at 5pm on Friday, October 5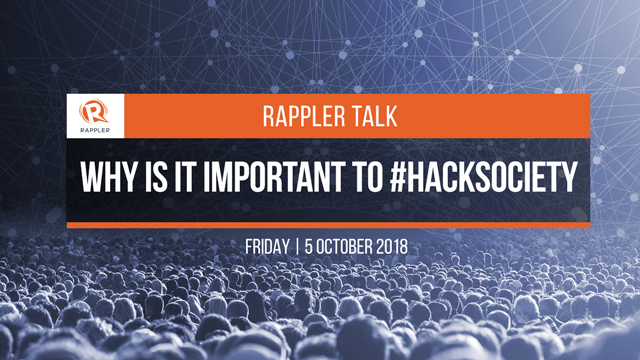 MANILA, Philippines – Filipino millennials Pamela Mejia and Robi del Rosario are just two of the many Filipinos that have come up with "hacks" to help address pressing social issues that affect the country.
In 2016, Robi del Rosario introduced "Barangay Aquaponics" during #HackSociety, an ideathon organized by Rappler and the United Nations Development Programme that aims to crowdsource "hacks" or solutions to society's problems. His goal is to help eradicate hunger in the Philippines where an estimated 7 million children experience hunger and malnutrition. 
Pamela Mejia, for her part, took the stage during the #HackSociety in 2017 to pitch Phinix, a startup project that aims to be pioneer textile recycling center in the country. By collecting and upcycling fabric scraps into newer, highly valued products, Mejia hopes to not only provide employment to local craftsmen but also to help reduce waste. 
Since then, Phinix has won the UN Environment Asia-Pacific's Low Carbon Business Challenge in March 2018 and was awarded the  2018 Asia-Pacific Youth SDG Innovative in August of the same year. It is also one of the 3 Filipino startups which emerged as top prize winners at the Youth Co:Lab Regional Social Innovation Challenge 2018 held in Bangkok, Thailand on March 28. 
How did they come up with their solutions? What have they experienced during and after their #HackSociety journey? Despite the challenges they face in scaling up their projects, where do social entrepreneurs like Mejia and Del Rosario find the inspiration to push forward?
To answer these questions and share their respective #HackSociety stories, Raisa Serafica, unit head of civic engagement for Rappler, speaks to Pamela Mejia and Robi del Rosario at 5pm on Friday, October 5. – Rappler.com