The Rice Straw to Biogas project is the first of its kind and scale in the Philippines to use leftover rice straw to produce food, fuel, and soil conditioner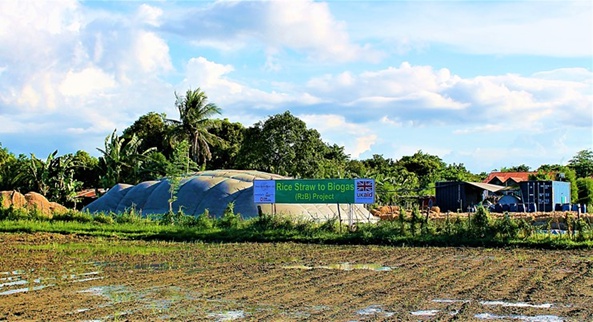 LAGUNA, Philippines – Waste can still be made useful. 
A rice straw biogas facility is taking that sentiment to heart by using leftover rice straw to make clean and efficient energy.
The Rice Straw to Biogas (R2B) project, spearheaded by United Kingdom-based company Straw Innovations Ltd, is the first of its kind and scale in the Philippines to use leftover rice straw or dayami to produce food, fuel, and soil conditioner. 
This is considered to be the first rice straw biogas facility in the country. Although it started in 2016, its official launch on June 26 aims to present the system to the public, informing them of how it works while boosting awareness of the project and its progress. 
Making use of waste
The project traces its roots from the immense problem of rice straw disposal in the country. Based on the Philippine Rice Research Institute's (PhilRice) statistics, the country produces 15.2 million tons of rice that leave 11.3 million tons of rice straw every year.
One of the ways to dispose of rice straw is by burning it, which is prohibited under the Solid Waste Management Act (Republic Act No. 9003) and the Philippine Clean Air Act of 1999. Burning the rice straw is harmful to the environment, damaging the food resources of beneficial insects in the rice field and making farmlands unproductive. (READ: The problem with rice)
Straw Innovations Ltd saw the abundance of rice straw as an opportunity to transform it into something useful through the R2B project. 
By gathering and processing straw to release methane in a controlled environment, it can be captured and used as a clean-burning cooking fuel known as biogas.
With funding from UK Aid, the company decided to build the biogas facility in a 5,000-square meter land in Victoria, Laguna. The land was previously used as a poultry farm.
Straw Innovations Ltd project staff Yevgeny Honrade told Rappler they chose to base their facility in Victoria because of the municipality's duck industry, which they can tap into for manure that can be utilized to produce biogas. (READ: What waste: human excrement can fuel developing world) 
"Unang-una dahil itik capital ang Victoria, madaming itik so posibleng madaming manure. 'Yung manure p'wede ding magamit na parang additional component sa biogas (Since Victoria is the duck capital of the country, we can collect more manure from this area. The manure collected can be used as an additional component for the biogas)," Honrade said.
Friendly to the environment
The facility makes affordable and clean biogas fuel and fertilizer from rice straw through a process called anaerobic digestion. It uses an efficient method of collecting rice straw and feeding it into two dry anaerobic digesters with gas processing equipment that can deliver a range of clean products.
According to R2B project facility engineer Angeli Castalone, the process utilized for this project isolates biomethane from other gases in the mixture of rice straw and cow manure.
Through the process, the harmful methane is transformed into a useful biomethane that significantly reduces the release of the harmful chemical to the atmosphere. 
"The project is environment-friendly because it turns waste into an energy source. By capturing a potent greenhouse gas (methane) from the straw, we are actually contributing to climate change mitigation," Honrade added.
Aside from the R2B project, the facility also grows straw mushrooms, a variety of mushrooms that grow under hot and shady environment. The facility uses the mushrooms to help catalyze the breaking of lignin or the cell wall of rice straws, making it easier to be processed as biogas.
Named after the project's director Craig Jamieson, zero cholesterol CJ mushroom burgers are also sold in the facility using mushrooms that they grow and other organic ingredients. (READ: Save and share: The key to affordable organic produce)  
Helping the community
Aside from providing an alternative and affordable energy source, the R2B also gets to help local farmers and residents in the vicinity.
"Magiging alternative energy source na malaking tipid in terms of energy use at saka local employment, at saka 'yung mushroom component niya, livelihood din 'yun eh," Honrade said.
(It's an alternative source with great savings in terms of energy use. It helps local employment, especially with the facility's mushroom component, since that's also a source of livelihood.)
Honrade explained that R2B will be beneficial for many since it will provide jobs for farmers and help transform rice straw to clean and sustainable energy.
"Maganda kasi 'to kasi naaddress natin 'yung waste problem ng rice at saka environmental mitigation siya na mayroong significant impact (This is great because we address the waste problem of rice. It's also environmental mitigation with significant impact)," Honrade added.
After working in mushroom production and biogas logistics inside the facility for two years, 28-year-old Roger Delos Reyes pointed out how the project gets to help both farmers and the environment. 
"Unang-una, nagkaroon ng trabaho 'yung ibang tao, tsaka 'yung ginagawa namin dito, tulad noong biogas na nakakabawas ng polusyon. 'Yung mga dayami na sinusunog lang ng ibang farmers, imbis na sunugin, kinokolekta nalang namin," Delos Reyes said.
(First of all, people gain jobs, and what we do here, like the biogas process reduces pollution. Instead of burning the straw like what other farmers do, we collect it.)
Being the first rice straw biogas facility in the country, the people behind the R2B project hope that more facilities will be built to cater to farmers and locals around the country.
"We should replicate this renewable energy initiative to benefit our people who need a cheaper alternative energy source and contribute to mitigating climate change," Honrade said. – Rappler.com
Alessandro Alfred Perez is a Rappler intern. He studies BA Sociology at the University of the Philippines Los Baños.