Who's your pick for 2019 MovePH Ambassador for women's rights and gender equality? Public voting for the finalists will be open until January 10, 2020.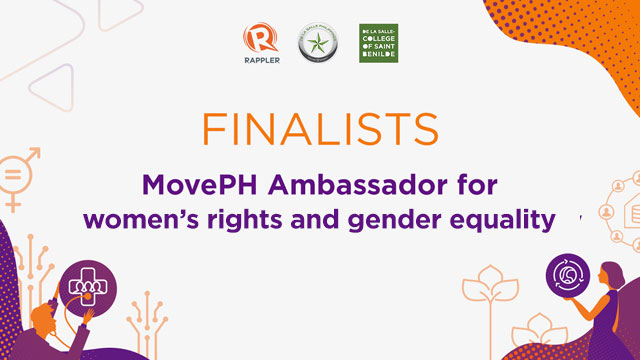 MANILA, Philippines – Faced with polarizing issues and disinformation, several Filipinos have gone above and beyond to cut through the noise, heed the call of their community, and answer with collective action.
This year, Rappler's civic engagement arm will be bringing back the MovePH Awards to celebrate individuals, organizations, and initiatives making a difference.
With the theme "Inspiring movements with impact," this year's awards will recognize MovePH Ambassadors who are pushing for change in their field – not just for themselves but also for others.
One ambassador will be chosen from each of the 5 categories of the 2019 MovePH Awards. Making waves in their community for their unrelenting work on their advocacy, among those being recognized is the MovePH Ambassador for women's rights and gender equality. 
After reviewing more than 70 nominations, we have selected 3 finalists for this year's MovePH Ambassador for women's rights and gender equality. 
Along with the judges' scores, part of the criteria for this year's 2019 MovePH Ambassadors is the community vote, comprising 30% of the overall score. 
Now we want to know your top choices, as we open the public voting for the finalists until January 10, 2020.
MovePH awardees will be recognized in an awarding ceremony in February 2020.
Meet the Filipinos who inspire courage in their community and seek to move the country forward.
---
Iloilo Pride Team
Iloilo Pride Team is a collective of LGBTQ+ Ilonggo members which aims to promote research, capacity building, and changing attitudes in communities. 
Founded in 2014, the Iloilo Pride Team is at the forefront of fighting for inclusivity and equality in Iloilo City. It aims to put attention to LGBTQ+ issues through social conversations – telling the communities' struggles through stories, and paving the way for visibility, involvement, empowerment and equality.
It is now gearing towards relaunching Pagsulat Duag, a writing workshop for LGBTQ+ youth of Iloilo City that bridges literature and the key issues they face, in August 2020.
Pagsulat Duag aims to provide a safe space in which children and young adults can freely express their views, narratives and their hopes as LGBTQ+ persons of Iloilo City. The first leg was in partnership with Kasingkasing Press, which was instrumental in the implementation of the project and the training sessions as well. 
Through the project, the literary skills of the children were enhanced. Iloilo Pride Team hopes to develop them further and bring more children into the fold of expressing their narratives in more ways than one. 
Widening the scope of the training might open up more avenues for the youth, provide diversity in narratives and highlight the literary skills of tomorrow's leaders. Coupled with training in social media campaigns and how it can be utilized by grassroots organizations, this could help Iloilo Pride Team's initiatives to reach different people.
---
Metro Manila Pride
Metro Manila Pride (MMPride) is a volunteer-managed, non-partisan, and not-for-profit organization. Metro Manila Pride works to educate, equip and empower LGBTQ+ Filipinos and their communities to work towards a future that recognizes and respects the rights of LGBTQ+ persons to a dignified life without discrimination and prejudice.
In their aim to create safe, educational, and empowering spaces for LGBTQ+ Filipinos, Metro Manila Pride holds online and offline educational discussion groups on LGBTQ+ issues in partnership with other organizations, as well as arts and culture events for LGBTQ+ artists. They also host the annual Metro Manila Pride March and Festival.
In the recently concluded Pride March and Festival which gathered over 77,000 people, the organization urged attendees and supporters to stand together against the discrimination experienced by the LGBTQ+ community and other marginalized groups, and to campaign for laws like the SOGIE equality bill.
At the same event, Marikina City Mayor Marcelino Teodoro announced the passage of the city's anti-discrimination ordinance which Marikina-based LGBTQ+ rights groups have lobbied for for years. This has inspired MMPride to use the Pride March and Festival as a means to encourage cities to enact their own anti-discrimination ordinances. Their hope is to help increase access to justice for LGBTQ+ people and to ensure that Pride Marches run by local LGBTQ+ communities and funded by the government are enshrined into law.
Now that they have exponentially grown as an organization duly registered at the SEC, Metro Manila Pride Overall Co-Coordinator Loreen Ordoño shared that MMPride needs all the help it can get in the form of financial assistance towards core organizational sustainability, volunteer support, and community partnerships. Their hope is to bring the Pride March and Festival to other cities around the Metro Manila that do not have anti-discrimination ordinances, to conduct research and create material that can be used to campaign for SOGIE-specific policies, and to open up more human rights-based spaces for LGBTQ+ art.
---
Mindanao Pride
Mindanao Pride, founded by Hamilcar Chanjueco Jr., aims to unify the voices of LGBTQ+ rights advocates from the Southern Philippines. It functions as a collective of LGBTQ+ groups and human rights organizations to synergize efforts and provide a stronger and single voice that advances for the recognition of the plight of the LGBTQ+ community in Mindanao while calling for the resolution of the issues that trample the members' human rights. 
Moreover, the organization was established to reinforce the call for the passage of the SOGIE Equality Bill.
Mindanao Pride caters to anyone from Mindanao who believes that LGBTQ+ rights are human rights. It pushes for the rights and welfare of the LGBTQ+ community in Mindanao, highlighting their issues and struggles, which are being neglected in mainstream conversations. 
Mindanao Pride seeks to emphasize the need to include the narratives of LGBTQ+ individuals from Mindanao into the mainstream conversations. 
As the organization is still on its infancy stage, financial assistance is needed to fully operate and legally run Mindanao Pride. As of the moment, it is still dependent on volunteers and small donations from its core members aside from its ever-supportive partner SPARK! Philippines. – Rappler.com