Who's your pick for 2019 MovePH Ambassador for technology and innovation? Public voting for the finalists will be open until January 10, 2020.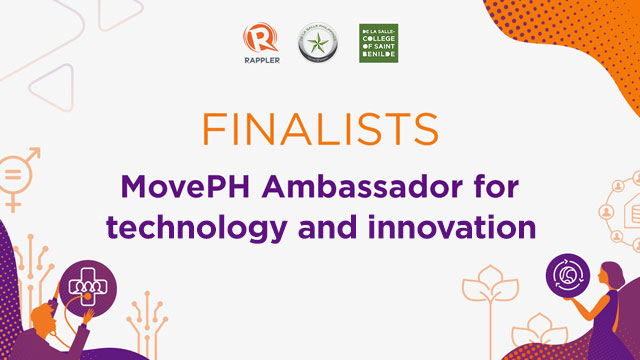 MANILA, Philippines– Faced with polarizing issues and disinformation, several Filipinos have gone above and beyond to cut through the noise, heed the call of their community, and answer with collective action.
This year, Rappler's civic engagement arm will be bringing back the MovePH Awards to celebrate individuals, organizations, and initiatives that are making a difference.
With the theme "Inspiring movements with impact," this year's awards will recognize MovePH Ambassadors who are pushing for change in their field – not just for themselves but also for others.
One ambassador will be chosen from each of the 5 categories of the 2019 MovePH Awards. Maximizing available technological platforms to solve community issues, among those being recognized is the MovePH Ambassador for technology and innovation. 
After reviewing more than 70 nominations, we have selected 3 finalists for this year's MovePH Ambassador for technology and innovation. 
Along with the judges' scores, part of the criteria for this year's 2019 MovePH Ambassadors is the community vote, comprising 30% of the overall score. 
Now we want to know your top choices, as we open public voting for the finalists until January 10, 2020.
MovePH awardees will be recognized in an awarding ceremony in February 2020.
Meet the Filipinos who inspire courage in their community and seek to move the country forward.
---
Cropital 
Cropital is a social enterprise that supports and empowers local farmers by providing them access to affordable credit. In particular, Cropital helps smallholder farmers, who are especially vulnerable to market fluctuations and environmental changes, and who find it difficult to avail of formal credit sources because of complex application procedures and documentary requirements such as land titles for collateral. 
Through an online crowdfunding platform, Cropital raises funds from the public– offering a nominal return on their investments as incentive–and then lends the capital to individual farmers at a much lower cost than is usually available to these farmers, allowing them to earn much higher incomes compared to when they borrow from informal lenders who charge up to 20% interest per month. 
In addition to lending the capital needed to kickstart agricultural production, Cropital, through its network of on-the-ground Community Managers, also supports the farmers by connecting them to suppliers and buyers, crop insurance providers, and agricultural training resources.
Recently, Cropital has been developing a loan management platform not only for internal operational use, but also to empower farmer leaders by making them partners in providing financial services to their local communities. With the support of some private organizations, Cropital has already equipped some of these local leaders with the digital tools that they need to access the platform, and through them Cropital hopes to tap on a sense of community to positively impact the lives of more farmers.
Cropital is currently operating in several communities across 7 provinces, and has been supporting mainly rice farmers.
To help fulfill its vision, Cropital is accepting support from all sectors, especially local government units with their agricultural offices, and national departments, even the legislative branch, as Cropital continues to identify the bottlenecks and constraints in improving livelihood in the rural agricultural areas.
---
Sakay.ph
Sakay.ph, a mobile application, provides accurate and efficient commuting directions in Metro Manila. 
With the goal of easing the commute of Filipinos, Sakay.ph started out as an entry in the Philippine Transit App Challenge in 2013 and has been on the market for the past 2 years. While Google Maps and other navigation apps have stepped up their game in Southeast Asia, the routes they provide only cover buses and trains. Through Sakay.ph, transit directions in Metro Manila using jeepneys, trains, buses, UV express, shuttles, and the Pasig River Ferry, among others, are displayed in the application.
In 2014, a Japan International Cooperation Agency (JICA) study projected the economic cost of traffic in Metro Manila to reach up to P6 billion daily by 2030 – if the situation continues. Sakay.ph attributed the worsening traffic in Metro Manila to a lack of informed decision-making when creating policies, infrastructure, and transit networks. Sakay and the data it can gather and analyse aims to help optimize and improve this situation, so commuters can move smarter; public transportation operators can function more efficiently; and entities like the government can execute and legislate better.
Believing that information can help people optimize their tips, Sakay.ph hopes to bring in more investors and media mileage to improve the application and help it reach more people.
---
UP Genetic Researchers and Agricultural Innovators Society
Established in 2014, UP GRAINS is one of the youngest and multi-awarded academic organizations in the University of the Philippines- Los Banos. 
Since its inception, the organization, embodied by students taking up BS Agricultural Biotechnology, has devoted its time and effort to promoting biotechnology.
Last year, UP GRAINS received one of the Ten Accomplished Youth Organization distinctions for its notable effort in promoting the advantages of pursuing agricultural and biotechnological sciences through their flagship event – Lakbioteknolohiya. 
Through Lakbioteknolohiya, UP GRAINS travels as an organization to different provinces in the country to teach high school students about agricultural biotechnology. The organization hopes that it inspires more students to take up agricultural courses and take interest in the field to ensure agricultural development, and in turn, food security and sustainability in the future. 
Aside from Lakbioteknolohiya, UP GRAINS has been hosting organic chemistry tutorials within the university, educational discussions among high school and college students, and interactive advocacy campaigns. 
Moreover, UP GRAINS conducts Ugnayan—the technology-transfer arm of the organization which consists of seminars and workshops from top academicians for farmers in nearby communities in Los Banos, Laguna, that aims to improve farmers' produce. It also holds an annual nationwide junior research conference named Project BT that aims to establish high school students' awareness about the principles of biotechnology and its potential to enrich the country's agricultural, educational and scientific sectors. 
To reach a bigger impact, UP GRAINS will need a strong network consisting of organizations and companies willing to support advocates by providing monetary support, materials and even manpower for the organization's events to flourish. – Rappler.com