Pray while taking a virtual tour of San Carlos Borromeo Church in Mahatao, Batanes
First Station of the Cross
JESUS IS CONDEMNED TO DEATH
V/. We adore you, O Christ, and we bless you
R/. Because by your holy cross, you have redeemed the world
A reading from the Holy Gospel according to John:
"Pilate said to Jesus, 'So you are a king?' Jesus answered, 'You say that I am a king. For this I was born, and for this I have come into the world, to bear witness to the truth. Every one who is of the truth hears my voice.' Pilate said to him, 'What is truth?' After he had said this, he went out to the Jews again, and told them, 'I find no crime in him. But you have a custom that I should release one man for you at the Passover; will you have me release for you the King of the Jews?' They cried out again, 'Not this man, but Barabbas!' Now Barabbas was a robber." (Jn 18: 37-40)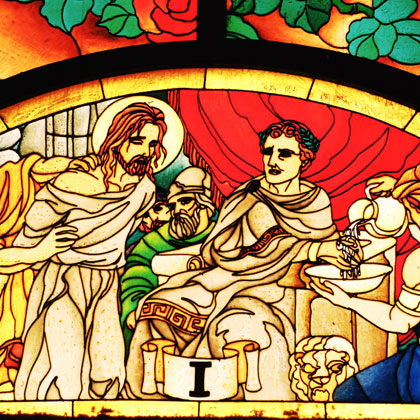 Points for reflection:
Pilate knows Jesus is innocent but does not oppose his death sentence.
Do we, like Pilate, remain deaf to our conscience? In what circumstances?
Let us pray for the grace "to encounter in the 'inner man, hidden deep within our hearts' the Holy Face of the Son."
Reflections adapted from a Way of the Cross version posted by the Vatican's Office for the Liturgical Celebrations of the Supreme Pontiff, as written by Sr Maria Rita Piccione, OSA, president of the Our Lady of Good Counsel Federation of Augustinian Monasteries in Italy.
* Instrumental music from the "Vespers" album series courtesy of Jesuit Music Ministry/Jesuit Communications Foundation Inc.
** 360-degree image of the Church of San Carlos Borromeo in Mahatao, Batanes by Fung Yu.
*** Photos of stained glass windows featuring various stations of the cross by Hubert Pacheco, taken at the Shrine of St Therese of the Child Jesus, Pasay City.

Return to Holy Week Online | Next Station
Note: For the full experience, your device / computer should be enabled to support Flash.