Pray while taking a virtual tour of the Barasoain Church
Fourth Station of the Cross
JESUS MEETS HIS MOTHER
V/. We adore you, O Christ, and we bless you.
R/. Because by your holy cross you have redeemed the world.
A reading from the Holy Gospel according to John:
"Standing by the cross of Jesus were his mother, and his mother's sister, Mary the wife of Clopas, and Mary Magdalene. When Jesus saw his mother, and the disciple whom he loved standing near, he said to his mother, 'Woman, behold, your son!' Then he said to the disciple, 'Behold, your mother!' And from that hour the disciple took her to his own home." (Jn 19: 25-27)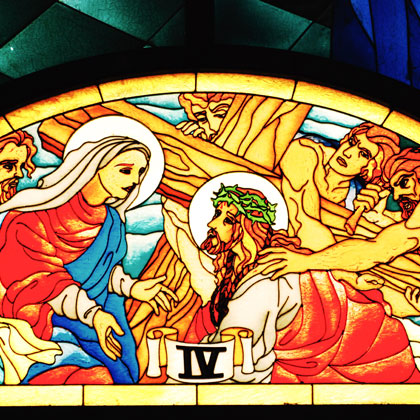 Points for reflection:
Mary stands by her Son during his moments of suffering – an "intense movement of prayer joined to tranquil acquiescence."
Recall a person who recently needed consolation during a time of sorrow. How did we respond?
What situations invite us to simply stand by our neighbors? Let us pray for the grace of presence.
Reflections adapted from a Way of the Cross version posted by the Vatican's Office for the Liturgical Celebrations of the Supreme Pontiff, as written by Sr Maria Rita Piccione, OSA, president of the Our Lady of Good Counsel Federation of Augustinian Monasteries in Italy.
* Instrumental music from the "Vespers" album series courtesy of Jesuit Music Ministry/Jesuit Communications Foundation Inc.
** 360-degree photo of the Barasoain Church (also known as Our Lady of Mt. Carmel Parish) by Fung Yu.
*** Photos of stained glass windows featuring various stations of the cross by Hubert Pacheco, taken at the Shrine of St Therese of the Child Jesus, Pasay City.
Previous Station | Return to Holy Week Online | Next Station

Note: For the full experience, your device / computer should be enabled to support Flash.