Pray while taking a virtual tour of San Ildefonso Parish Church in Tanay, Rizal
Eighth Station of the Cross 
JESUS MEETS THE WOMEN OF JERUSALEM, WHO WEEP FOR HIM
V/. We adore you, O Christ, and we bless you.
R/. Because by your holy cross you have redeemed the world.
A reading from the Holy Gospel according to Luke
"There followed him a great multitude of the people, and of women who bewailed and lamented him. But Jesus turning to them said, 'Daughters of Jerusalem, do not weep for me, but weep for yourselves and for your children. For behold, the days are coming when they will say, 'Blessed are the barren, and the wombs that never bore, and the breasts that never gave suck!' Then they will begin to say to the mountains, 'Fall on us'; and to the hills, 'Cover us.' For if they do this when the wood is green, what will happen when it is dry?' (Lk 23: 27-31)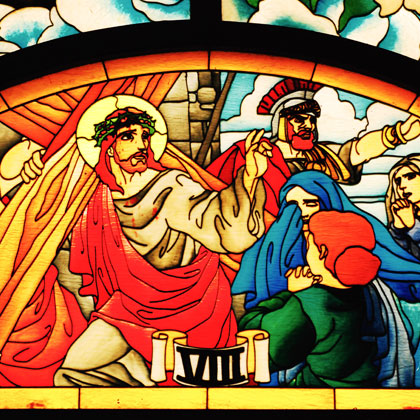 Points for reflection:
Jesus directs the women's tears away from "fruitless outward pity" toward anguish for their sins.
Jesus suffered so we can see our sins more clearly. What do we most want to ask forgiveness for?
Let us pray for the grace "to weep for our sins."
Reflections adapted from a Way of the Cross version posted by the Vatican's Office for the Liturgical Celebrations of the Supreme Pontiff, as written by Sr Maria Rita Piccione, OSA, president of the Our Lady of Good Counsel Federation of Augustinian Monasteries in Italy.
* Instrumental music from the "Vespers" album series courtesy of Jesuit Music Ministry/Jesuit Communications Foundation Inc.
** 360-degree photo of the San Ildefonso Parish Church in Tanay, Rizal by Fung Yu.
*** Photos of stained glass windows featuring various stations of the cross by Hubert Pacheco, taken at the Shrine of St Therese of the Child Jesus, Pasay City.
Previous Station | Return to Holy Week Online | Next Station

Note: For the full experience, your device / computer should be enabled to support Flash.