Pray while taking a virtual tour of the Basilica Minore de San Miguel Arcangel in Tayabas, Quezon
Tenth Station of the Cross 
JESUS IS STRIPPED OF HIS GARMENTS
V/. We adore you, O Christ, and we bless you.
R/. Because by your holy cross you have redeemed the world.
A reading from the Holy Gospel according to John:
"The soldiers (…) took Jesus' garments and made four parts, one for each soldier; also his tunic. But the tunic was without seam, woven from top to bottom; so they said to one another: 'Let us not tear it, but casts lots for it to see whose it shall be.' This was to fulfill the scripture, 'They parted my garments among them, and for my clothing they cast lots.' So the soldiers did this." (Jn 19: 23-24)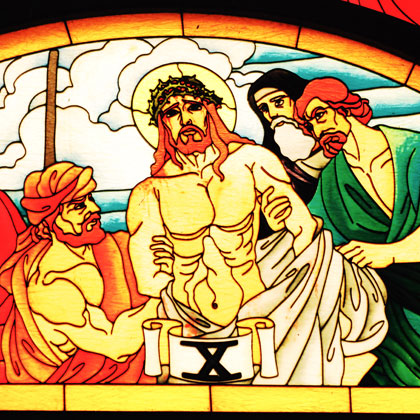 Points for reflection:
The nakedness of Jesus shows us what is essential: that in him, we are the Father's sons and daughters.
Like Jesus, are we willing to embrace poverty and depend on God Almighty?
Let us pray for the grace to see in our nakedness "the garment of our sonship."
Reflections adapted from a Way of the Cross version posted by the Vatican's Office for the Liturgical Celebrations of the Supreme Pontiff, as written by Sr Maria Rita Piccione, OSA, president of the Our Lady of Good Counsel Federation of Augustinian Monasteries in Italy.
* Instrumental music from the "Vespers" album series courtesy of Jesuit Music Ministry/Jesuit Communications Foundation Inc.
** 360-degree photo of the Basilica Minore de San Miguel Arcangel in Tayabas, Quezon by Fung Yu.
*** Photos of stained glass windows featuring various stations of the cross by Hubert Pacheco, taken at the Shrine of St Therese of the Child Jesus, Pasay City.
Previous Station | Return to Holy Week Online | Next Station

Note: For the full experience, your device / computer should be enabled to support Flash.