You are loved and that is why you live and breathe


Holy Tuesday: Who Am I
{module 312}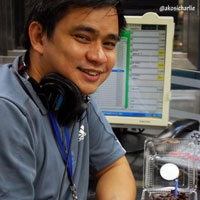 My identity and worth



Yesterday, we reflected on how every now and then, we need to get off the train that is called life, so that we can look at life in perspective. Whether we would like to admit it or not, the world has its own agenda. And many of us just go with the popular flow. We get lost in the crowd, in what the crowd does. Not only do we lose the real meaning of life, therefore, we also lose our personal identity, our individuality, our personal mission.
When I was in college, I had classmates who were pursuing various courses not because they really wanted them but because their parents wanted those degrees for them. One very timid, soft-spoken friend who eventually became a lawyer following her dad's wish, explained to me, "My dad says, `It's for the family business!'" I would see her now, a lawyer, but not a practicing one. What a waste! Yet many are like her.
Again, we have one life to live, (and it is such a short one) but is it really our life? We must own up that one chance we have – that is the key to real happiness. A long time ago, somebody went against the norm, the popular, the crowd, and they crucified him. And yet because of his "subversion," our life, our world is better off; he has taught us the depths and the heights of love, as exemplified by his cross.
Spend time today asking yourself the most important question you will ever ask yourself: "Who am I?" You may be a hotshot lawyer, a wealthy heiress, a famous showbiz personality, but minus all these titles and roles, how would you answer that question? Who are you, really? Disrobed of the emperor's clothes, are you happy in your own skin? The Christian Scripture has a unique answer to that question. You are BELOVED! You are loved and that is why you live and breathe. How does that make you feel? How would you approach life, your self if you knew that whatever happens, love is there to catch you?
If you are moved, you may read: Psalm 139
---
{module 286}