Holy Wednesday: Shifting Sand
{module 312}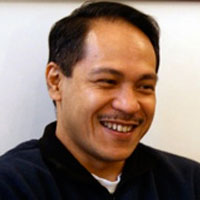 Surviving darkness







This painting by Caravaggio is called "The Taking of Christ," and depicts that moment in Gethsemane, when Judas had just kissed Jesus, and the Roman guards were in the act of arresting him. This scene has been portrayed by other artists. But what makes Caravaggio special is his technique which is called tenebrism.
The root word is Latin, tenebrae, which means darkness – so that in tenebrist paintings the background is a very intense and thick and deep black, and in this darkness are found the characters themselves, illuminated by something like a bright searching spot light that suddenly flashes on the scene at that instance when the drama is most intense, so that particular details are clearly seen, while the rest remain swallowed up by the shadows of that same deep darkness. And this is what gives Caravaggio's "The Taking of Christ" that special touch, which dramatically contrasts the dark shadows with the bright light. There are no grays; there is just pitch black and blazing colors.
Jesus often speaks of light and darkness. Jesus tells his disciples: Do not be intimidated. Do not let the darkness defeat you. What you see in that darkness, you must speak in the light. This is precisely what Caravaggio does in "The Taking of Christ." He depicts this dark scene of betrayal and disloyalty and deception, that moment when Christ enters into the solitude of abandonment. And with the darkness as backdrop, a light focuses on the scene so that one is made to see the details in the faces of the characters that make the story come to life in vivid color – the uneasiness and dazed look of a seemingly confused Judas Iscariot; the terror and the panic on the face of an unnamed disciple, who is ready to run; the expressionless look of the Roman solders simply doing their duty; the pensiveness and curiosity of an unknown observer. But most importantly, one is made to see the pain in Christ's face, the sadness, the torment, the sting that comes with the loss of friends, with vulnerability, with treachery – so that in this dark scene, we, the viewers, catch sight of those movements which would bring about our own salvation. And so we are invited to enter into the scene, with reverence and awe.
Deceived and forsaken
While "The Taking of Christ" portrays the physical taking of Christ, his arrest, his incarceration, his handing over to the Jewish leaders, what we are really invited to see is the other taking of Christ – a Christ who was taken in by an unfaithful friend, who was taken in by his wimpish disciples who had said they would never leave him but in the end deserted him, who was taken in by the crowds that had wanted to make him king but have now left him in the hands of his captors. Christ was taken in. He was deceived. He was made to believe in the dedication of friends and followers. But in the end, he was forsaken.
Yet of course, the supreme irony is that through all this, he did not allow himself to be taken in by the temptation to give up on his friends, to shake the dust off his feet on those who seemed to have rejected him. Instead, he hung on, and remained faithful to them to the end, loving them despite their infidelity and their treachery. And so in the end, it was they who were taken in by Christ, and won over completely.
So that, "The Taking of Christ" is really about how Christ lived through the darkness in his own life. And he did so, not by being cowed by it, but by embracing the darkness, in all its gloom and despair and solitude, and going through it in its depths, and still, as he goes through this, keeping faithful to those he has pledged to love with all his heart.
Sharing the grace
And I think that is precisely what Christ is inviting us to do when he speaks about speaking in the light what we hear in the darkness. Christ is reminding us that we too often find ourselves plunged in the darkness of the canvasses of our own lives. And Christ is telling us how to live through our own darkness, our own fears, our own depressions, our own limitations, our own mortality, our own feelings of inadequacy and powerlessness, our own doubts and hesitations, and angers.
Christ is telling us how to live with the infidelity of others, their lies, their meanness, their envy and cowardice. Christ is telling us to just go through it, not letting our spirits be devastated to despair by those that might be able to destroy the body but cannot really take the life from our souls. And we are to do this, precisely by never ever falling out of love, and by bearing constantly in our minds and hearts all the people we were given to dedicate ourselves to, and clinging to them, and being faithful to them, even in our own human and fumbling ways: those close to our hearts, our friends, whom we live for, and whom, we have often thought we would be willing to die for.
That was the way Christ survived his dark canvass, and that is the way he is inviting us to survive ours, not by depending on the love and care of others, but by, ourselves, loving and caring even more for those we have pledged to give ourselves to. So that in the end, salvation is not so much about receiving divine grace; it is about our own giving and sharing of the grace we have received, even as we go through all the pains and difficulties and challenges. – Rappler.com
Fr Jose Magadia, SJ is the Provincial Superior of the Society of Jesus.
---
{module 284}
{module 285}