Holy Wednesday: Shifting Sand
{module 312}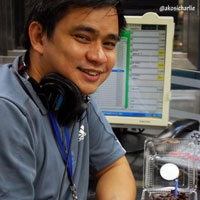 Questions of faith







"The God's must be crazy" is a hilarious movie in the 80s. It contains a funny scene in which a tribesman finds a soda bottle that has been tossed out from a passing helicopter. He tries to figure out what the bottle is — he blows into it and thinks that because it gives off a tune, that it may be a musical instrument. After several other tries, he finally decides that since it is as hard as a rock, therefore it must be a weapon.

We laugh at the silliness of the scene but it can teach us something deep: by itself, the purpose of anything is hard to determine; but through its creator or inventor, we will easily know.

We have spent two days reflecting on the meaning of life and the purpose of our lives, but we have to admit that our search will run into a stone wall. Like the mysterious bottle, we will have to turn to our creator, our maker. As one philosopher puts it, we know ourselves by getting to know God and vice-versa. Indeed, at one point or another in our lives, we will have to deal with our creator.

We will need to ask him why did you create me? What for?  In other words, if you really want to know the meaning and purpose of your life, then you will have to turn to your God. Inevitably, you will have to relate with him. In religious language, you call that FAITH.
How have you been relating with your God, your creator? When was the last time you acknowledged him in your life? Is he present at all in your thoughts or in your emotions as you go through your day? Is he involved in your life or has life simply been mechanical and robotic for you? What has prevented you from having a real, concrete and loving relationship with him? Our faith may be like shifting sand, as the song goes, but the important question to ask is: do you desire to know more of him?

About 2,000 years ago, somebody asked his followers: "Who do you say I am?" Do we ask ourselves that question?

If you are inclined, you may read: Job 38, 39

Fr Nono Alfonso, SJ is the executive director of the Jesuit Communications Foundation Inc.
---
{module 282}
{module 285}