Holy Thursday: Pagsibol
{module 312}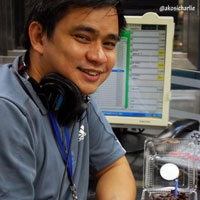 The circle of love



In the movie, "Prelude to a kiss," Meg Ryan makes a beautiful speech about the meaning of life to her lover Alec Baldwin. She asks: What is the point of life? You are born, you get an education. A long long time in school, that is. Then, you graduate and by luck, get an employment. After that you get married, have kids, grow old. Then one by one your contemporaries start dying. And finally, you die. What is the point of all that? Pointing to Alec, she says, "This! Falling in love. Being in love. That changes everything."
Not only poets or the hopelessly romantic would agree with Meg Ryan. Even scientists would say that for the human species, or for life on earth for that matter, to continue, love must go on. In other words, the circle of life is the circle of love.
It is love that has made the world go round these past many centuries. You and I are here, alive, because this mysterious thing called love drew our parents together, or their ancestors before them.
The Christian faith asserts, the reason why we exist and why we continue to live is love: God is overflowing love. There is no other explanation. Even the Big Bang could be part of the original explosion of love.
How have you experienced this mystery of love in your life? Looking back at your life, can you say, like Meg Ryan, that it has made all the difference in your life? How, in return, have you allowed yourself to be a channel of love and life?
Professor Morrie of the famous book "Tuesdays with Morrie" says, "Love or perish!" That is, he says, either the world would learn to love or it would find its end. Would you agree with him?
If you are so inclined, you may read: 1 Cor 13.
Fr. Emmanuel "Nono" Alfonso. SJ, is the executive director of the Jesuit Communications Foundation Inc.
---
{module 319}