Holy Saturday: Pagbabasbas
{module 312}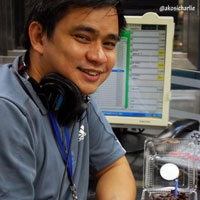 Conquering fear



We live in fear! To date, psychologists have catalogues more than a thousand varieties of fear or phobias from the usual fear of spider or heights to the absurd such as the fear of being with people! Of course this year, people are talking of the endtimes that will happen in December according to an oft-misunderstood ancient calendar. Whatever our brand of fear may be, it is our fears that prevent us from fully enjoying life. It is fear that holds us back from realizing our full potential.

But what is fear? Briefly, our human instinct is to survive. We are wired to live at all cost, and so shy away from anything that threatens life. That is the anatomy of fear. Underneath our phobias is the fear of death. But, what if there is no end? Would you live your life differently? Would your days be filled with JOY rather than fear?

Mr. Onofre Pagsanghan, veteran high school teacher at the Ateneo, once shared that when he and the wife were newly married, she was fearful of settling down in the neighborhood of the new campus. At that time, when Ateneo moved to Loyola Heights, the latter was still a wilderness. But "Pagsi" won the argument by pointing out how practical it would be to live just across Ateneo – their children would just walk their way to Ateneo or what was then Maryknoll.

What struck him however is how we, human beings, are so good at planning ahead. Indeed, we try to take care of the future of our loved ones. That's why we enter into educational or life plans. Because of our love, we struggle, despite our limitations, to provide a better future for our loved one. But why, "Pagsi" asks, can't we give that same quality to our God? Isn't he all-knowing and all-loving? Can we then not trust that He has also prepared a bright future for us? Why continue in fear of what is to come when there is Someone who loves us perfectly?

Christ's apostles learned this in the Resurrection when love conquered man's greatest fear — death. Christ lives! This was enough to change Christ's cowardly apostles into fearless, hopeful and joyful ministers of the Word. There is nothing to fear. Perfect love has cast out all fears. There is only joy. Joy because we are loved here and now, now and forever.

What are your fears? What is keeping you from living your life to the fullest? What is keeping joy out of your life? Do you see life as graced or loved?

If so moved, you may read Scripture: Romans 8:18-39


Fr Emmanuel "Nono" Alfonso, SJ is the executive director of the Jesuit Communications Foundation Inc. 
---
{module 334}