Megalomaniac rulers have a history of not keeping their word, and the US, a history of employing double standards
Megalomaniac rulers have a penchant for not keeping their word.
The late Kim Jong-Il of North Korea promised to abandon the hermit kingdom's nuclear arsenal in a diplomatic exchange for aid in 2007, only to conduct an internationally condemned nuclear test two years later. 
Yemen's Ali Abdullah Saleh backed out from 3 power-transfer agreements before finally ending his 3-decade rule in 2011. It took 9 months of civilian protests before he resigned.
What used to be the ruling military junta in Burma broke a crucial two-decade ceasefire agreement and attacked Kachin rebels in 2011. The move resulted in continued fighting, thousands dead, and even more people displaced. 
This strategy of yielding to concessions when threatened or in need of aid and then breaking the agreement once conditions have eased, is an all too familiar pattern which we have witnessed with helpless dismay.
All too familiar 
It is no shock, therefore, that United Nations (UN) secretary-general Ban Ki-Moon expressed doubts on whether Syrian President Bashar Al-Assad would honor his commitment to submit his country's chemical weapons stockpile to international control.
The commitment – a deal brokered by Russia – has caused previously aggressive talks on the possibility of a military strike against Syria to die down.  
A 3-day negotiation between Russia and the US led to a "landmark deal" on the destruction of Syria's stockpile by mid-2014.
The flow of events became all too predictable when a Russian foundation suggested a Nobel Peace Prize nomination of Russian President Vladimir Putin, for "his adherance to the cause of peace."
This is, of course, the same man who has been cited in reports by Amnesty International and Human Rights Watch (HRW) as having created "the worst human rights climate" in Russia that is reminiscent of the Cold War.
US Secretary of State John Kerry has also publicly called on Russia and China for blocking any UN Security Council resolution "condemning even the generic use of chemical weapons."
This is also the same man who supports Assad, arming his camp and enabling the regime in its war against the Syrian opposition.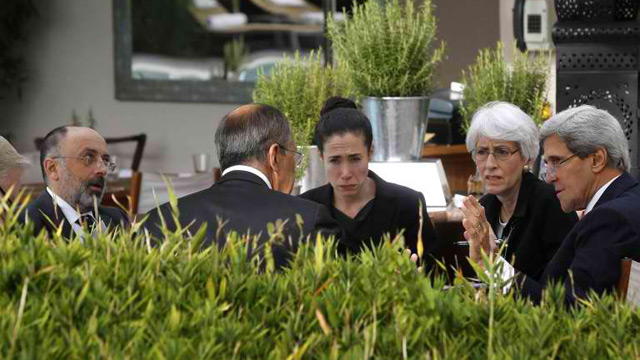 Double standard 
The US, for its part, has put its call for an intervention on hold. It is still, however, using the threat of war as its trump card if Syria falls short of an absolute compliance. 
Despite Syria's denial, the US claims that the move of Syria to have its chemical weapons capability disabled is a result of US' tough talk against the Assad regime.
This tough language, however, seems to be absent during similar acts of war conducted by US allies.
In 2009, the New York-based HRW published a 71-page report on Israel's use of white phosphorus in its war against Palestine.
While phosphorus has various tactical uses such as obscuring a military operation, the HRW report elaborates on its potential to harm civilians when airbusted in a densely populated area. HRW researchers identified Gaza as the area where the agent was used. 
No such "threats" against its ally, Israel, was issued by the US at that time. 
To be sure, Kerry cited US strategic interests, including its "direct military alliances" with neighboring countries such as Israel, Jordan, and Turkey in its previous call to strike Syria.
Win-win deal? 
Beyond the Russia-US "landmark deal," it is likely that fighting in Syria will continue.
Syrian rebels have already expressed their dismay over the deal, saying they cannot "wait until mid-2014 to continue being killed every day."
The Assad regime has been launching a crackdown against opposition groups even prior to the controversial August 21 chemical weapons attack.
As the option of war is out of the picture and more countries are welcoming the plan to eliminate the Assad regime's chemical weapons by 2014, these countries must now direct their resources to addressing the needs of Syrians who have fled to, and sought refuge in, neighboring countries.
The same toughness in language must be employed in pressuring the international community to pool in funds to improve camp conditions, provide refugees with water and other daily needs, guide them in dealing with trauma, and assist in their eventual return should the war end.
A long-term plan for the refugee crisis must be enforced with the same determined sense of responsibility many of the Western leaders assumed in justifying a strike. (READ: Syria and the just war theory)
These civilians, after all, are the people they claim to protect. – Rappler.com

Buena Bernal writes development stories for Rappler. You can follow her @buenabernal.