Pharmacies not allowed to increase prices of drugs for diarrhea, pneumonia, skin diseases, diabetes, hypertension, asthma, other diseases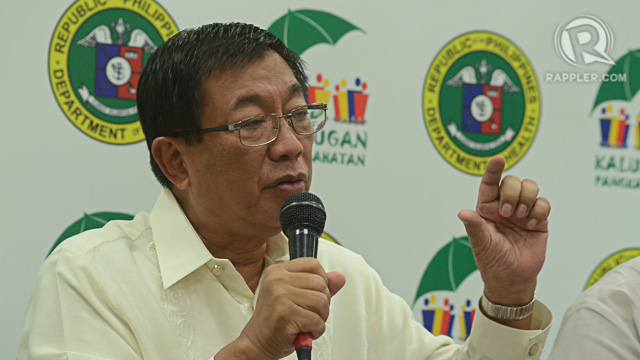 MANILA, Philippines – Concerned with the vulnerability of Typhoon Yolanda (Haiyan) victims to diseases, Health Secretary Enrique Ona declared on Thursday, November 14, a price freeze on about 200 essential medicines.
The order is meant to deter pharmacy owners and drug manufacturers from taking advantage of the desperate need for drugs by profiteering, hoarding, or price-fixing. Republic Act 7581, the Price Act, gives DOH the power to order the prize freeze.
Acknowledging that conditions in calamity situations create a breeding ground for epidemics, Ona gave assurances that the health and safety of the typhoon victims is a priority of the Department of Health (DOH).
As health needs heighten due to the breakdown of water and sanitation facilities, the DOH said it is continuously monitoring potential outbreaks of communicable diseases.
Volunteer health professionals have also assisted in the debriefing of survivors, who face possible psychological fallout in the face of an unimaginable tragedy. 
Yolanda lashed out its fury a week ago, on November 8, washing away homes with storm surges as high as 7 feet and causing deaths in the thousands.
Essential medicines
"We have to make sure that they have access to the medicines that they need and that public hospitals and government agencies are able to source affordable drugs to reach as many of our countrymen severely affected by this crisis," Ona said. 
Prevalent conditions among typhoon Yolanda victims were physical trauma, injury, diarrhea, pneumonia, skin diseases, and infections such as leptospirosis, according to the DOH.
Also covered by the prize freeze are drugs for pre-existing conditions that are likely to be aggravated as victims struggle daily to survive. These diseases include diabetes, hypertension, and asthma.
All public and private drug retail outlets nationwide, including hospital pharmacies, are covered in the price freeze order. Consumers are encouraged to report violations.
Essential medicines of the country, selected by the DOH National Center for Pharmaceutical Access and Management, are listed in the Philippine National Drug Formulary (PNDF). 
Drugs listed in the PNDF are selected based on cost-effectiveness.
Encourage foreign volunteers
The Professional Regulatory Commission (PRC) also waived special permit requirements for foreign professionals assisting in the relief, rehabilitation, and reconstruction in areas affected by the typhoon.
Eliminating a layer of bureacuracy, PRC aims to encourage volunteer medical teams from abroad to render their services for victims of Typhoon Yolanda.
In normal times, health professionals intending to practice in the Philippines are required to apply for a Special Temporary Permit (STP). An STP was required even for humanitarian missions, following the PRC Modernization Act of 2000 or Republic Act 8981.
Working with DOH in the typhoon-devastated areas in the Visayas are volunteer medical teams from Belgium, Germany, Japan, Australia, Israel, Russia, and Malaysia. – Rappler.com