Tacloban's most famous daughter sends a handwritten note from her hospital bed, while her late husband's province of Ilocos Norte donates P1M to Leyte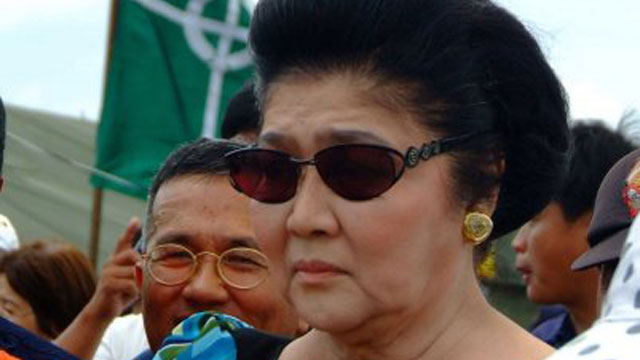 MANILA, Philippines – Send a message of hope.
This is the least that Leyte's most famous daughter, former First Lady Imelda Marcos, could do from her hospital bed, even as her children and nephews were doing their share in relief efforts in the typhoon-ravaged province.
Marcos, according to information sent from Laoag City by her eldest daughter's office, has been "dying to go to Tacloban City" upon learning of its devastation in the aftermath of Super Typhoon Yolanda (international codename: Haiyan).
Prevented by her doctors and children from leaving the hospital in Manila, however, she could only manage to write down a message: "Ayaw kawang hin paglaun. Matindog kita na mga Waray."
In Filipino: "Huwag mawalan ng pag-asa. Babangon tayong mga Waray." (Do not lose hope. We, Warays, will rise above this."
With complete reports yet to come from poorer provinces isolated by Yolanda (Haiyan), Leyte and its capital city of Tacloban – the regional center with a population of at least 1.57 million – appears to be the most devasted.
After 17-foot-high storm surges flattened entire communities in Tacloban on November 8, thousands have been reported dead and injured, with some corpses yet to be collected and buried.
Reports of looting and burglaries have been reported as well, although the police and the military gave assurances that they were "in full control" of the security situation in the area.
Ilocos Norte donates P1M to Leyte
Marcos' handwritten note was given to members of her family.
Marcos, who is now congresswoman of her late husband's province of Ilocos Norte, was also a longtime Leyte representative.
She has been in a hospital in Manila since November 2. A statement from the office of her daughter, Ilocos Norte Governor Imee Marcos, said "the doctors have advised that she remains in the hospital for strict medical monitoring and treatment for her diabetes."
Marcos' only son, Senator Ferdinand "Bongbong" Marcos Jr, and his cousins – Leyte 1st district Representative Martin Romualdez and Tacloban City Mayor Alfred Romualdez – earlier launched relief efforts called HelpLeytePH.
Imee, for her part, has announced that the provincial government of Ilocos Norte will donate P1 million to Leyte.
The statement from Imee's office said the Remedios Trinidad Romualdez Hospital in Tacloban City "has never closed down" since the typhoon "even if the hospital roof has been blown off."
"The Marcos family has been trying to work in the havoc of the relief operation. A team of 4 international aid agencies are currently in the hospital," the statement said.
Imee's office said there is "an undergoing effort" to open alternative routes to deliver goods to disaster areas.
Currently, Leyte is accessible only through Tacloban and Ormoc, both by land. They want to open Baybay and the beachhead of Tolosa. – Miriam Grace A. Go/Rappler.com