The Commission will come up with a set of guidelines on how other higher education institutions will accommodate student transferees affected by Yolanda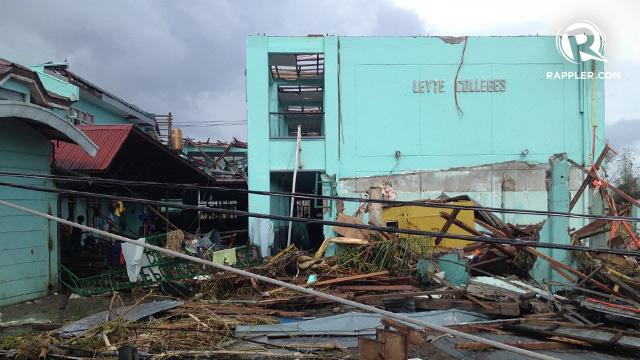 MANILA, Philippines – Help in any way you can.
This was what Commission on Higher Education (CHED) chairperson Dr Patricia Licuanan asked of CHED directors and school heads of public and private higher education institutions (HEIs) in the wake of Typhoon Yolanda (Haiyan).
In a memorandum on Wednesday, November 20, she urged them "to alleviate the condition of affected students by extending any form of assistance to the students."
She said this is in accordance with relevant provisions of the Higher Education Act of 1994 (RA 7722) and the Philippine Disaster Risk Reduction and Management Act of 2010 (RA 10121), and "adoption of urgent measures to facilitate relief and rehabilitation operations in areas affected by Typhoon Yolanda."
According to latest records from the commission, there are 151 HEIs in Western Visayas, 162 in Central Visayas, and 95 in Eastern Visayas. More than 600,000 students are enrolled in these regions.
It has been 12 days since the super typhoon killed thousands and displaced tens of thousands in Eastern Visayas and nearby provinces like Cebu and Palawan on November 8.
The Department of Education last week issued a similar memorandum urging schools, especially those in Cebu, Legazpi and Metro Manila, to accept "emergency transferees" coming from Yolanda-stricken schools and to give leeway on missing documentary requirements. (READ: Schools told: Accept students affected by Yolanda ASAP)
How to help
The memorandum listed 3 possible ways to help:
Admission of student transferees unable to provide proper academic records due to suspension of college operations. (READ: CHED suspends college operations in areas hit by Yolanda)
 

Full support and appropriate assistance of HEIs and stakeholders, depending on the circumstance of the student. This may include the following:

emergency financial assistance to meet basic needs for food, water and temporary accommodation; counseling services
waiver of tuition and other fees
grants-in-aid
 

Extension of resources and services by

CHED's Office of Student Services, including:
financial assistance

counseling services

accommodations in appropriate cases
Way ahead of CHED's memorandum, the University of the Philippines (UP) already asked its campuses to allow cross-registration of students from the Tacloban campus. (READ: UP offers cross-enrollment for Tacloban campus students)
Licuanan asked assisting HEIs to submit a weekly report detailing their activities for, and assistance to, students.
"These reports will enable CHED's assessment of the situation on the ground as well as the consolidation of the short-term and medium-term logistical requirements for rehabilitation in higher education," she added.
Guidelines
Initial reports from the Commission said the following schools incurred major damage:
Capiz State University
Northern Iloilo Polytechnic State College
Cebu Technological University-Bantayan Campus 
Leyte Normal University 
Naval State University 
Palompon Institute of Technology
UP Visayas-Tacloban College
CHED's regional office in Tacloban was also damaged by Yolanda, with its roof dismantled and the first floor housing evacuees.
CHED is already working on a set of guidelines on how the memorandum can best be implemented even as more students inquire about transferring.
Unlike in the case of public elementary and high schools, the process of verifying college student transferees will be more complicated, involving both the regional and central offices of CHED.
The Commission told Rappler transferees will be asked for their academic records later on, once things normalize, to put safety mechanisms in place and retain school standards.
The set of guidelines is expected to be released later this week or early next week. The Commission may also be reached through the following platforms:
Telephone Hotline: (02) 4411216
Mobile No.: 0949 937 6710 (SMS only)
Email address: info@ched.gov.ph
Twitter: www.Twitter.com/PhCHED
Facebook: www.Facebook.com/PhCHED.gov
– Rappler.com