The Commission on Higher Education is looking at 3 funds to tap to cover the 400,000 college scholars who used to be funded by lawmakers' pork barrel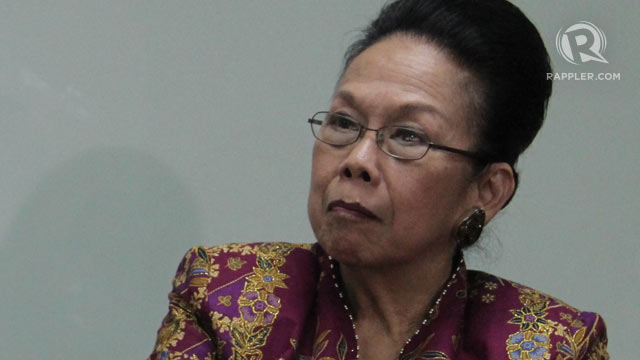 MANILA, Philippines – Three days after the Supreme Court (SC) declared as unconstitutional lawmakers' pork barrel that funds scholarships among others, the Commission on Higher Education (CHED) gave assurances it would find resources to continue supporting the beneficiaries.
In a statement issued on Friday, November 22, CHED Chairperson Patricia Licuanan said the Commission "will look into other possible funding sources so that the studies of these…students will not be affected."
About 400,000 or more than 10% of the 3.3 million college students in the country are beneficiaries of legislators' controversial Priority Development Assistance Fund (PDAF).
The High Court in September issued a temporary restraining order (TRO) on the release of the remaining PDAF in the 2013 national budget. Even then, CHED already appealed to all 111 state universities and colleges (SUCs) to allow enrollment of PDAF scholars for the second semester.
"For the public school students, the SUCs have been asked to take them in and not charge them. But that would only be temporary," CHED said on Thursday during the plenary hearing of the CHED and SUCs budget at the Senate.
As for scholars in private higher education institutions (HEIs), "may problema pa" (we still have a problem).
Tapping sources
Licuanan said on Friday that after assessment of resources for all PDAF scholars – whether in public or private HEIs – the Commission will tap the following funds:
Higher Education Development Fund (HEDF)
Funds from the General Appropriations Act 
Possibly from the President's Social Fund (PSF)
In their unanimous decision on the PDAF, however, the justices also disallowed the release of parts of the PSF used "to finance…priority infrastructure development projects" as stated in Presidential Decree 1869. 
Earlier, President Benigno Aquino III defended the PSF – which critics have dubbed as the President's pork – and said it had been used by the government for when funds "that can be disbursed quickly" were needed.
During the CHED budget hearing on Thursday, Senator Alan Peter Cayetano said at least the greater majority of the congressmen's scholars will be covered by the realigned P25.2-billion PDAF for 2014.
The Lower House earlier decided to distribute their lump sum discretionary fund to 6 line agencies, with CHED getting P2.52 billion or 10% – second to the smallest slice of the pie which is the Department of Education's P1.26 billion (5%).
"So the only problem left is [the scholars of] the Senators, because most of us either had [the PDAF] deleted, or had it put in the calamity fund," Cayetano said in a mix of English and Filipino. – Rappler.com