The health department needs at least 4,000 emergency delivery kits and iron supplementation for pregnant and post-partum women
MANILA, Philippines – The Department of Health (DOH) on Friday, November 29, said 432 health facilities were damaged by Typhoon Yolanda (Haiyan), with total damage estimated at P1.17 billion.
Most of the damaged facilities in MIMAROPA, Western Visayas, Central Visayas, and Eastern Visayas are the barangay health stations, followed by rural health units and hospitals. Below is the breakdown of the damage:
barangay health stations – 296
rural health units – 97
hospitals – 38
It has been 3 weeks since the super typhoon wreaked havoc in some parts of the Visayas on November 8, destroying anything along its path including hospitals. (READ: Tacloban hospital faces medicine shortage)
Health Secretary Enrique Ona, in a statement, said the department's Eastern Visayas regional office was also damaged. An approximate P1.4 billion will be needed for both repairs and medicinal supplies.
Health issues
As of Wednesday, November 27, the number of health consultations reached 70,056, with 2,794 or about 4% of patients admitted in different health facilities. From Tacloban City, 835 were already referred to hospitals in Cebu or Manila.
The DOH listed the top 5 consultations done in Yolanda-stricken areas:
trauma/typhoon-related injuries
respiratory tract infection
acute gastroenteritis
hypertension and diabetes
skin diseases
"Rest assured that the government is doing everything to bring back normalcy, and that the present condition in all affected areas is only temporary," Ona said.
172 medical teams – 86 from the DOH and 63 from both foreign groups and non-governmental organizations (NGOs) – were also deployed in the affected regions. (WATCH: International medical teams aid Haiyan victims)
All international aid is channeled through the World Health Organization's (WHO) health cluster for humanitarian aid, Health Undersecretary Ted Herbosa earlier told Rappler.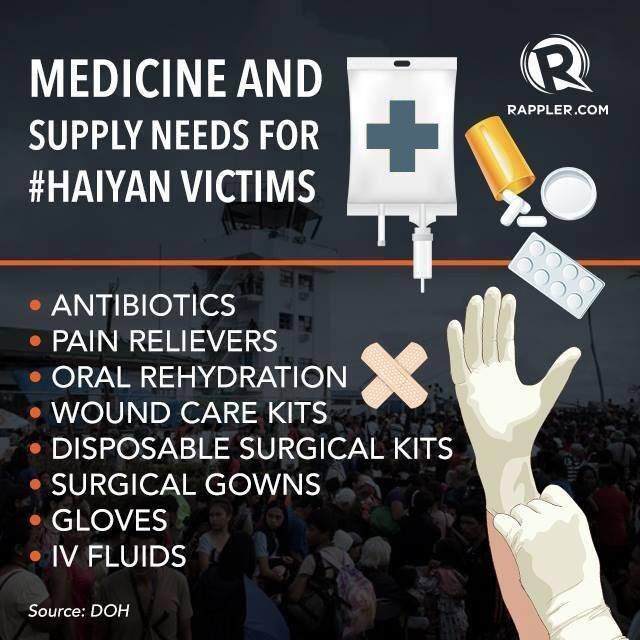 Currently, the department needs 4,000 emergency delivery kits and iron supplementation for pregnant and post-partum women.
They will also need P17.6 million for maintenance medications (hypertension, diabetes, heart diseases), P29 million for vaccines of senior citizens against influenza and pneumococcal disease, and P6.48 million for other medicines and supplies for primary care.
A prize freeze on about 200 essential medicines was declared on November 14 to discourage pharmacy owners and drug manufacturers from abusing the desperate need for drugs in calamity situations such as Yolanda. 
Last week, DOH and WHO also began mass polio and measles vaccinations to some one million children aged 6 months to 5 years old, the bracket most at risk of catching infections. – Rappler.com