Guiuan is the first stop on Pacquiao's promised tour of areas ravaged by Yolanda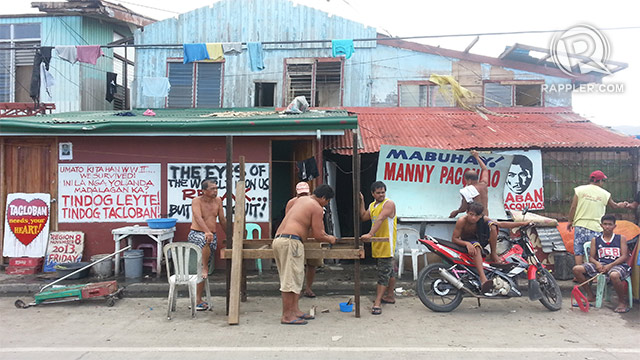 MANILA, Philippines – Boxing hero Manny Pacquiao will spend Saturday night, November 30, in a tent city with victims of Super Typhoon Yolanda (international codename: Haiyan) in the Visayas – a week after lifting the country's spirits with his comeback victory over Brandon Rios. (READ: Pacquiao to visit Samar towns, Tacloban Saturday)
Pacquiao flew in a friend's private plane from his hometown General Santos City to the central town of Guiuan, Eastern Samar, which was the first part of the country to feel the wrath of Yolanda which left nearly 7,400 people dead or missing. (READ: Yolanda death toll up at 5,632 – NDRRMC)
"I will be with the evacuees. I will sleep in a tent. I came from these circumstances so I want to be with them," said Pacquiao, a former street kid who was listed last year by Forbes magazine as the 14th highest-paid athlete globally with an estimated $34 million in earnings.
"I want to encourage them not to lose hope. I will tell of my life," he said over radio station DZBB from Guiuan which suffered at least 106 dead when Yolanda smashed into it on November 8. (READ: Pacquiao dedicates Rios fight to typhoon, quake victims)
Guiuan is the first stop on Pacquiao's promised tour of areas ravaged by Yolanda, one of the strongest typhoons ever recorded. (READ: Haiyan survivors to Pacquiao: Help us)
One of his travelling companions said Pacquiao would be setting up his tent in a sprawling "tent city" in Guiuan so he could be with some of those left homeless by the storm.
Pacquiao staffer Rose Tamayo said after spending the night in Guiuan, the only man to win world titles in eight weight divisions would travel to Tacloban City, where at least 2,038 were killed as the city bore the brunt of Yolanda's fury.
Nine truckloads of relief goods – along with numerous bibles – are being sent so the deeply-religious Pacquiao can distribute them in Tacloban, she told Agence France-Presse.
Pacquiao is making the trip despite complaining on Tuesday, November 26, that the government's Bureau of Internal Revenue had frozen all his bank accounts, forcing him to borrow money to buy the relief goods. (READ: Pacquiao: It's earned money, not DAP, PDAF)
It is part of a dispute where the bureau is threatening Pacquiao with a $50 million tax bill for unpaid taxes in 2008 and 2009 or risk having assets seized. (READ: Pacquiao's bank accounts ordered frozen)
Pacquiao, who parlayed his boxing fame into election to the Philippine House of Representatives and who has declared his presidential ambitions, has vowed to fight the tax charge. (READ: Arum: Pacquiao's tax papers coming soon)
But before departing on his relief mission, he declared he would not discuss the issue any longer.
"I will no longer issue any statement," he said Friday, November 29, adding that his lawyers would now do the talking for him.
Once known as the best pound-for-pound fighter in the world, Pacquiao lost two fights last year, leading some to predict his career was finished. (WATCH: Pacquiao's road to redemption: The comeback)
But a convincing win over American fighter Rios in Macau on Sunday, November 24, reignited his career, sparking talk once again of a long-awaited bout against Floyd Mayweather. – Rappler.com