#BalikBayan remembers 10 stories about how Filipinos shaped the world in 2013
MANILA, Philippines – While Filipinos often find themselves wondering why others like them are usually missing from the television screens, newspaper bylines or the headlines, this year, we learned that Filipinos are newsmakers. And that the diaspora still matters and plays a huge role in shaping Philippine society. 
#BalikBayan remembers 10 stories about how Filipinos shaped the world in 2013. 
1. Pinoys among participants in the Boston Marathon
Scared doesn't even begin to describe how residents felt when bombs exploded in Boston on April 15, 2013, during the Boston Marathon. Chechnyan brothers Dzhokhar and Tamerlan Tsarnaev detonated 2 pressure-cooker explosives that killed 3 people and injured at least 260 others. The bombs were only the beginning of a very frightening week which ended with a police chase through the greater Boston area. Tamerlan was killed in a police shootout while Dzhokhar, who was severely injured, was captured and arrested. 
There were at least 10 runners in the marathon registered from the Philippines, and luckily, none were among the injured. Rappler spoke with participants Arland Macasieb and Amanda Carpo who talked about their brush with death that day. Macasieb called the attack "sacrilege," while Carpo called out to the authorities to catch the suspects. 
(READ: 'Pinay in Boston Marathon: 'I hope they catch who did this')
(READ: Boston Marathoner: Bombing 'took something away from us')
(WATCH: Google+ Hangout: #BostonMarathon)
2. Backlash in Taiwan
One shot was all it took for tensions to erupt between the Philippines and Taiwan. On May 10, 2013, the Philippine Coast Guard admitted that its personnel fired at a Taiwanese fishing boat and killed a crew member. Taiwan issued sanctions against the Philippines. An OFW was also reportedly attacked with a baseball bat. It could've gotten worse.  
"We heard and read in the papers that they have been hit with bats and 4 have been hospitalized," Vice President Jejomar Binay told reporters. The Philippine government, through the Manila Economic and Cultural Office (MECO), apologized shortly after the incident, but Taiwan continued with the sanctions anyway. 
It was a diplomatic nightmare for the two countries in a region with very complicated relations. This happened during a time when the conflict in the South China Sea was showing no signs of easing. 
MECO's Amado Perez cried foul on the backlash against the OFWs in Taiwan. "We are moving heaven and earth to fix these things. There is only one at fault but thousands are suffering," Perez said on May 22. Many other Filipinos felt the same way.
How would you rate the Philippines' handling of the conflict in Taiwan?
(READ: How important is Taiwan for the PH?)
3. A reclusive heiress, an elusive nurse and a US$300-million inheritance

This story has the makings of a classic Hollywood film. Huguette Clark, a reclusive American old-money heiress died in New York City. Where did her US$300 million fortune go? According to a story in Vanity Fair, most of it went to charity. The rest went to her employees: A Filipina nurse, lawyers, employees and a goddaughter. 
Hadassah Peri, Clark's nurse, was at the center of the controversy. And despite being the most controversial figure in this million-dollar story, Peri rarely made any TV appearances and has hardly ever granted interviews or issued statements to the media. 
The controversy: Peri was due to inherit a whopping $30 million from Clark. This was in addition to the estimated $31 million in gifts she had already received. She was her nurse for 20 years and was the person she saw the most in Clark's later years. With the exception of Clark's only goddaughter, she did not leave anything for her relatives.
Was Clark coerced or manipulated? Or were the gifts well deserved because she was Clark's only friend, confidant and caretaker for the last 20 years? According to NBC News, the courts decided she didn't deserve the gifts and inheritance which were "presumed to be the product of undue influence."
The courts sided with the relatives who believed Peri coerced Clark into giving her the gifts and ordered Peri to give back some of them. It is difficult to decide whether we should sympathize with the elusive nurse, as she hardly ever spoke about her relationship with Clark. All she said was that she "loved" her and was glad to have known her.
Or was the family right? Was there something more shady going on behind closed doors? Is there a darker side to this story that we don't know and may never know about?
Mood meter: intrigued.
Read more in Vanity Fair.
Watch: Hadassah Peri's deposition testimony at Huguette Clark's estate contest 
4. Filipino in Santa Monica: 'I am not the hero here'
Random and deadly violence has become a neverending nightmare for the United States. Last June 2013, another shooting rampage broke out. Former student John Zawahiri killed his father and carjacked a lady before carrying out his sinister plans to target and kill students at Santa Monica College, in California, his former school. One photo taken by the Los Angeles Times of Fil-Am Marcel Kahn went viral. 
Kahn, who was working his last shift in the library of Santa Monica College, shared his riveting and terrifying story of survival only with Rappler. 
Read more on Rappler.
5. Deadline: Undocumented Filipinos in Saudi Arabia scramble to legalize their status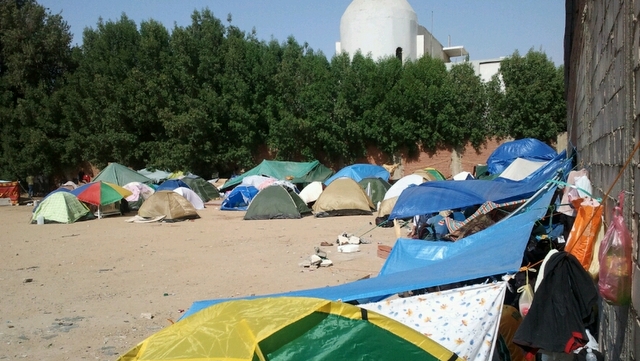 Filipinos in Saudi were given a deadline: November 4. This deadline was already a reprieve from the original July 4 deadline, in order to give undocumented workers time to find sponsors or leave. Not everyone had the funds to go, however. Hundreds of Filipinos without funds or sponsors camped out in front of the Philippine consulate for weeks in very hot and harsh conditions waiting for assistance from the embassy.
Since the amnesty expired, authorities began to round up foreigners who stayed behind illegally and held them in special centers until their deportation papers were sorted out. About 4 million were able to find employers to sponsor them. 
At least half of the workers who couldn't legalize were repatriated in early November, but they weren't deported kindly. "They treated us like animals," domestic helper Amor Roxas, 46, told Agence France-Presse, who bursted into tears while narrating her ordeal.
The Palace readied P2 billion in assistance for repatriated workers. But is that just a band-aid solution for a bigger and more systemic problem? Will 2014 be the year the administration prioritizes a plan on bringing the OFWs home? Let's hope so.
Read more here.
6. Immigration reform in the United States
Immigration reform is a hot-button issue that divides the United States. A historic immigration bill passed the US Senate in July 2013 with strong bipartisan support. It would allow a path to citizenship for those qualified among the US' estimated 11 million undocumented immigrants. President Obama encouraged the House of Representatives to pass the bill and "fix the broken immigration system.
The bill is stuck in a deadlock between the Senate and the Republican-dominated House of Representatives. House Speaker John Boehner said before he is not keen on the comprehensive bill and prefers the House to draft and vote on several smaller bills.
Latest reports indicate that there are between 300,000 and 600,000 undocumented Filipinos living in the US. A prominent figure in the fight for immigration reform is Pulitzer Prize winning Filipino-American journalist Jose Antonio Vargas, who came out as undocumented in a popular New York Times essay called, "My Life as an Undocumented Immigrant." Vargas is also a staunch advocate of the DREAM Act. If the act passes, it would give qualified undocumented graduating high school students the opportunity to legalize their status.  

California passed their own version of the DREAM Act in 2011, which gives undocumented students access to government financial aid benefits.
2014 will be an interesting year for Immigration reform. All seats are up for grabs in the Republican-majority House of Representatives in the upcoming mid-term elections. The "DREAM" isn't over yet.
7. Sex-for-flight
The alleged "sex-for-flight" scandal is the biggest to hit the Department of Foreign Affairs (DFA) in 2013. OFWs working in the Middle East came forward as victims of sexual abuse by the hand of embassy employees.On June 6, Victims came forward from Syria, Kuwait, Jordan – and later – in Saudi Arabia. The political party Bayan Muna said the alleged sex-for-flight scheme by Philippine embassy officials in the Middle East is "just the tip of the iceberg."
Akbayan Rep Walden Bello named 3 suspects in the initial press conference:
• Mario Antonio, the assistant labor attaché in Jordan
• Blas Marquez, a local hire or a contractual employee of the Philippine Overseas Labor Office (POLO) in Kuwait
• A certain "Kim," who is a member of the Augmentation Team of the Department of Foreign Affairs (DFA) at the embassy in Damascus, Syria
Victims claimed they were offered tickets home in exchange for sexual favors.
8 envoys were ordered to return home by the DFA in June, pending investigation.
On Aug 15, 2013, the accusers, wearing masks, faced the accused during a Senate probe. But in a dramatic twist, one of them, known only by the name "Michelle," decided to remove her veil. 
"Ngayon, Mr Villafuerte, naaalala mo po ba ako, 'yung ginawa mo sa akin? Naaalala 'nyo po ba? Huwag kayong magsisinungaling dahil hindi lamang po ako ang nakakita no'n," Michelle said after unmasking. (Now, Mr Villafuerte, do you remember me, what you did to me? Do you remember? Don't lie because there were other witnesses.) She was then referring to assistant labor attaché Antonio Villafuerte.
Since June, numerous cases related to the sex-for-flight scheme have been reported. On September 25, the first charge was filed against an unnamed labor attaché. The accused allegedly forced the victim, an OFW, to kiss him and attempted to take off her clothes.
On Dec 11, 2013, witnesses faced their tormentors once again, but this time in the OFW affairs committee in the House of Representatives, according to an ABS-CBN report. The report said that Justice Secretary Leila De Lima was looking at charges of attempted rape, acts of lasciviousness and "crimes against chastity" against others involved in the scheme.  
The Middle East is an important region for the Philippine economy. The region hosts about 60.9% of the estimated 11 million total OFWs living abroad and send billions of dollars to their families in the Philippines. 
While the scandal made the front pages weeks following the exposé, it seems to have taken a back seat to the multi-billion peso pork barrel scandal and the recent natural calamities. The waning media attention on the sex-for-flight probe should not, however, give authorities the green light to sit back and relax their investigations.   
8. Pinoys abroad protest the pork barrel
It is undeniable that the Philippines needs the diaspora, at least economically. And while the economic influence of Filipinos abroad is clear, the same cannot be said of its political influence. Looking back at how many Filipinos showed up at the polls during the last election, the Commission on Elections (Comelec) reported that only 26% of the elligible 737,759 overseas voters actually voted.
But a little scandal that broke in the middle of 2013, known as the Priority Development Assistance Fund (PDAF) scam (also called the pork barrel scam) changed all that.
In August, a Facebook post sparked a massive protest called the #MillionPeopleMarch. Thousands came  to march against the controversial pork barrel system. The voices of the #MillionPeopleMarch protests were reflected overseas as Filipinos in key cities such as New York, San Francisco, London, Taipei, and Melbourne came together to ask the Philippine government to scrap the pork barrel. Two months after, the Supreme Court declared the pork barrel unconstitutional.
Filipinos abroad often find themselves too stuck in their own problems and challenges – understandably – of living and working abroad. Why bother? Well because somewhere – deep down inside – most OFWs want to come home. And they don't want to come home just for a vacation, they want to come home for good.   
9. Identity: #BalikBayan helps 3rd culture kids rediscover Filipino
Rediscovering Filipino identity became a little cooler this year. Through the power of social media and technology, Filipinos all over the world have connected and shared their stories through Rappler's newest initiative: #BalikBayan. It was created out of the idea that identity, belonging, and a sense of home are not confined by any country's national borders. Yet we recognize how important it is to look back to our roots to give us a clearer picture of where we are headed in the future.
#BalikBayan launched on Aug 1, 2013. It is a platform for Pinoys of all ages to share their stories: From the 20-somethings who shared their insights on what it's like to learn your parent's language; or the immigrant student who shared that sometimes locals would move when she sat down on the bus because of the color of her skin; to the 67-year-old retiree who shared her story and struggles with becoming an American and moving back to the Philippines. Trailblazers feature Filipinos who have showcased "Filipino talent, know-how, skill and ability" whether in the boardroom, politics, science or the arts.
On Aug 4, 2013, Rappler hosted a hangout: A Filipino in every continent. Rappler had guests from all corners of the earth, from all 7 continents, including Antarctica. They discussed what about being Filipino makes them different, but also what ties them together.
#BalikBayan is an ongoing story. It's everyone's story. It seeks to harness voices, thoughts, ideas and news about everyone who defines and continues to redefine what the Filipino is today, regardless of national borders.
10. Overseas Filipinos organize aid for typhoon victims 
When the devastating Typhoon Yolanda (Haiyan) hit the Eastern Visayas, Filipinos abroad acted immediately. "We couldn't just stand around and do nothing," said Janella Ravina, 21, a Fil-Am student from the San Francisco Bay Area. (READ: #YolandaPH: Filipinos worldwide heed call to action)
Millions of Filipinos everywhere mobilized to send money and some were even able to send goods back to the Philippines.
For OFWs with family in the Visayas, it was personal. Sally Molina, a domestic worker in Hong Kong, said the storm destroyed her home in San Dionisio town in Iloilo on November 19. After she was able to make contact with her family, she said her youngest brother Elineo was nowhere to be found.
Her story is only one of millions of others in and out of the Philippines. Haiyan is a reminder that victims of natural disasters are not just the ones who were caught in the eye of the storm. Victims are also the ones thousands of miles away who had lost their wives, mothers, fathers, husbands, or children in the storm, and could do nothing to save them. Haiyan – in one way or anther – touched us all. – Rappler.com