Latest figures show 12,500 classrooms need repair and rehabilitation in 4 regions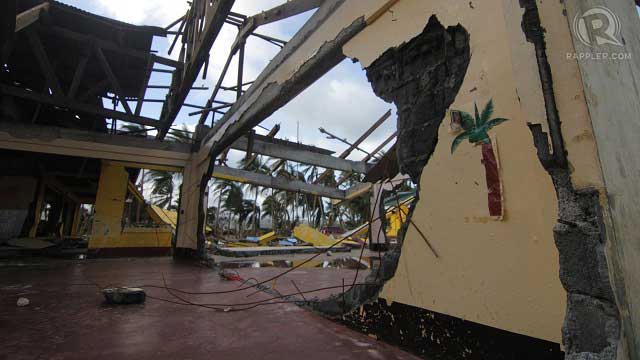 MANILA, Philippines – There's enough money for replacing classrooms destroyed by Typhoon Yolanda (Haiyan), says the education department, but it is in repairing the partially damaged ones where it needs help.

The help doesn't have to come in the form of more money pledges, though. The Department of Education (DepEd) will appreciate if the private sector can adopt entire schools, and not only classrooms.

"Halimbawa, 'yung kompanya, sasabihin. 'We will take care of this elementary school. We will take care of the repair of all the classrooms that were destroyed. We will also give the school a makeover, para maging mas maganda naman sya kesa dati, 'tsaka para maging mas safe," Mario Deriquito, DepEd Undersecretary for Partnerships and External Linkages, told Rappler on Friday, January 10.

(For example, the company can say, "We will take care of this elementary school. We will take care of the repair of all the classrooms that were destroyed. We will also give the school a makeover so it will look better than before, and safer.")
No final tally yet

According to Deriquito, latest figures showed about 12,500 classrooms along the path of Yolanda – Mimaropa, Western Visayas, Central Visayas, and Eastern Visayas – are for repair and rehabilitation, while more than 4,500 classrooms are for replacement.

These figures can still change because engineers from the central office have yet to finish validating of field reports from local DepEd engineers.

The department expects final figures by the end of January, or nearly 3 months after the disaster, so they can estimate the total amount of damage and begin construction immediately.

They hope to finish new, one-storey classrooms by the end of May, in time for the opening of classes in June. As for multi-storey ones – usually in urban areas – Deriquito said they cannot promise to finish building them by May because they normally take more than 6 months to build.

"So what will happen now is this: the makeshift classrooms we are building together with our partners will be focused on schools with multi-storey classrooms, so that while construction is ongoing, they can hold classes in makeshift ones temporarily," he said in Filipino.
Following standards

Right now, makeshift classrooms across the 4 regions can be classified into 3:
Raw version: made of indigenous materials (tarpaulin, wood)
Tents (fabricated; usually 72 square meters, or 48 square meters)
Temporary classrooms: made of GI sheets and wood
Those made of GI sheets and wood will be used temporarily next school year while waiting for multi-storey classrooms to be finished.

As for tents, the 72-square-meter ones are usually divided into two classrooms – 36 square meters each – to accommodate more students. This is below the standard size of 63 square meters.

"Sa ganitong pagkakataon kasi wala naman tayong ilusyon na mag-provide ng ideal. Kung ano 'yung and'yan, [kung ano 'yung] available," he said. (In situations like this, we don't have an illusion of providing the ideal. We use whatever is there, whatever is available.)

But in rebuilding new classrooms, Deriquito said the department has set minimum standards and added it is up to the private sector if they want to further improve on it. (READ: Want to design resilient schools? Enroll online)
The 2014 design of the Department of Public Works and Highways for classrooms can withstand earthquakes as strong as magnitude 8 or 9, and a wind velocity of up to 250 kph. (READ: What goes into the building of classrooms)

For foreign aid from UN agencies and international NGOs, the department created what they call the Philippine Education Cluster, which meets every month to discuss and coordinate the rehabilitation needs of schools. The cluster has counterparts in the 4 Yolanda-affected regions.
Higher attendance

This month, most schools already began regular classes, while some schools still employ alternative delivery modes. In Tacloban, where 8 schools are still being used as evacuation centers, student attendance rate is at 30%-50%. The rest of the affected areas report 85%-95% attendance rate. (READ: Dismal attendance in reopened schools in Yolanda areas)
Deriquito said while they will not extend the number of school days, they are looking into the possibility of extending classes an hour a day or doing make-up classes every Saturday.

By mid-February, the department will also begin a 30-day feeding program for close to 300,000 children, with the hopes of extending it until the end of the school year if more resources come in. – Rappler.com