Women in Yolanda-hit communities encourage each other to learn the value of savings
MANILA, Philippines – Communities in the Philippines, a poverty-ridden and disaster-prone country, found a simple and practical way to help one another in times of need.
"I used to think only those who earn more can save. How can I do it, our income is not even enough for our needs?" 44-year-old Elsa Avecila wondered.
She learned, however, that all it takes is discipline and her willingness to set aside even a small amount of money. Elsa and her neighbors formed their own "Community Managed Savings and Credit Association (CoMSCA)."
World Vision encouraged the formation of the saving groups to help parents, and even children realized they could do something to lift themselves from their plight.
19 women in the village of Liberty, Mayorga town, Leyte province formed their own groups too. 
"Every time we have immediate financial need, we can file a loan and have the money without going through the tedious process in lending institutions. We can't just borrow from the bank and we don't even have means to pay the high interest," Elsa explained.
Survival
Elsa's husband Juan, a balot (duck embryo) vendor, accepts other odd jobs during lean months.
To provide their children's needs, the couple borrows money from informal financiers called "5-6" – a common practice among poor villages; an easy yet very profitable business for those who have money. For every P1,000 ($22.51), they will pay P20 ($.45) every day for one month. The "5-6" operator earns 6% interest or P600 ($13.50).
Meanwhile, in the savings group, members pay only 3% interest and at the end of the one-year cycle, they divide among themselves the earnings from the loan.
When Super Typhoon Yolanda (Haiyan) struck on November 8, around 30 persons sought refuge in the village chapel. But the fierce winds tore it apart; walls landed on Elsa's feet; "I thought we will die."
"Despite some hardships, we are getting by, but Yolanda came and we lost our home, all our belongings. Life became more difficult," Elsa said.
The International Labor Organization reported that almost 6 million workers lost their livelihoods to Yolanda. Of these, 2.6 million were already in vulnerable employment and living near or below the poverty line even before Yolanda hit. 
The first few days were a test of survival for the entire community.
The money these women pooled together saved them as they waited for relief goods to arrive. They divided among themselves what they called their "sustainability fund."
"If not for CoMSCA, we would have been hungry for days," Elsa said.
The group decided to defer getting their entire savings when aid came. "We decided to have it in May in time for the school enrollment."     
Elsa will use the money for her 16-year-old daughter who wants to study Business Administration. Elsa proudly showed her daughter's report card, saying, "This is the prize of our hard work."
Future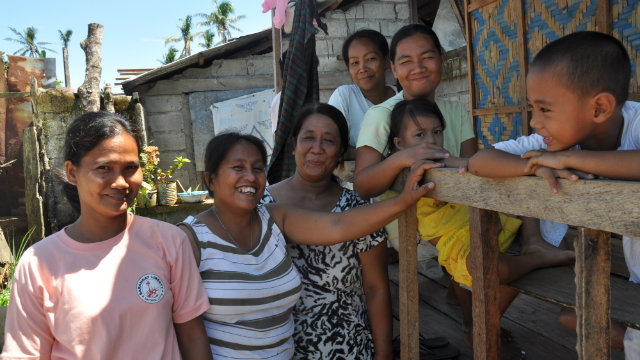 The women vowed to continue their savings group not only to meet their basic needs but more so, to be ready when another disaster strikes. 
CoMSCA empowers communities to be better prepared for future calamities.
There are over 145 groups and 2,000 members in World Vision-assisted communities nationwide.
There is also a CoMSCA group for kids, which now has 400 members. Children are taught the value of saving. At the end of the one-year cycle, the kids get their savings back and use it for school supplies, baon, and their Christmas party.
The World Vision Haiyan Response currently aims to serve 14,000 households in the provinces of Leyte, Iloilo, Aklan and north Cebu. It seeks to provide shelter, water, health and sanitation, livelihoods, education, and community infrastructure needs. – Rappler.com
Leoniza O. Morales, communications officer of World Vision Haiyan Response, is currently based in Tacloban.