The UNDP's cash for work program is helping families affected by Haiyan rebuild their interrupted lives
CEBU, Philippines – In the town of Sante Fe, Trinidad Bato-balono proudly points to the typhoon-ravaged coast she helped clean with the support of the United Nations Development Programme (UNDP).
She said businesses are slowly picking up, tourists are starting to return, and students are going back to school.
Getting the port up and running was crucial in reviving the town's tourism industry. Despite the destruction of one ramp, ferry services have resumed regular operations – providing locals and foreigners access to hundreds of trips weekly from Hagnaya Warf in San Remigio to Sante Fe, Cebu.
"Without the help of (the) UNDP, we would have not been able to resume operations as fast as we did," Sante Fe Mayor Jose Esgana said. "Through hundreds of cash-for-work beneficiaries, we were able to clear classrooms, roads, and coastal areas in a faster phase."
For Bato-balono, the sight of ships arriving is a vision full of promises and expectations. They were no longer isolated. There is hope for her, her family and the community of Santa Fe.
Road to recovery
But the road to recovery has not been easy. Just as she expected, Typhoon Yolanda (Haiyan) was strong and destructive. It was worse than Typhoon Frank (Fengshen) in 2008. For the second time, Bato-balono and her family had to rebuild from nothing – they had no house to live in and everything they had rebuilt was destroyed.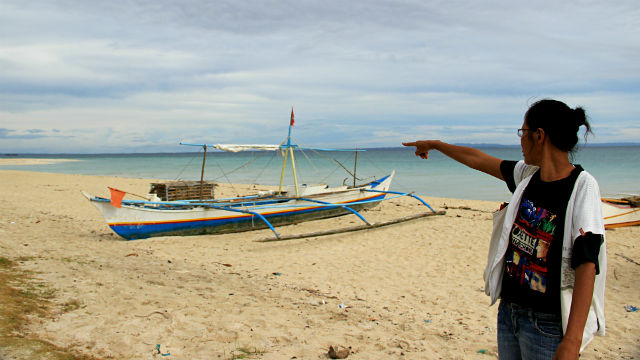 Despite the devastation, the 55-year-old remained optimistic. Her family was safe, including Mameng, her 93-year-old mother who was paralyzed from waist down. If it weren't for her neighbors who were willing to brave the storm, her mother would have never made it – not after the injury she sustained.
For Bato-balono, her family's survival was a miracle. She was confident that whatever property they may have lost, her family could rebuild their lives for as long as they were together.
The first month after the typhoon was exceptionally hard for the family, especially for Bato-balono, a masseuse and a manicurist. Resorts were closed, tourists were not coming to Bantayan, and the shore was barely recognizable under the mountain of debris.
There were no jobs available for most of the residents of Santa Fe.
"Walang nagpapamasahe. Walang nagpapapedicure. Wala kasing pera ang mga tao. So nung narinig ko yung cash-for-work ng UNDP, nag-apply ako kaagad," she said. (No one thought of having a massage or a manicure. The people did not have money to spare. So when I heard about UNDP's cash-for-work, I applied immediately.)
Using the income she earned from clearing debris and the construction materials she received from the government, her family was able to restore their old home.
Today,  Trinidad and her family continues to rebuild their lives. They are confident that they will survive the tragedy brought by Yolanda as they have done so in past calamities. – Rappler.com
Anna Mae Yu Lamentillo is a Communications Consultant of the United Nations Development Programme (UNDP). She earned her degree in Development Communications from the University of the Philippines Los Banos. When not working for the Yolanda recovery effort, she dreams of travelling the world.