A group of Filipino American businessmen and philanthropists says drone technology would help the Philippines fight off China's aggression in their territorial dispute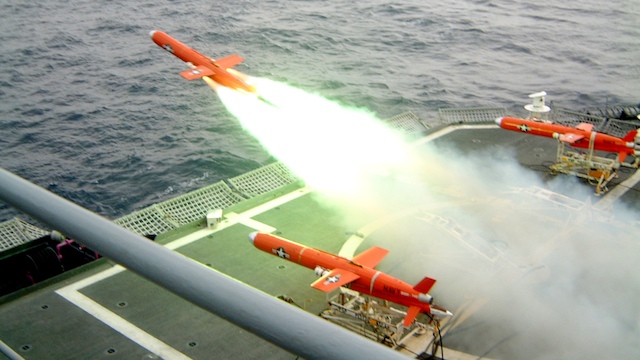 MANILA, Philippines – Filipinos in the United States are urging President Benigno Aquino III to ask US President Obama to provide drone technology to the Philippines when they meet in Malacañang next week.
In a letter addressed to Aquino released on Thursday, April 24, the US Pinoys for Good Governance (USP4GG) – a group of businessmen and philanthropists known for their advocacy initiatives – said drone technology would help the Philippines fight off China's aggression in their territorial dispute.
It asked Aquino to "please request and persuade President Barrack Obama to provide the Philippines with US drone technology" which could be a great equalizer against China's bullying tactics.
"Realistically, the Philippines needs effective weaponry to deter China's aggression. Because of limited economic resources compared to China – the Philippines can never match China's supply of conventional armaments. As such, the Philippines needs more effective non-conventional weapons," the letter said.
It also cited the fact that the US uses drones in military anti-terrorist operations as a spying tool. Pilotless drone aircrafts also carry rockets and bombs.
"If the Philippines had access to this technology, we could effectively utilize it to keep China at bay without endangering the lives of our soldiers. The cost will be less than that spent for jet planes, ships or helicopters," said the group.
The Philippines has joined the debate on the controversial use of drones especially after a July 2012 New York Times article claimed that the Philippines is one of the countries where the US had conducted "lethal" drone operations. US and Philippine military officials have denied this. (READ: What drones? PH not Afghanistan – US officer)
In December, the Department of National Defense (DND) invited bidders who can supply the military with 6 sets of small unmanned aerial vehicle (UAV) sub-system or drones to expand its surveillance and reconnaisance capabilities.
USP4GG also backed the Enhanced Defense Cooperation (EDC) agreement which would increase US military presence in the country, "given the reality of China's immoral bullying and resource grabbing propensities and the fact that the Philippines is incapable of protecting itself against a military giant."
In 2012, USP4GG called for a boycott on Chinese products in response to China's "bullying" attitude in the West Philippine Sea (South China Sea). The group also organized global rallies in front of Chinese embassies in key cities to expose China's alleged arrogance in the Scarborough Shoal dispute.
The USP4GG is chaired by philanthropist Loida Nicolas-Lewis.
Special status
Aside from drone technology, the group is also requesting the US government to grant Philippine nationals Temporary Protected Status (TPS) following Super Typhoon Yolanda (international name Haiyan).
The TPS is a humanitarian law which helps nationals of countries affected by major natural disaster, war and other calamities. If granted, it would only be applicable to Filipinos already in the United States.
"If this request is granted, thousands of Filipinos in the US, whether in legal or illegal immigration status  – will be allowed to stay, be given employment authorization and also be issued travel permits," the letter said.
"With this grant of TPS to Filipinos in the US, which will definitely increase remittances, they will be able to help not only the typhoon victims but also many other people in the homeland. This grant of TPS will also significantly positively affect the economy of the Philippines and increase the country's dollar reserves."
Obama is scheduled to be in the Philippines on Monday, April 28 until Tuesday, April 29, as part of his week-long Asian tour. He is expected to discuss with Aquino political and security cooperation, trade and investments expansion, tourism and development cooperation, people-to-people ties, and the rehabilitation Yolanda-damaged areas. – Rappler.com