Dealing with matters beyond his mandate is a distraction to his main mission
Today, 6 months ago, shadows attempted to break into our home in Leyte. I saw lawlessness in darkness. I saw my mother and my two aunts – all in their 70s – crawl on our wet floor, as the responding cops fired 6 shots.
I thank the police for saving our lives and what was left of our property. But still, at that time, government presence was not felt.
What could be heard were the growling of hungry guts and the rage of helpless people wandering aimlessly through unrecognizable streets.
I saw desperation in the eyes of a mother who fed her children with rotten food that even pigs would reject. I smelled the stench of death in Tacloban from the airport to the mass graves.
All these images are hard to bury. The emotions they evoke are constantly resurrected by remnants of the horrific destruction and loss brought about by Super Typhoon Yolanda.
Reports saying that 6 months after the disaster, the rehabilitation process is becoming a disaster itself are certainly not reassuring. It saddens Leyteños like me whose loved ones continue to live in fear and with uncertainty, even as we strive to move on. 
Confusing identity
It does not help that former Senator Panfilo Lacson goes live on TV for an "exposé" other than the sluggish recovery.
On a Bandila segment on Monday, May 12, he was introduced as the Presidential Adviser on Rehabilitation and Recovery.
Two incumbent and 9 former senators and Budget Secretary Florencio Abad were among those Lacson identified in the "Napolists" of lawmakers and other government officials allegedly involved in the scam.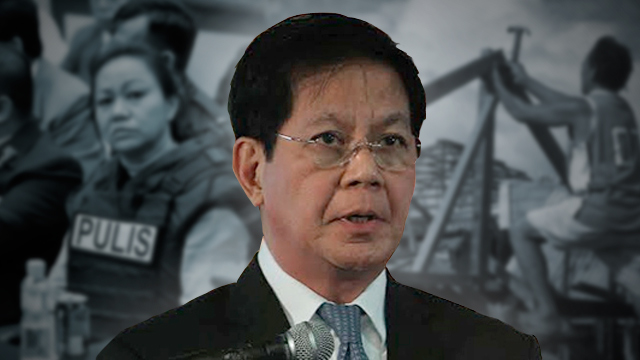 In the 7-minute interview that followed, he sounded more like another "whistleblower," except that he would not publicly reveal the names of the other accused legislators because he feared it might further "ruin" the Senate.
Lacson's revelation did not elucidate at all, leaving the controversy more convoluted instead. His identity and agenda have now become as confusing as those controversial lists.
Napoles controversy or Yolanda recovery?
His primary role now is clearly to rebuild Yolanda-affected provinces, and not to save a self-destructing institution from crumbling.
There are millions of people who are already holding it accountable. Journalists are all over the controversy – from what Napoles and politicians amassed to what she ate.
The whistleblowers are noisy enough. The Senate Blue Ribbon Committee, the Ombudsman, and other state apparatuses have already looked into the scam, considered the country's biggest corruption scandal in recent history.
But who is looking after the rehabilitation of the areas flattened by the biggest disaster in recent years? This is supposed to be Lacson's preoccupation.
Lacson said he learned about the lists of pork barrel scam mastermind Janet Napoles and whistleblower Benhur Luy on March 27. In about a month, he was able to consolidate the two lists and revealed it last night.
But 6 months after Yolanda, no consolidated recovery plan has seen the light of day as yet.
This is supposed to be Lacson's vision.
By Lacson's own admission, some of his peers in the Cabinet are "incorrigibly uncooperative," skipping meetings, sending representatives who cannot commit, and failing to promptly submit reports on time. 
His position may be powerless, as he and other experts claim, but complaining about it will not make him any more powerful.
Coordinating with his peers and solidifying the government's biggest rehabilitation effort is his primary obligation.
Political will
Lacson did an impressive job in expediting the burial of almost a thousand bodies in Tacloban – in less than a week – which responsible agencies failed to do for two months.
Such demonstration of political will is what the affected areas want to see. Power, process, and papers do not matter to the homeless, hungry, and jobless.
He has said his piece, he should now get back to work and steer the rehabilitation process. Dealing with matters beyond his business will distract him from fulfilling his mandate. 
Six months from now, on November 8, the only list that will matter to the Yolanda survivors is the one that reveals the number of dead bodies properly buried and the number of lives rebuilt. – Rappler.com
Voltaire Tupaz is a multimedia reporter working with MovePH, Rappler's civic engagement arm. He covered the Bohol earthquake and the Super Typhoon Yolanda crisis.