An International Rice Research Institute program aims to teach young schoolchildren the importance of nutrition and food security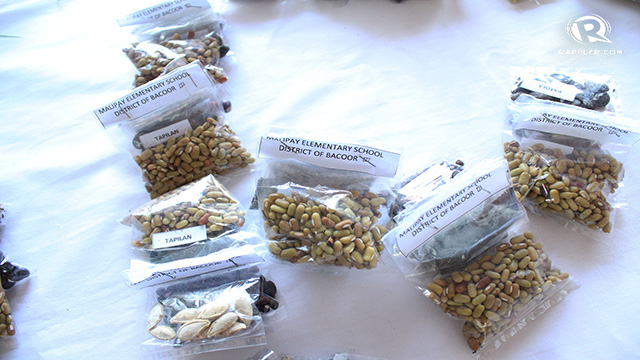 MANILA, Philippines – What do you know about bio-intensive gardening? 
It is part of an initiative that aims to integrate a more sustainable approach in agriculture education in schools in the Philippines.
The International Institute for Rural Reconstruction (IIRR) launched the Integrated Approach to Address Food and Nutrition Security to combat undernutrition among school children.
The 3-year research project is funded by the International Development Research Centre (IDRC) and implemented by the IIRR, DepEd Cavite and Food and Nutrition Research Institute-Department of Science and Technology (FNRI-DOST).
Some 27 public elementary schools located in Cavite were identified as the main intervention schools. They are provided with equipment and training centered on a bio-intensive approach that complements the "Gulayan sa Paaralan" program. (Read: Teaching ways to fight hunger)
Child undernutrition remains a major obstacle for educators. The number of school children considered too thin for their height or "severely wasted" stands at 534,054, according to 2012-2013 DepEd figures.
The 2013 United Nation Children's Fund Nutrition Report ranked the Philippines as the 9th country in the world with the most number of stunted children. This leads to hampered learning abilities and, eventually, poor educational outcomes. (Read: Learning on an empty stomach)
Research components
The research comprises of three main components namely – Bio-intensive Gardening by IIRR, Supplementary Feeding Intervention by FNRI and Nutrition Education by FNRI and IIRR.
Bio-intensive Gardening (BIG) is a small-scale household biological approach to gardening. Contrary to the conventional gardening methods, it uses bio-intensive technology which aims to diversify the use of school lands through planting indigenous vegetables as a source of nourishment for school feeding programs.
The component targets the familiarization of agricultural teachers and students to the planting of indigenous crops which are more adaptable to climate change. It aims to make school gardens built from the Gulayaan sa Paaralan program more sustainable and ensure the longevity of the soil.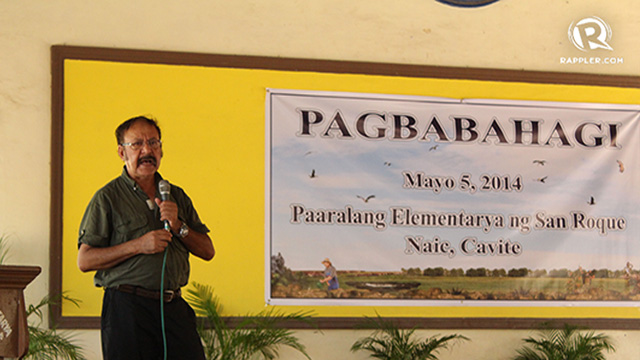 "Most of these indigenous vegetables such as patani, bataw are drought tolerant. You can't buy these from seed companies which is why planting them is the best way to conserve them," IIRR Senior Program Adviser Julian Gonsalvez explained. 
Crop diversity improves soil fertility and keeps pests away better, according to the IIRR.
Bio-intensive Gardening uses small spaces of land that can be found in school gardens or backyards making it accessible for families and local government units. (Read: Eat 'indigenous' vegetables)
Crop museums were also set up to re-introduce neglected underutilized vegetables. Apart from school gardens, families within the community are also given diverse seed varieties that can be grown with minimal attention.
As of now, the 27 intervention schools have shifted from conventional gardening to BIG, using organic fertilizers and growing more indigenous crops.
The Supplementary Feeding Intervention along with the Nutrition Education components use the indigenous vegetables to support the existing school feeding programs. For 120 days, 80 wasted children are identified in the chosen intervention schools to be served lunch composed of iron-fortified rice and vegetables. (Read: School feeding programs for Filipino kids)
Recipes along with proper feeding practices are taught to parents in order to change poor nutrition at home.
According to Gonsalvez, most parents are often working busy jobs and have the tendency to neglect children's nutrition and just feed them what's convenient. Moreover, children are eating less and less vegetables. He says it results to a potential health crisis. 
Start up problems
It took almost 20 years for the approach to reach its current state.
The project developed as the policy climate continued to change in the Philippines and became more receptive to nutrition and health. However, sustainability continues to be a big issue as land use becomes increasingly commercialized.
"Tenancy remains to be a big problem for farmers here in the Philippines," Gonzalez emphasized. "Tenancy is a big factor influencing how people develop the land."
IIRR urges the involvement of local government units in supporting sustainable agriculture.
Collective action
The IIRR hopes to expand the program on a national level. Local government units play a big role in supporting the advocacy by providing the equipment necessary to sustain the projects. 
There are no cash inputs in the program, only education and knowledge through training. The IIRR, DepEd Cavite, FNRI-DOST regularly monitor and evaluate the schools involved.
Additionally, research results will be consolidated this year and is set to be released by the FNRI before 2015. – Rappler.com 
Vanessa Cabacungan is a Rappler intern.