What others may see as strange, she sees as totally normal
I was still learning how to write my ABCs when I was first exposed to the lesbian, gay, bisexual, and transgender (LGBT) community.

Tita Molynn, my father's cousin, never wore dresses or high heels. While I remember asking her as a kid why she buys from the men's section even though she has breasts, I accepted it.

The same goes for my mother's uncle, who I fondly call Tito Joey.  I never saw him dress like a woman but I knew he liked men. He expresses that in front of the family, whether by saying jokes – which he's very good at – or by mentioning it in serious conversations about childhood crushes my parents should never know about.
My cousin Kylie, who I'm very close to, wears maxi skirts, curls his long hair, and expertly makes my eyeliner slay when I ask him to put my make-up on.
What I didn't realize as a kid, however, was that the greater part of society isn't as accepting of LGBTs. It was only later on when I discovered people are being shunned for liking someone from the same gender.
Standing out
I wouldn't have understood as a child what Rene Pastor meant when he said it's not going to be possible for any Filipino athlete to follow the footsteps of then Washington Wizards' center Jason Collins, who publicly admitted to being gay in 2013.
In his article, Pastor asserts that the deeply-ingrained machismo symbolized by Robert Jaworski in the minds of Filipinos feeds "a certain meanness in the Philippines' culture that looks on gays or lesbians as perverts, or worse, treats these people with ridicule and contempt."
I wouldn't understand because nobody in the family seemed to mind that Tita Molynn has a girlfriend, that Tito Joey teaches ballroom dancing, and that Kylie doesn't want to be called by his legal name anymore.
But as I grew older, I did. I noticed that whenever I'm with one of my gay relatives, people stared. They snickered. Some would even shout "Bakla! Bakla! Bakla!"
It was natural for my relatives to run away, to cry, to hide, but they didn't. They held their heads high and walked on. They would even smile back at the strangers.
I now understand why Bardo Wu and Jake Jereza's photo of them kidding beside anti-LGBT protestors during the Pride March in 2012 went viral on social media. For the openly-gay couple, the photo was a testament to their belief – that we live in "a world where being gay is about as normal as having fingernails."
They were reminding Filipinos that gender isn't simply black and white. It's a whole spectrum of colors.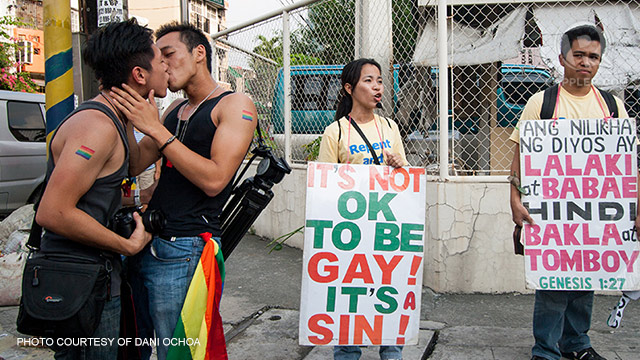 In the spotlight
But we all know being openly gay in this country isn't easy.
In her article, Shakira Sison painted the life Charice must have led before telling the public she was a lesbian.
No wonder it took the internationally-acclaimed singer 6 years after her rise to fame before coming out of the closet. The Filipino audience can be ruthless if they want to, and Charice had to face jeers from ex-fans because they simply couldn't accept her sexuality.
When Kylie (my cousin) first admitted that he was gay, it was a very difficult time for the family. I have older relatives who grew up in conservative homes, where they learned that Barbies are for girls and Hot Wheels are for boys.
Eventually, they accepted him. After all, Kylie is still the same person – be it a son, brother, grandson, cousin, or nephew – to all of us. He will still haul our heavy luggage. He will still accompany us when we need to commute to places we aren't familiar with. He's just "glammed up now," as Kylie often says.
Changing the game
When media and business research firm Thomson Reuters announced it would provide the same health insurance benefits to both homosexual and heterosexual couples employed in the company, many hoped this would be the game changer for gender equality in the workplace. 
In her article, Sison writes that Filipino business owners may not easily make the same decision. She asserts though that they eventually will, once they realize that progressive and fair employers attract topnotch employees.
However, government support is needed if we are to win the battle against the homophobic culture existing in the Philippines.
Fritzie Rodriguez writes that the country doesn't have specific laws protecting LGBTs. She says that the Family Code of the Philippines as well as the Magna Carta for Women don't necessarily protect the wellbeing of Tita Molynn, Tito Joey, and Kylie.
The Anti-Discrimination Bill, which would most certainly improve working conditions for LGBTs, hasn't been passed into law.
I remain hopeful though. I am because I can see that even people outside the family are accepting that Tita Molynn, Tito Joey, and Kylie are homosexuals. Their friends and their co-workers treat them for who they are. 
Together, we see them as the people who laughed at our cringe-worthy jokes; who patted us on the back when we graduated; and, who cried along with us when we had our hearts broken.
I am hopeful because people are changing now. They are slowly starting to understand, accept, and respect the rights of the LGBTs.
The truth is, like in many other Filipino families, my aunt is a lesbian and my grandfather and cousin are gays. And that's okay. – Rappler.com
Mara Cepeda is a Communication senior from the Ateneo de Manila University. She is currently the editor-in-chief of The GUIDON, Ateneo's official student publication.  
iSpeak is Rappler's platform for sharing ideas, sparking discussions, and inspiring others to move! Share your iSpeak articles with us: move.ph@rappler.com.
Tell us what you think about this iSpeak article in the comments section below.