How do you save someone who does not want to be saved?
The first time I met Annie (not her real name), she brought a bag with two gowns.
One was blue with a pink scarf, intricately beaded by hand with vines and little flowers. The other one was black with a pattern of red roses.
She gushed over her work and, thinking that I was being polite, I asked how long it takes her to sew a design.
"It doesn't take long as long as my husband leaves me alone."
She said it like it was nothing.
I thought later that maybe her husband was just a needy old man, possibly even clingy and sweet in their years of growing old together. Maybe it was one of those the little things in married life that didn't matter much in the long run.
Seeing her now, you can imagine that she truly was beautiful. There are still those wide eyes and that small aquiline nose that was maybe less hooked in her youth. She has very few teeth left but she still laughs and smiles so easily.
The darling of Iloilo, spoiled and with a wealthy family, she was part of the provincial elite that made the likes of Sen Franklin Drilon and Sen Miriam Defensor Santiago. She was so desirable that her suitors would have to wait for her to finish a dress before she went out for date, wearing that very same dress.
Her haute couture gowns were in demand, and with a contract with Crossings M in Manila, she made her first P3 million. She was a budding designer making a name for herself it the Philippine fashion world.
That didn't happen.
Poor Annie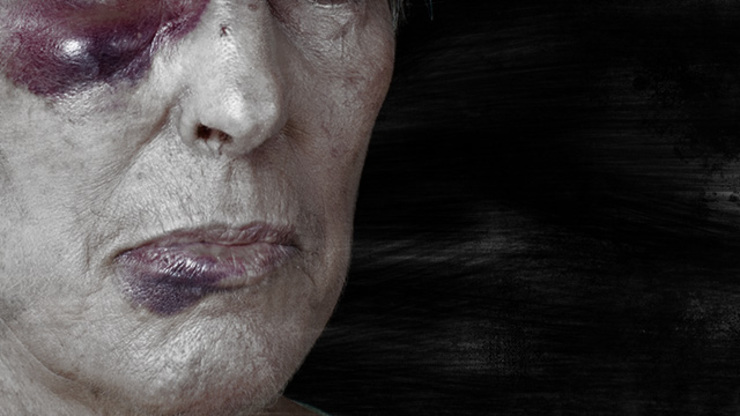 Annie now lives in small room in Las Piñas with her husband and they've been married for 27 years.
She's 73 and he's 78.
She married late in her life, in her forties, to a handsome local boy from a rich family. For a time, he worked as an "actor" with his movie star friends from Ateneo. With his work ethic so poor, the movie-makers decided to kill off his character to save on film and production costs.
They burned through their wealth two years into their marriage. Most of their property, inheritance, and money from Annie's designs were lost to a decadent life of high society and gambling, the latter mostly done by her husband.
The life they live now is a routine of blame and hurt.
Annie's is battered – physically and psychologically – by her husband every day.
He hits her and calls her a slut and a failure, in spite of her being the one who pays for their needs. He even sold her car at one point.
Before she told me herself, I knew about Annie's story from my boss whom she's been friends with from their days in school.
Countless times, she has been told that she had to leave her husband and that she had family and friends willing to take her away from him. She's been told that she didn't have to live the way that she does and that her husband is not as powerful as she thinks he is.
There were attempts, but she still found her way back to him.
'She doesn't want to save herself'
People get beaten up, raped, molested, and discriminated mostly from people in their homes.
The micro-politics of relationships and power struggles behind closed doors, the clandestine abuse, the fear of coming out as a rape victim; all these can dehumanize.
It's a world that is rarely easy to escape.
When I told her story to a professor who has dealt with similar cases, she said upfront that we can't do anything if she doesn't want to save herself.
She has to want to be free.
"Was it a cry for help or was it just her telling a story?"
Probably the most horrifying thing about the interview was that her manner was almost casual, like she was relating something interesting about her. But when I asked her about the prospect of being separated from him, she falters and you see that she's scared.
Then she goes back to the stories.
"He kicked me and threw a chair at me. He scattered my beads. He glorifies his mistresses and illegitimate children who don't want him. He calls the doctor who saved his life an idiot. He calls me a slut. He blames me for everything."
Her right ankle is red, where little veins burst because he kicked her there. The doctor called it "vascular insufficiency" and thankfully, that's her only physical complication.
Her husband, on the other hand, is diabetic with respiratory problems and she takes care of him.
This is possibly where she finds joy: in the company of bleeding hearts and sympathetic ears who tell her that she deserves better, without actually believing it.
Annie's spirit is not necessarily dead, but it may be resigned to perpetual weakness.
'No children, wealth, love'
When I asked what she really wanted, she said that all she wants is that her husband leaves her alone to sew.
She's afraid of the prospect that he goes to prison because she knows he'll find a way out, find her and shoot her.
She's open to counseling, but she's also afraid that the counselor might not be "impressive" enough for her husband.
I wonder now if she has already truly settled in the dynamic of daily abuse.
They have no children, no wealth, and no love.
At 73 and 78, they have lived relatively long lives for Filipinos. Is there really a point to disturbing this dynamic this late into their lives? Will we really be "saving" her?
Part of me wants to say that yes.
Yes, we have to take her away. Yes, she deserves better. Yes, we have to save her.
But at this point, I'm preparing myself to understand that we may be helpless by now.
We hope to talk to her soon and we were advised that all we can do is to say that we are willing to help her and that there are avenues for her to escape from her husband's physical and mental hold on her.
We could give her contacts to counselors and women's groups. We could even hide her temporarily until she finds a final refuge, as long as she takes that first crucial step of courage.
Tell your piece and let her decide, we were told.
She might choose to stay, but I'm hoping that she wants to save herself.
I'm hoping that Annie chooses to live. – Rappler.com
Jake Crisologo works as a writer and researcher for Social Watch Philippines. He is the Secretary of the Philippine Youth Development Initiatives, Inc., a civil society organization devoted to youth empowerment.
* Base photo from Shutterstock