During disasters, journalists face danger and even risk their lives to give the public life-saving information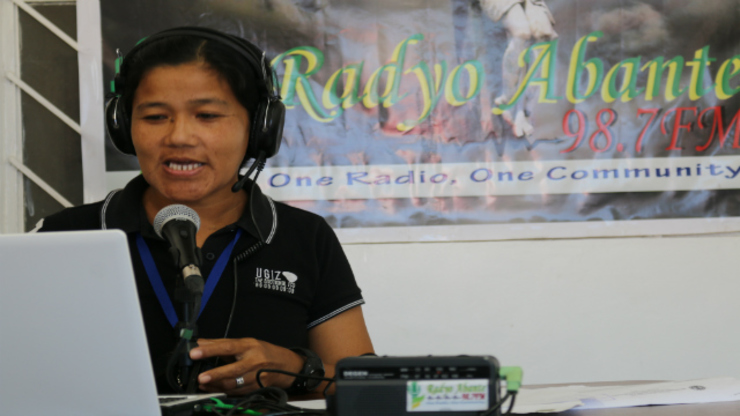 MANILA, Philippines – "Nahuhulos na kita!" (We are getting drenched!)  
These were the last words heard on the airwaves before the furious winds and storm surge forced the last radio station in Tacloban City to sign off.  
Jazmin Bonifacio, a broadcaster in Radyo Diwa uttered those words around 7am on November 8, 2013 as Super Typhoon Yolanda (Haiyan) made its disastrous landfall in Leyte province. She anchored the program which gave updates and safety reminders to the listeners that day.
"People were relying on us; it is our responsibility to provide information that could save their lives," Jazmin said on working even beyond her time slot was a call of duty. 
Until the last minute, even if the raging sea water reached the announcer's booth and cut them off air, she fulfilled that duty to the listening public.
Escaping the deadly water
Everything happened very fast. The water smashed the building. Jazmin along with the radio station's driver, guard, wives, and children of the technicians were almost overtaken by the storm surge.
"Our strength was no match to the flood's fury," she recalled.
"I thought we were all going to die as we have nowhere to go," she added.
Yet by some miracle and sheer determination, all of them were able to climb the radio station's rooftop. They all huddled together for what seemed to be an eternity, trembling and hungry as they helplessly saw children, men, and women swept and swallowed by the angry sea.
"It was a horrific sight," Jazmin said.
"They were crying for help, but we can't do anything," she recalled.
They were lucky to have survived. Three broadcasters and one technician from other radio stations were killed in the line of duty.
Biggest disaster story
Desolation was all over the entire region. Damaged houses, buildings, piles of debris, stench of death, power supply, water system and communications lines down made the days after the typhoon heartbreaking and unbearable.
It was both frustrating and painful for journalists and broadcasters like Jazmin not being able to report about what happened.
"It felt like being mute, not being able to share to our listeners the faces of Haiyan's enormous destruction – how people are coping (with the disaster), their struggles and needs so others can do something for them,"Jazmin shared.
She found a radio station in Cebu where she gave reports on the situation in Leyte and Samar provinces.  But there were no indications if DYDW, popularly known as Radyo Diwa, will again sign on air. The station's building and equipment, including the transmitter, were all destroyed. 
At some point, Jazmin thought she would never be able to broadcast on air again. It was the most distressing thought as she's aware how crucial the news are for the people who are rising and restoring their lives back from the ruins of Haiyan.
Stronger sense of purpose
"Hello, buhi ako. Ako ni Jaz, kausa niyo ha Radyo Diwa. Adi na ako ha FM station." 
(Hello, I'm alive. This is Jaz, your companion in Radyo Diwa. I'm now in FM station.) 
These were her first words when she went on air last January 13, more than two months after Haiyan. She was reported missing after the station went off the air as storm surge forced her to flee from the announcer's booth.
It was the first broadcast of Radyo Abante, the newest radio station in Eastern Visayas region launched by First Response Radio and Peace and Conflict Journalism Network (PECOJON) to address the need to inform communities. The newly established radio station also served as venue for broadcasters to get back to their profession. They were also given training on humanitarian response and accountability.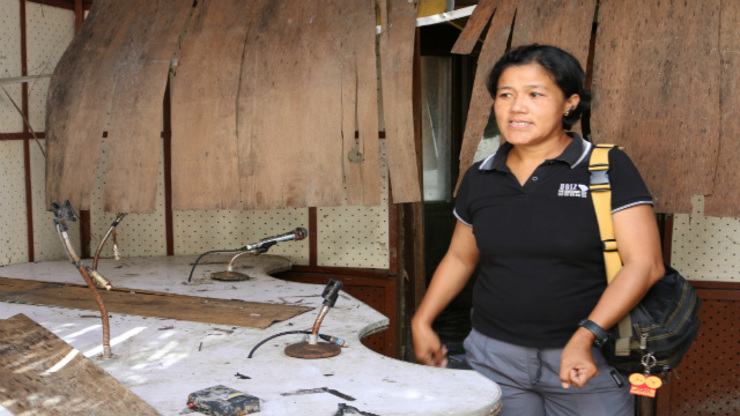 Jazmin and veteran broadcaster Fred Padernos host a program that tackles issues and concerns of the communities and various projects of non-government organizations. Listeners are encouraged to air out their concerns on several projects using text messaging.
The radio program makes Jazmin affirm her decision to leave a lucrative career and pursue her childhood dream to be a broadcaster 18 years ago.  
"I am now more than happy to resume my work. Nothing is more fulfilling than helping the survivors find their voice on the issues that affect their lives," she said.
Revisiting the announcer's booth
Jazmin first hesitated to revisit the room where she nearly lost her life.
"I was afraid to go inside before since the thought that I could have died here always entered my mind. I realized I need to confront my fears now and the harrowing memories I have in this place," she said.
Her ordeal was a brush with death, but it made her more resolute to commit her profession to help fellow Haiyan survivors rebuild their lives. – Rappler.com 
Leoniza O. Morales is Communications Officer of World Vision's Haiyan Emergency Response based in Tacloban City.